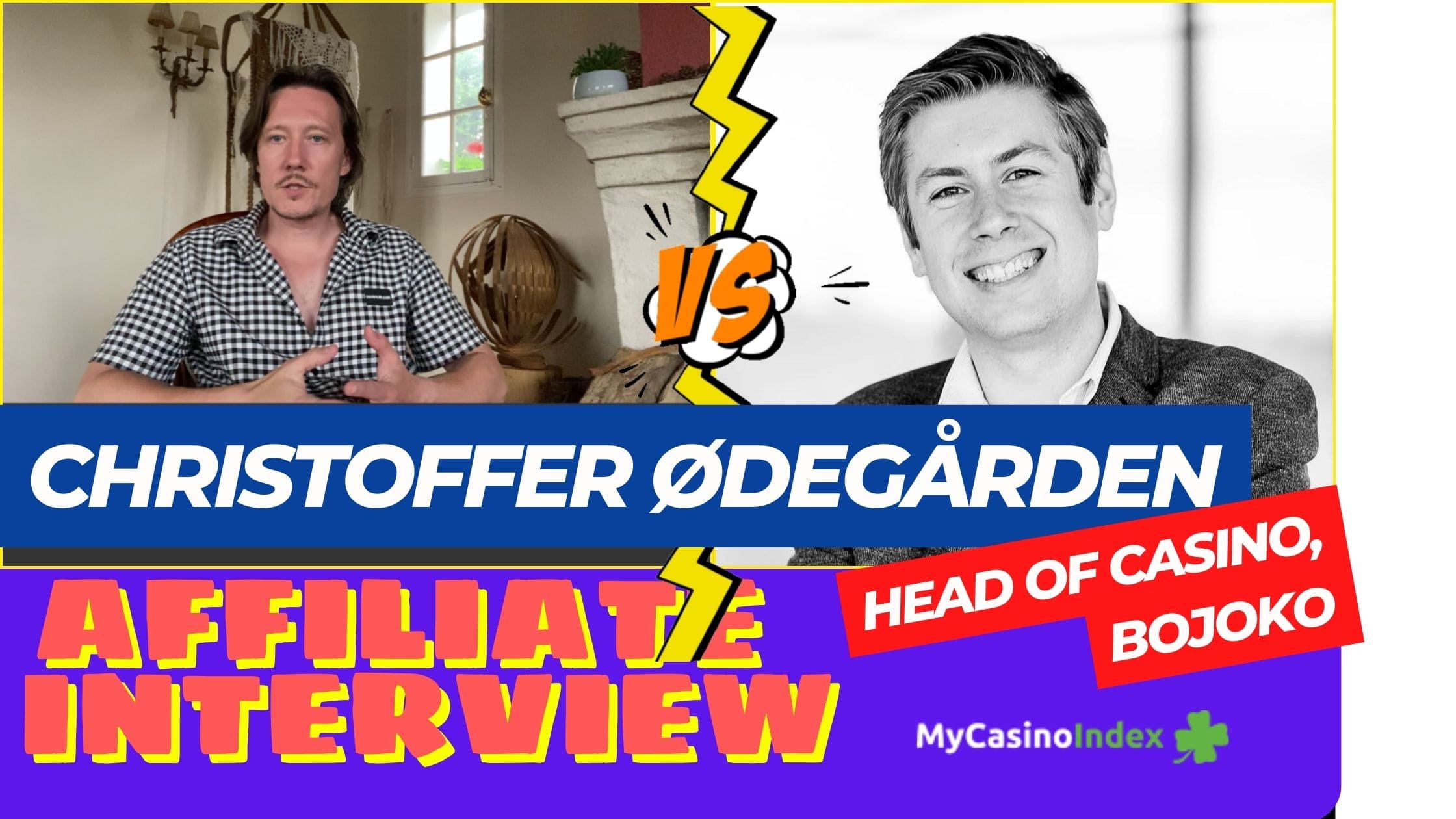 2023-09-14
Interview with Christoffer Ødegården, Head of the Casino at Bojoko

​​When navigating casino affiliate sites, the user experience is vital, but what do the users actually want? We had the privilege to discuss this and much more with Christoffer Ødegården, Head of the Casino at Bojoko.
In this interview, Ødegården shares his insights into
what casino players want from an affiliate site,
the status of new casinos in the UK market after the government's white paper,
the importance of expert reviews, and
the ever-evolving trends within the industry as a whole.
MyCasinoIndex: What is the most important thing that should happen when a user arrives at a casino affiliate site?
Christoffer Ødegården: Ideally, they should find exactly what they are looking for, be that new casinos, a wide range of casino bonuses, an overview of casinos that have their preferred payment methods, etc. or just information that will improve their gaming experience. Alternatively, if the user is unsure what they want, they should get the guidance they need to make informed choices.
MyCasinoIndex: How would you describe your average user?
Christoffer Ødegården: Our average user is quite diverse. I think we have managed to create a platform that has something for everyone from experienced veterans to beginners, not to mention from high-rollers to low-rollers and other player persona in between.
We have users who know exactly what they want; they go to the relevant page, compare the casinos and their offers, and make their choice. Others will spend more time going over different kinds of offers, reading our reviews and trying to get a better idea of what the best casino for them is. This is where our easy-to-scan yet in-depth casino reviews and quick filters come into play.
MyCasinoIndex: How do you tailor your platform to cater to the diverse needs of seasoned casino enthusiasts and those just venturing into the casino world?
Christoffer Ødegården: We do this by ensuring that every single user intent is covered. We have pages for every type of bonus offer, all relevant payment methods in the UK, and all essential features players may be interested in, such as overviews of casinos with low wagering requirements, low minimum deposits, high RTPs, etc.
While new players might want to find a casino with an excellent welcome offer, a reasonable wagering requirement and a solid game selection, every niche that might interest experienced players is also accounted for. For instance, experienced players are more likely to look for new casinos or limit their search to casinos with specific features, and on Bojoko, you find it all.
MyCasinoIndex: As an affiliate focused on the UK market, what are your thoughts on the government's white paper? Has there been any impact on the number of new casinos entering the market?
Christoffer Ødegården: When the British government first announced that there would be a white paper outlining regulatory changes in the industry, the market almost turned to a halt. There was also a series of delays surrounding the white paper's release, which made operators wary. We saw a near stand-still of new casinos released. Worse, many established casinos in Britain decided to leave the market.
After a series of delays, the white paper was released in April this year. We have seen a few positive market signals since then, but the number of new UK casinos is not increasing as fast as we hoped.
What I can tell you is that British players are still actively searching for new UK casinos, so there is not a lack of interest. When looking at our page dedicated to helping players find their next new UK casino, the conversion rate is high, and we can see so much activity from British players eager for fresh gaming experiences.
The question is whether new operators deem the UK market predictable and profitable. In our assessment, it still very much is, and the guidelines from the white paper are clear without being overly intrusive. We therefore believe the UK market will continue to grow. As mentioned, we have seen a slight increase in new UK casinos already, and we see no reason why this trend should not continue.
MyCasinoIndex: What is the core element guiding your strategy as a casino review site right now?
Christoffer Ødegården: Our primary focus is user experience and simplifying how players can find the exact information they are looking for. Every user intent is covered on Bojoko, and we actively follow developments in the industry, track new payment methods, game providers and bonus offers, and update our filters and dedicated pages accordingly.
Our casino reviews also play a central part in our strategy in and of themselves. We work hard to ensure that players who know what they want can quickly scan our reviews and get a clear picture of what the casino offers. At the same time, depth is a priority, and our readers always have the ability to read more on each relevant topic and get a clear picture of what the casino offers.
This is also where our focus on expertise and transparency comes into play. Every casino we list on Bojoko has been tested by an industry expert, who provides a detailed and unbiased opinion, benchmarking them against other casinos and ensuring that our readers know what to expect.
MyCasinoIndex: What are the current trends for UK online casinos?
Christoffer Ødegården: Responsible gambling features are taking centre stage as operators prioritise player well-being and a safe gaming environment. This is also connected to the roll-out of the British government's white paper in the UK, with online casinos making critical adjustments to prepare for the new regulations.
Of course, we are also witnessing the growth of crash gaming, and it is exciting to see that new casino game genres can still take off. Additionally, Artificial Intelligence and machine learning are personalising player interactions, optimising operations, and driving greater efficiency within the industry.