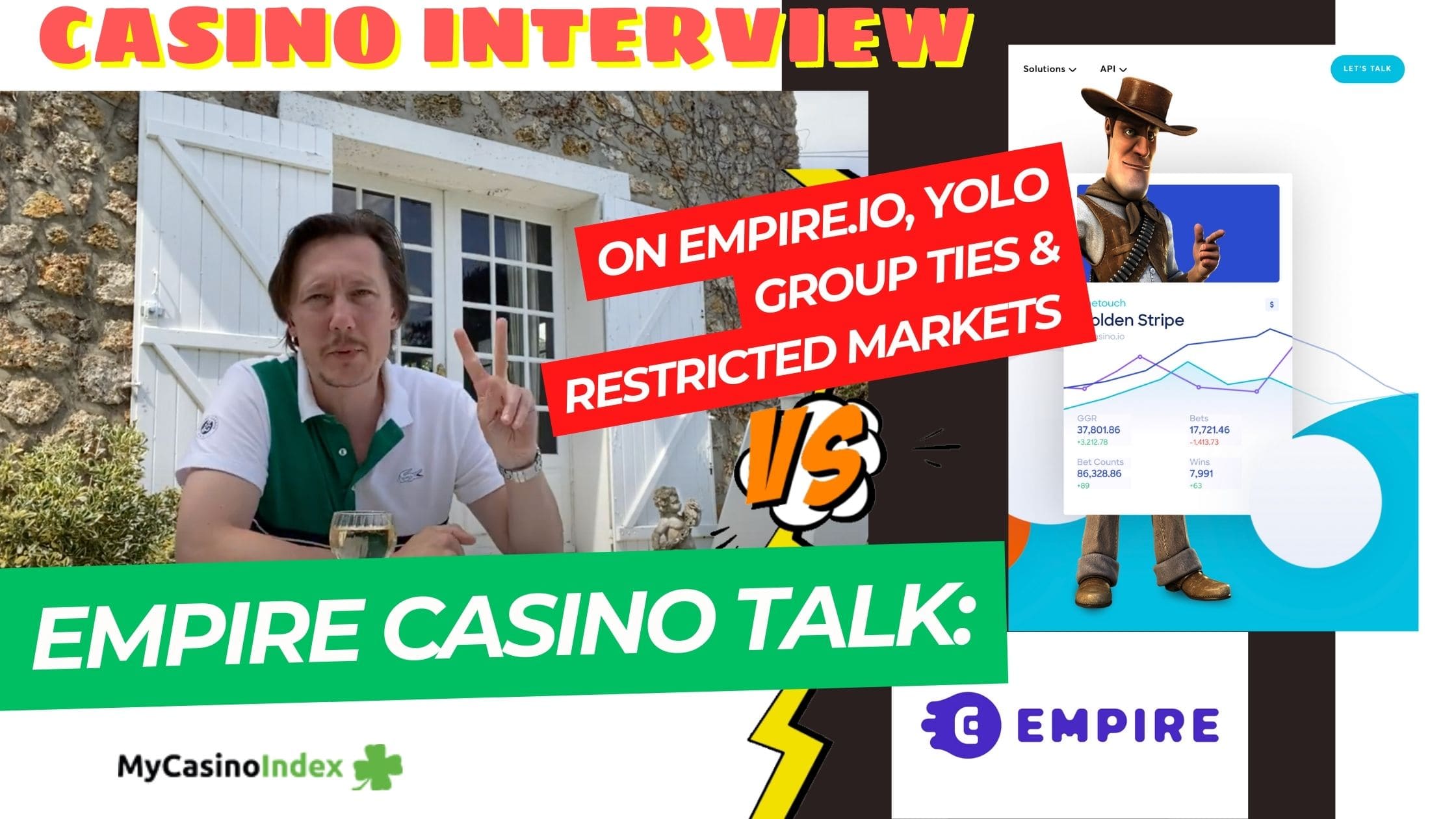 2023-09-14
9 questions to a casino: interview with Empire.io
This is an interview with Empire.io casino. See here for the full review of Empire.io.
1) What do you think shall happen in the first place as a user signed up in a casino?
Sign up should be quick and easy. Especially in Crypto Casinos. The first thing that should happen is give a chance to the player to deposit with the Welcome offer (optional) and then they can go into navigating the casino.
2) How would you envisage your daily player?
We are looking for recreational players who would be loyal to our brand because we offer an alternative in highly restrictive markets where they can play their favorite games with very little limitations for them. Also we have a huge selection of games to appeal both live casino, slot players and of course crypto players alike.
3) What about the average age of your player? Do you have lots of young players too?
Given the fact that we are a purely crypto casino I would say our demographic is a bit younger than the usual FIAT brands. Since Crypto players don't require to put a lot of info it's hard to say the age groups. But we estimate they are between 18-40 of age.
4) What games are the most popular among players? Which slot titles?
This varies per market. We had some streamers at the beginning, so a lot of our players like Hacksaw, Pragmatic Play, Push Gaming games which are high volatility providers with games such as Wanted: Dead or a Wild, Gates of Olympus. In each market it varies. Asian players for instance play more live casino games from Evolution.
5) What about instant win games (crash games, casual games)? What kind of interest do they have with your audience?
In the first days of crypto casinos, Crash games were extremely popular and this is still the case. The same with Plinko games. However, I would say the more crypto adaptation there is, it seems players are more keen to play more and more all types of games. But in short; yes they are very relevant to us.
6) Do you think building a community is important for a crypto casino?
Extremely important. Crypto communities are huge around Coins, Altcoins and NFTs. In crypto casinos, having a community will give you transparency which will build trust.
7) What type of bonuses are loved most by your players?
This depends on the markets as well as the source of acquisition. Some affiliates can send lots of traffic who are only looking for a non deposit bonus, but we are not interested in this. In our platform we offer the same bonuses you can receive in any casino, Goodwills, deposit offers, cashbacks, free spins but in addition we have an innovative casino boost tool that rewards you on winnings.
8) Lets discuss your players retention: do you have a high retention rate, why?
Our retention is under industry standards I would say. It depends highly where the traffic comes from. If free bonus sites refers us traffic the retention is low as expected. But if good affiliates deliver quality traffic our retention is high and our VIPs stay with us for long.
9) What are the most popular deposit methods now?
We offer the most popular crypto to deposit. We do not offer FIAT options. So crypto is our most popular method. Specifically, Bitcoin, Ethereum and USDT. We have an Onramper solution that allows players to buy crypto on site. Not very popular since commissions by the third party are a bit high.