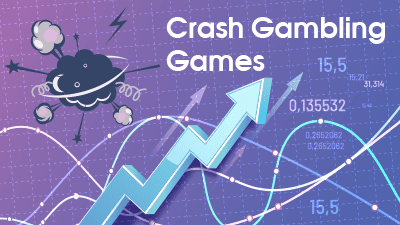 2022-05-09
Crash Gambling: Multiplier-based Games with Instant Wins
Crypto gambling is constantly evolving to adopt new means of entertainment in response to the forthcoming demand. Crash games go hand in hand with the integration of Bitcoin and other cryptocurrencies into iGaming market as a completely novel concept nowadays.
Leaving aside that few people know of it for the time being, while this particular direction has just begun developing, it is still getting great curiosity and interest, according to data shown by casino game developers. It has already amassed a significant following, and you may be another gambler who would like to take part.
What is Crash Gambling?
When compared to conventional online casino games, Crash gambling looks simple and speedy, making it ideal for so many players seeking immediate results and rapid winnings. Games are not too sophisticated, rules are clear, and it won't take long for newbies to start playing.
The crash games are created with Bitcoin enthusiasts in mind and are based on blockchain technology. They sort of simulate crypto exchanging marketplaces, offering volatile betting, which allowed to rapidly grow the audience of supporters, just as anticipated. The wide selection of tokens that allow you to wager in the game only contributes to this boost.
Additionally, these games can be both In-House and Third-Party. The integrated in-house crash titles are usually less spectacular in special effects and graphics, while on the other hand, better RTP options that are tempting: the house edge in the BC.Game Crash is just 1%, while outsourced titles produce between 96-98% returns.
Distinctive Characteristics of Crash Games
Crash games are not considered the most common type. There are several explanations for that. First, it is new, and not so many casino players are familiar with them at the moment. Secondly, these games are mostly produced by smaller game studios that may have less exposure compared to giant development companies in the field.
The cryptographic mechanics in the core of the gameplay makes it provably fair, meaning that if choosing a reputable operator, the outcome of these games would be fair and you are able to check the results with the statistics in real-time.
Across various sites and platforms, crash gambling is a rather basic type of iGaming, especially when compared to the overwhelming majority of slots.
All games, one way or another, consist of a line that continues to progress, increasing your wager, right until it crashes. Whilst in the game, you can get paid out whenever you wish, even set it automatically. Players keep their profits if they manage to take them before the random crash; otherwise, the whole stake is lost and a new round should start.

As a rule, crash games come with Auto Bet and Auto Payout setting capabilities, which makes them really comfortable to play. The regulars choose to use Auto Bet option in most cases.
Another offbeat characteristic here is the games' social manner that more and more game developers adopt in their titles. Crash games are multiplayer ones. There's a table showing other gamblers that make their bets, you can see them exit the game with profits. Several platforms also let players interact with each other and share emotions.
TOP 5 Third-Party Crash Games in no particular order
Aviator (Spribe)
This should be the most widespread example of crash games. The Title by Spribe studio was released in 2019 and soon got integrated by multiple online casino operators. With the RTP of 97%, it offers a pretty good return in a long run. The development company has also adopted handy and popular social features, like live chat, real-time stats with betting and winnings progress, available Aviarace Tournaments as well a special Rain promo option, that randomly puts free bet amounts into chat that any player can make use of.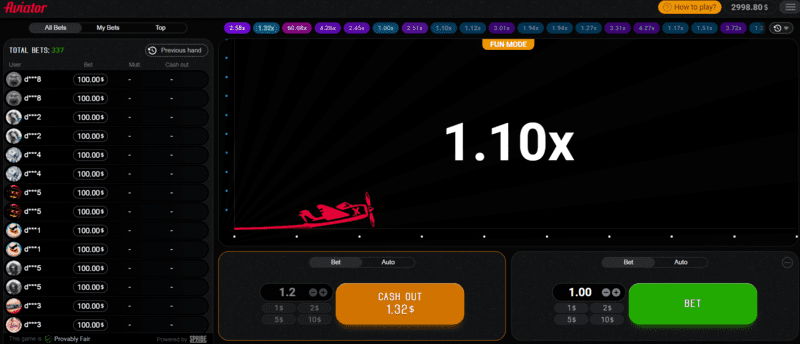 F777 Figther (Onlyplay)
This is a multiplayer game that somehow resembles Aviator, but apparently with more detail to the design and animation.
The highly volatile xMultiplier title that came out in January 2021 offers an RTP of 95% and progressive jackpot features. Apart from Auto Mode (settings for Bets and Takes), players are able to set 2 bets at once that are not interconnected.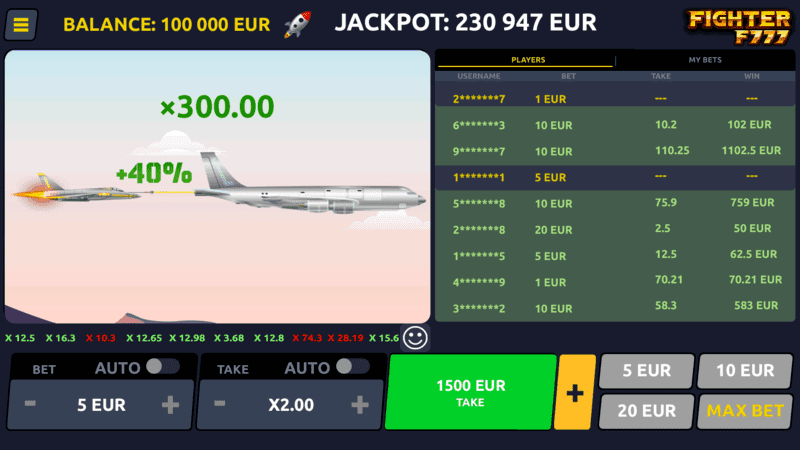 Space XY (BGaming)
The game released by BGaming in January 2022 is clearly another remake of Aviator. Players see their rocket flight on the graph with Xy coordinates that show the progress in time and multipliers. The crash game with RTP of 97% offers a maximum win amount of x10,000. Just like in F777 Fighter you are allowed to make several bets at once. Auto Bet and Auto Cash-Out are your options of choice here as well.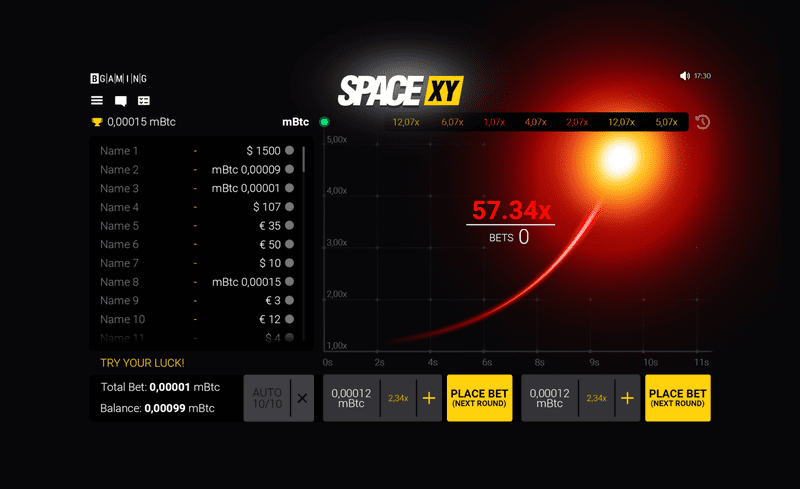 JetX3 (Smartsoft Gaming)
The game released in April 2021 shows great attention to visuals. This became a completely new level of Crash Game after their previous take in Jet X more looked like an old-school Nintendo pixel game. The JetX3 lets you bet on 3D spaceships that are launched in the starry deep blue sky.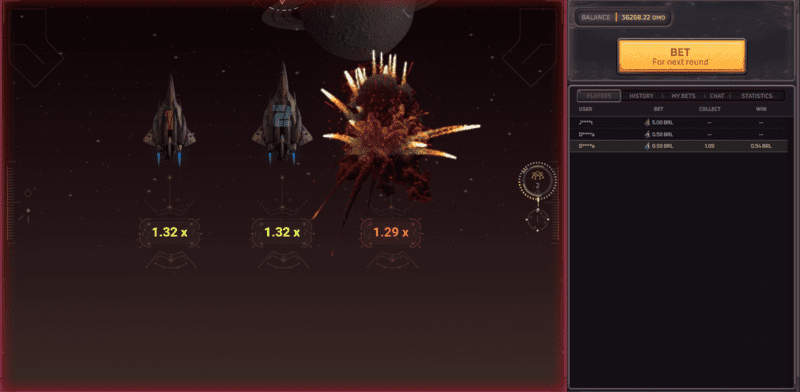 Zeppelin (BetSolutions)
A provably fair instant win game where Multipliers range from 1x to infinity. Players are offered real-life statistics, a chatting option, and fast dynamics.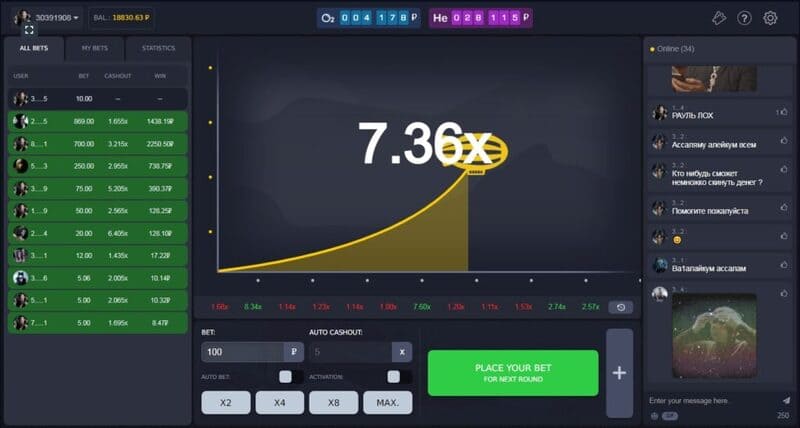 Common Rules and features
As we mentioned, the rules of Crash games are mostly the same and easy to understand - your main goal is to place a bet or bets and cash out your winnings before the crash moment (it doesn't have to be the actual crash, this is just a point when the game round is over).
Multipliers
All these games of this category have multipliers that change as you progress in the round and show how many times your bet will be multiplied if you take the profit at this very moment.
Bets
You may choose your bet manually each time the game round starts or set Auto Bet that will be used for every following game you play. F777 Fighter by Onlyplay allows you to set 2 bets at the same time.
If you feel confident in terms of your betting strategies and understand how to manage your bankroll effectively, Auto Bet option should be a good idea. Some games like Crash, for instance, will let you fine-tune settings for the automated bets including Bet amount, a number of bets, Stop on Loss, Stop on Profit etc.
Exit point
Just the same as with Bets, players are able to select Auto Cash Out or Auto Take feature, when you set the exact multiplier that will make you finish the game and take the profit unless the multiplier crashes earlier. Obviously, the minimum cashout is set at 1x - but it's pointless to want to take the same amount that you bet. The bigger multiplier you pick, the smaller your chances are to win. Of course, you can exit the game earlier manually.
Minimum-maximum crash point
These kinds of games are totally dependent on chance, crashes may happen at any time, and these minimum and maximum extremes vary from one game to another (usually, between 1x and 1,000x).
Instant Win Crash Games Tactics and Strategy
In the world of money games, everybody is looking for a way to trick the system, you might also want to know special tactics you can employ to improve your chances of winning. Various sites may be claiming to give you expert advice to get maximum results out of your bets.
But the truth is that these games run on RNG mechanics which makes it impossible to anticipate what will happen next or predict the outcomes.
The key to getting the best Crash gambling experience would be careful management of your bankroll to make sure that you're playing to have fun instead of expecting to get back money that you have lost