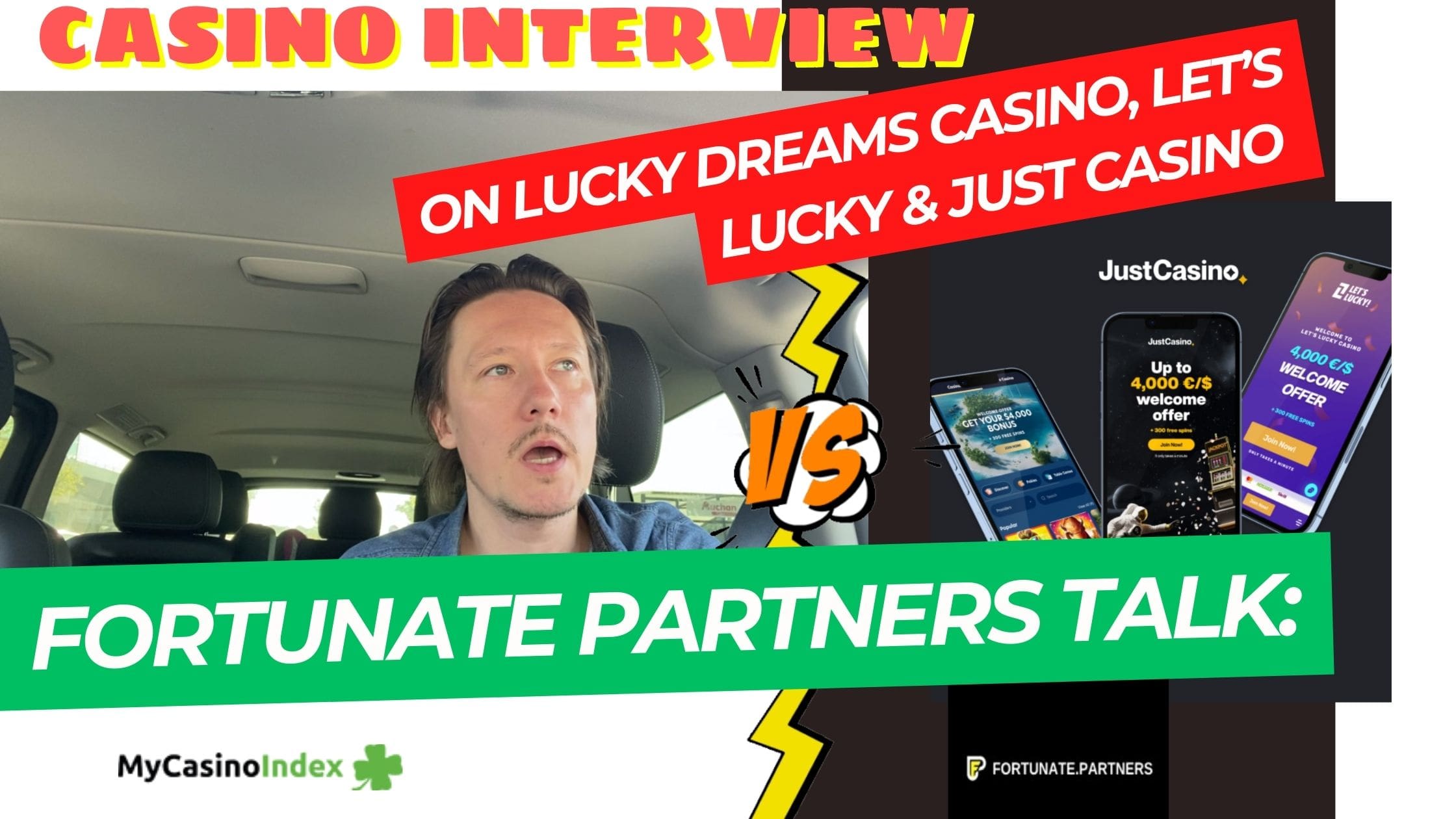 2023-09-14
9 questions to an affiliate program: interview with Fortunate Partners
This is the "9 question to affiliate programs" project and today let us meet Fortunate partners. So, below are our 9 questions to them as well as their answers. You may also watch a video review of Fortunate Partners affiliate program by us on YouTube.
1. How the three casinos in your portfolio are different?
Lucky Dreams, Let's Lucky and Just Casino offer unique online gambling experiences to the users. With individual styles, games and rewards our casinos cover everything a player wants. Lucky Dreams is a haven for players who appreciate a touch of elegance and exclusivity. It offers a sophisticated gaming environment with high-stakes tables and a wide range of classic casino games. It caters to those seeking a refined gambling experience. Let's Lucky is all about fun and accessibility. It's designed for players who enjoy a vibrant, user-friendly interface and a wide variety of games. With a focus on user experience and a diverse game library, Let's Lucky appeals to a broad audience. Just Casino is committed to providing a trustworthy platform with a broad selection of games, an interesting and captivating atmosphere and cosmic rewards, making it a reliable choice for both new and experienced players.
2. This is a second reincarnation of Just Casino: What do you think distinguishes Just Casino now?
We are not connected with previous owners of Just Casino in any way...
3. What do you think shall happen in the first place as a user signed up in a casino?
When a user signs up at one of our casinos, the first step is a warm welcome. They'll receive a generous welcome bonus of 100% up to $500 + 100 Free Spins with their first deposit to kick-start their gaming journey. Then, they can explore our wide range of games, make deposits securely, and engage in thrilling gameplay. Our user-friendly interface and responsive customer support ensure that their initial experience is enjoyable and hassle-free.
4. How would you envisage your daily player?
Our ideal daily player is someone who finds joy and excitement in our casinos' offerings. They might log in to play their favourite slots during a coffee break, enjoy a few hands of blackjack in the evening, or engage in live dealer games with friends. We want our daily players to feel like they're part of a welcoming community, benefiting from regular promotions and rewards.
5. What about the average age of your player? Do you have lots of young players, too?
We have a diverse player base, ranging from younger adults in their 20s to mature players in their 60s and beyond. Our casinos' variety of games appeals to a wide demographic, ensuring that players of all ages can find entertainment that suits their preferences. As we have the latest and most captivating online slot games with fun and exciting atmospheres, we also offer our more mature players classic casino table games like American and French roulette, blackjack, poker and baccarat, amongst others.
6. What games are the most popular among players? Which slot titles?
Our most popular games include classic table games like blackjack, roulette, and poker. In the slot category, titles like "Mega Fortune," "Starburst," and "Book of Ra" consistently attract a large following. We regularly update our game library to feature the latest and most enticing titles to keep players engaged.
7. What's your stance towards Instant games? Do you think they are important to players?
We absolutely love instant games and crash games, as most of our casino portfolio brings them to the players in a quick and efficient manner. They are a vital part of our offerings. They cater to players looking for quick and casual gaming experiences, and this is exactly what we stand for.
8. Do you think building a Community is important for a casino?
Building a strong community is a cornerstone of our casino philosophy. We host regular tournaments, promotions and promote active communication with our player base to foster a sense of belonging among our customers. We believe that a thriving community enhances the overall gaming experience and creates a loyal player base.
9. What do you believe are the current trends for online casinos?
In 2023, Players are looking mostly for a good and smooth gambling experience with no fluff or hidden clauses. They appreciate fair and safe online casinos that support their gambling journey in any way possible. This mentioned, good 24/7 customer support, a wide variety of games and big bonuses are always welcome for new and experienced players.