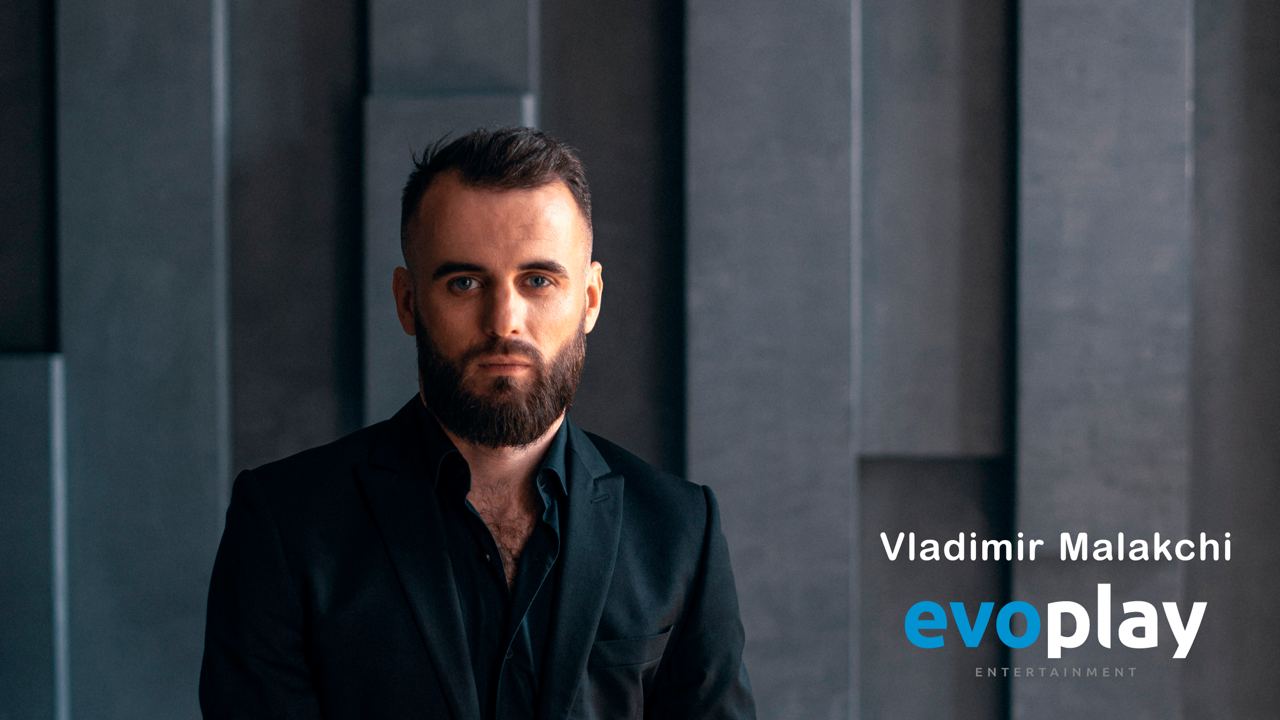 2020-12-09
Evoplay Entertainment CBDO: Essential Selection for Ukrainian Gambling and Plans for the Future
Maria: I would like to welcome everyone to MyCasinoIndex Channel and we continue to make a special interview series with the very important people from the iGaming industry and today please meet our special guest - this is the Chief Business Development Officer from Evoplay Entertainment, Vladimir Malakchi.
Vladimir: Hello, Maria. Thanks for inviting me here, it's a really great respect for me.
M: Thank you. I would like to mention that Evoplay Entertainment is a leading developer of integrated products and solutions for the iGaming industry, and a very important remark here is that Evoplay is based in Ukraine and today I would like to talk with Vladimir about Ukrainian gambling.
In light of recent events in gambling business in Ukraine, I would like to tell all our listeners that it was banned from 2009. Now Ukrainian gambling is preparing to be regulated and, as the Gaming Commission has already been formed, the implementation of the gambling law requires a lot of work, market research and investment. I would like to talk to you about the economical and financial losses of Ukrainian gambling. Do you think it was much during the 11-year ban?
V: I can't tell you about the losses from this ban, but what we have seen from official results based on 2005 and 2008, average growth from a gambling industry inside Ukraine was from $246 million up to $967 million, if I remember correctly. And as we can see for these three years it is really huge growth. What we're seeing after, when all the gambling was prohibited, except lotteries, the official income to Ukraine was down to only $13 million. And if we compare it to around one billion dollars due to $13 millions, we've seen that it's really a great amount. I can suspect that after gambling legalization, we will see a really great growth of revenue inside our country, inside our budget and it's really happy news for everybody inside this market.
M: Great to hear that, and should Ukraine expect any financial support from the gaming sector? What do you think?
V: Well, it depends on what we will count as support. So we won't receive money support from any company, they won't just provide us with some money. But from another point of view, if we see the organizational rules in gambling, like offline gambling, will be provided (like in 5 and 4 stars hotels), I suppose that there will be new hotels. And what we're seeing inside Ukraine, some new buildings are creating. There will be investment from overseas partners. Also, we are receiving several requests from different partners from different big players, like European players. They are asking about how the situation is going about gambling in Ukraine? How are we going to regulate it? So they are asking questions they are interested in and we see it. They will provide some investment for sure. From one point of view, we will receive a new investment just to casinos and just to gambling programs. From another point of view, we will receive the full tourism turnover, because as more we have hotels, as more we have casinos - more we have tourists. And I think this is only a 'win-win' situation.
M: Thank you for your opinion. And here I would like to emphasize one important point: players in Ukraine don't have any protection from the government, unfortunately. And operations to close underground casinos took place in Ukraine during these 11 years and last year it was a high profile event. What will regulated gambling give to Ukrainian players?
V: I think, as any regulations come to market, they first of all will provide the defense of the players, defense of the interest of every player. Because the player will for sure know that the RTP of the games will be. That was described inside the game and this is very important. They can be sure that they will receive money if they win it. It is very important for any provider and for any player to be sure that players have responsible gaming, they will enjoy these games. This is the most important thing, first of all, for us as a provider. Another thing that will be in access of players after regulations are coming, it is an opportunity for players to receive new types of games. Because when the market is unregulated, a lot of providers can't come to the market and can't give an opportunity for players to receive some special instant games. Just in case of Evoplay Entertainment after the market will be regulated fully and we will have an opportunity to come to this market and will provide our special, unique names, special types of game that we are providing in other regulated markets. After defending all the interest like in payment systems, like in responsible gaming, like in rules in care of the player also, they will have a new type of entertainment inside, and I think this is a really great advantage.
M: What's specific to Ukrainian players? What is their competitiveness in contrast to United Kingdom players, for example?
V: It's quite difficult to tell that Ukrainian players can create a competitiveness to any other market. And what is the main interest? It is an opportunity for new audiences to start playing games. You can't compare audiences, you can compare companies, you can compare operators, providers. But it is not a secret for anybody, that the average bet in Ukraine is expected to be lower than in the UK or maybe in Europe. But we have a really big amount of players, big audience that are interested because, as you know, around 47% of Ukrainian citizens support the legalization of gambling. It is showing us the big interest of this niche inside Ukraine. For any operator and provider that will come to Ukraine, first of all, it is the new market fully. You can't compare it to any other country or to the UK, as you mentioned, because at some point of interest there are several local things. For example, some countries are playing instant games, some countries are playing slots, some countries are playing dice. The different types of games can be specified for different countries. In overall the main things that will be important: this is a new type of audience, this is a new market share and this is the new opportunities for every operator and provider that are ready to receive a license and to play in the regulated market.
M: You understand the situation the best, I suppose. Thank you and another important question is: should Ukraine expect major suppliers here in the iGaming market and are local players interested in online slots?
V: It's a bit difficult right now to be sure for 100% that players will play online slots, because we didn't have it before when the regulations were working. But for sure, as we see the tendency all over other regulated markets, I would say that online gambling is becoming popular from year to year, because it is easier for you to play from mobile. Everybody has mobile devices with them and what I'm seeing from statistics from other markets - for sure it will be interesting. And, as I told before, 47% of the audience already support this idea of gambling. I'm not sure that all of them will jump inside online, but what we're seeing just as an average rate of online players is around 25-30% of gambling lovers are coming to the online market. When the world locked all offline niches (casinos as well), we are seeing that around 49% of players that tried online are telling that they won't go back to offline niche. They understand that online gambling is pretty interesting and comfortable for them. It's always comfortable to play from your own sofa, when you come home from a working day and you just need a portion of entertainment inside your home. I suppose that mobile and online niches will grow from year to year as well.
M: And could Evoplay Entertainment support this mobile niche. And what benefits will the gambling business regulation give to your company in particular?
V: First of all, we can come to this market. I think this is the biggest advantage for us, because from the time the regulations will be implemented inside, we can start playing and we can start providing our games to players and give them a really big portion of entertainment inside. As I told before, I trust that Mobile (gaming) is our future. Maybe in some cases it will be even with the AR functions and you can already play from your phone, that's connected to your TV and it's comfortable. Each provider should be mobile adaptive as we are. If you come to an online niche, this is the urgent thing that you need to implement inside your games.
M: It's known that foreign partners are ready to share their legal experience with Ukrainian colleagues, and in this regard, there was planned Ukrainian Gaming Week, a gaming event. Unfortunately, it was postponed to 2021 and my question is: who will help you to implement new rules in legal questions.
V: Anyway, if you implement something that's already implemented inside other markets, the first thing you need to do is to study how they did it. And this is just in case business, in case legal things, you need to know history before doing something in your market. Yes, we are receiving a great experience, a great knowledge from our CIS partners and they are advising us some things. Also I'm sure that the government is being advised with several key partners all over the world, they're looking at how other regulations are working to implement the best strategy for Ukraine. And such events like Ukrainian Gaming Week, like SBC, Sigma - even in lockdown they make it online. It is very important because you can meet other partners, you can share your experience, you can share your knowledge and also receive great experience from other experts all over the world. My goal is to receive as much knowledge as I can, and to support our government when they ask about some things, about advice, about how to make things better. To advise them I need to receive knowledge from all over the world. That is what we are trying to achieve - and such events are really helping us to do this.
M: Please tell us about your latest projects and upcoming releases.
V: I think this is the best question for me, because I like to talk about my projects. You know it's Christmas time, so we are preparing two new instant games. One of them was released yesterday, it's Christmas Party (released on December 1). We are preparing a new instant game Xmas KenoCat, which will be pretty funny for slot players in this nice period of time. Also, we realized a game that is very popular among B2B and B2C audience - a Japan-styled Pachin Girl. It's an additional kind of game, Pachinko. And we received really great feedback. It's very important for us, because it is a very specific game. When you're based in Ukraine and create something Japan-styled, it's very important to be sure that partners that are playing this game will give you great feedback. It was unexpectable. I think this is the most important thing from products. And also we already prepared a Christmas surprise for all our B2C customers. We will provide an AR mask to Instagram. Even if you are based at home, you know in lockdown everybody will celebrate Christmas at home, but we prepared an AR Christmas Tree. So you can just download it on Instagram and put a really great Christmas Tree inside your home and make a photo. I think it will add some hot feelings inside you and due to popularizing this, we will prepare a great contest with some prizes for people for the best Christmas Tree. There is all news from Evoplay Entertainment.
M: I agree with you that New Year Eve and Christmas are our favorite holidays, and I would like to wish you new inspirations and new projects in the new year. The information that you shared today is very important. I would like to thank you again.
V: Thank you a lot, Maria! It was a really nice interview and a great pleasure to speak with you.