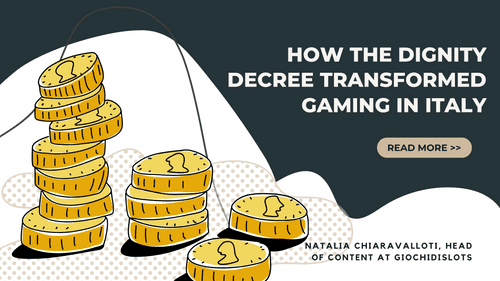 2022-06-27
Natalia Chiaravalloti, Head of Content at Giochidislots: "How the Dignity Decree Transformed Gaming in Italy"
The Dignity Decree, introduced in 2018 to ban all forms of advertising in the gambling sector, marked a new era in Italy's iGaming industry.
According to Natalia Chiaravalloti, chief editor of Giochidislots, the Dignity Decree dealt a major blow to gambling operators throughout Italy. Not only did it suppress the industry's ability to market itself, but it also forced marketing experts to change how they acquire new customers.
"The Dignity Decree and the advertising restrictions for gaming operators active in our country have market the beginning of a new era," said Natalia.
"Completely disappearing from the digital media map, and consequently losing one of the most important showcases for acquiring customers, (the Dignity Decree) has forced gambling industry leaders to find alternative solutions to promote their brands and acquire new players," she added.
But what are the new ways gambling operators in the industry are using to acquire new customers?
Socially Responsible Advertising Campaigns
Before the Dignity Decree passed into law, online casino marketers would often flood the Internet with aggressive campaigns. They would use cookies to find leads and bombard them with adverts about gambling online.
That all changed after the infamous 2018 law. Nowadays, marketers have turned to socially responsible marketing campaigns. These campaigns emphasize the need to gamble safely, whether you're betting on sports or playing online slots.
To expound more, socially responsible advertising involves being transparent about the target audience. Casinos and sportsbooks have to make it clear their customers need to be adults over 18 years.
It also involves reminding players to exercise caution with their money while gambling sites. What's more, these adverts often include pop-up questions asking the viewers to confirm that they are above 18 years.
Preaching Moderation
One of the reasons the government enforced the Dignity Decree was to reduce problem gambling in Italy. The law has been significantly successful in this aspect now that many gambling advertisers are preaching the need for players to gamble moderately.
According to Chiaravalloti, Giochidislots has been on the forefront of encouraging healthy gaming in Italy. The website promotes a healthy gaming lifestyle by emphasizing three things:
Responsibility
Moderation
Entertainment
Responsible gambling is all about budgeting and sticking to your bankroll. It's in your best interests to play slots or bet on sports with money you can afford to lose. Failure to do so would mean ruining your finances.
One of the best ways to be a responsible gambler is to bet in moderation. You don't need to spend an entire day at an online casino when you're only free for an hour per day.
Gambling is only worth it for as long as you're enjoying the experience. Once it stops being fun, say you've already lost all your money, it's time to quit playing.
Tapping on Technology
Italy's attempt to promote responsible gaming has been largely supplemented by new technology. This is according to Chiaravalloti, who says tools used to protect players are very important.
"In my opinion, these tools are very important to protect users, said Chiaravalloti. "But is crucial to further restrict the scope for action in terms of deposits and bet limits."
Player protection tools are not exactly a new thing in the iGaming sector. But they are only becoming popular in Italy now that the Dignity Decree revolutionized how iGaming operators market their brands.
Created with the help of Artificial Intelligence, player protection tools in iGaming have the following impact:
Dictating the Deposit Limits
Modern casinos use software to enforce deposit limits to specific players. Usually, the player is involved in setting the limits. Let's say you can afford to gamble €50 per week. Beyond this amount, you could affect your financial wellbeing negatively.
You can authorize your favorite online casino to set a €50 deposit limit to your account every week. You can deposit less than this amount. But you cannot spend more than €50.
Betting Limits
As Chiaravalloti stated, a good player protection tool needs to have the ability to limit one's betting stakes. That way, you won't get tempted to spend your entire bankroll in one roll of dice or a single blackjack hand.
Betting Breaks
This is another important feature to have in a gambling site: A tool that forces you to take a break after a specific period of time. Breaks help you cool off, especially after a winning or losing streak.
Some experts say that it's essential for casinos to display responsible gaming messages to players on breaks. It's a reminder that it's not worth it to chase losses or to overspend in gaming.
Promoting Loyalty Through Quality Games
If gambling sites are not allowed to advertise in Italy, they must do their best to retain new customers. After all, attracting a new customer is 10 times more difficult than retaining an existing one.
Chiaravalloti says the most common way of retaining customers post the Dignity Decree has been through next generation slots. For the uninitiated, the new crop of slot machines combines popular features to create high quality, highly interactive and re-playable games.
For example, a developer can blend the idea of scatter symbols with multipliers, cascading reels and jackpots. In doing so, players won't find the need to find a specific slot for jackpots and a different game for multipliers.
They would rather spend their money at the slot with multipliers, jackpots, wilds, scatters and avalanche features. These games are not only more exciting to play, but they also increase your chances of winning.
Live Casino Rooms
Live casino gaming is yet another technique Italian casinos are using to promote loyalty from their customers.
According to Chiaravalloti, live casino rooms promote community building, something that was previously missing in the casino sector.
"HD technology and the opportunity to interact live with croupiers and other players at the tables has enhanced the concept of community building, the chief editor of Giochidisltos said. "Interaction has become essential to increase engagement in the game," she added.
An End in Sight for the Dignity Decree?
Gambling stakeholders in Italy are hoping for the day the government brings an end to the Dignity Decree. Meanwhile, they have to follow these guidelines, including those provided by Agcom, while in their quest to win new customers or to retain existing players.