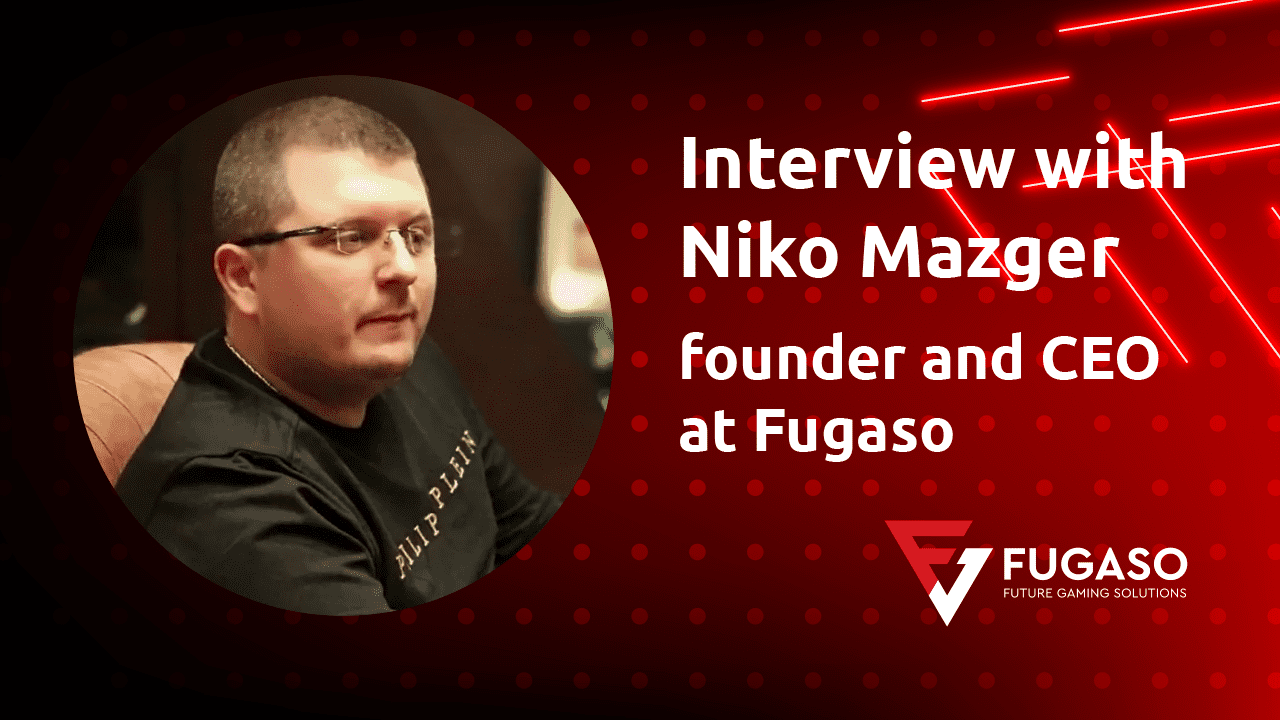 2022-03-15
Niko Mazger, CEO at Fugaso: "Do whatever is in your power to immediately stop this war..."
Following our recent call to stop sponsoring the online gambling business in Russia and funding military intervention on the territory of Ukraine, Bogdan Lytvyn, CEO at MyCasinoIndex, has reached out to Niko Mazger, founder and CEO at Fugaso. The offices of this reputable multinational game development company are located in Ukraine, Cyprus, and Malta.
Niko has kindly agreed to share his personal opinion on the Russian aggression towards Ukraine, and how it would influence the iGaming market and the availability of casino games for Russian-based players.
Niko (born Nikolai) was very emotional as he told us how he supports and feels for his fellow countrymen since he considers Ukraine to be his homeland:
My name is Nikolai or Niko, originally, I am from Ukraine. I was born in the city of Kamianets-Podilskyi and have been residing in Israel since 1994, that is, for 28 years now.
Most part of Fugaso is a Ukrainian team, moreover, two of our teammates are currently at war, literally serving in the Armed Forces of Ukraine. Several employees, ladies, and our software developer were forced to flee to my hometown [Kamianets-Podilskyi]. Previously, the company office was based in Rivne, but as it became intense there, we managed to relocate the team.
We also asked Niko to share his thoughts about whether Russian-funded casinos can be stopped in this current situation.
As for the termination of cooperation with Russian casinos, I would like to express my personal opinion. There are several aspects here.
First, since we are a certified game provider, Russia has never been our main market, let me put it like this. In general, way before the war started, all casinos that had received traffic from the Russian Federation, began to experience a bunch of problems. They had issues with payment systems, or even with their ability to accept players from Russia, in the first place.
Secondly, a game provider cannot influence aggregators now, we have practically no direct integration with the end clients. We have direct agreements with some huge regulated clients, for example, a Ukrainian brand Parimatch, a licensed Ukrainian casino. But the brand doesn't work in Russia anyway.
But we cannot influence any foreign aggregator in distributing our games, for example, in Russia. Everything, basically, depends on the casino operators' choices, payment solutions, respectively, and the sanctions that were imposed on the Russians. Even if a casino expresses a desire to accept Russian players, they have no other way than to use cryptocurrencies to make it happen for the time being.
Niko also accentuated:
For myself, it [the war in Ukraine] is a personal matter, I support Ukraine, I personally help my employees and assist refugees to flee. I currently have six people from Ukraine living in my house and apartment in Israel, 4 women and 2 children.
But there are some tendencies that I've observed over the last two weeks of the war, that hurt me a lot.
I saw iGaming-related companies posting things on LinkedIn that I find unacceptable. They confuse their business with personal deeds. Let me give you an example, I don't consider it normal to say something like "I am a Ukrainian company, please promote my interests/games and I will donate 10-20% to Ukraine". Because if you wish to donate, do it in person.
Moreover, I've noticed even worse scenarios when a few iGaming-related companies wrote very high-profile posts, saying that they are against business with Russia, calling to stop working. But in fact, they continue operating in Russia, because the main profits come from there.
Meaning, on the one hand, they show how proud Ukrainians they are, but on the other — nothing really changes — "money first" as the saying goes.
As a co-owner of the Fugaso company, I would like to emphasize once again, I pray and cry every day, because I am a Ukrainian, my team members are in Ukraine, moreover, I am an Israeli citizen, and we also have a war threat right around the corner.
This entire situation also affects us. A war with Iran may start at any moment. They approve of Russia, Israel chooses neutrality. Since Israel is surrounded by Arab countries, we have high military alert as well, but we help Ukrainians a lot. Therefore, I find it very cheap to get into politics and make some posts on LinkedIn that Fugaso donated some money or refused to do something, for PR purposes. I don't donate on behalf of Fugaso, I donate my own money.
I made my personal post on LinkedIn, as the CEO of the company, and stated that I am against the war. In this case, it doesn't matter if it is Ukraine or another country. The despicable act of terrorism that Russia did, cannot even be compared to Hitler. This is my opinion. And I do not want to involve our foreign companies in this, since we have representative offices in Ukraine, Cyprus, and Malta. You understand, not all Russian people adhere to the current Russian regime, and we can't equate them all.
I would like to address people from all over the world to do whatever is in your power to immediately stop this war. Please show more kindness towards each other, apply maximum assistance towards one another, and do everything you can to assist however you are able to, with no dependency if these good measures are done for Ukrainians, Russians, Jewish or Arabic.