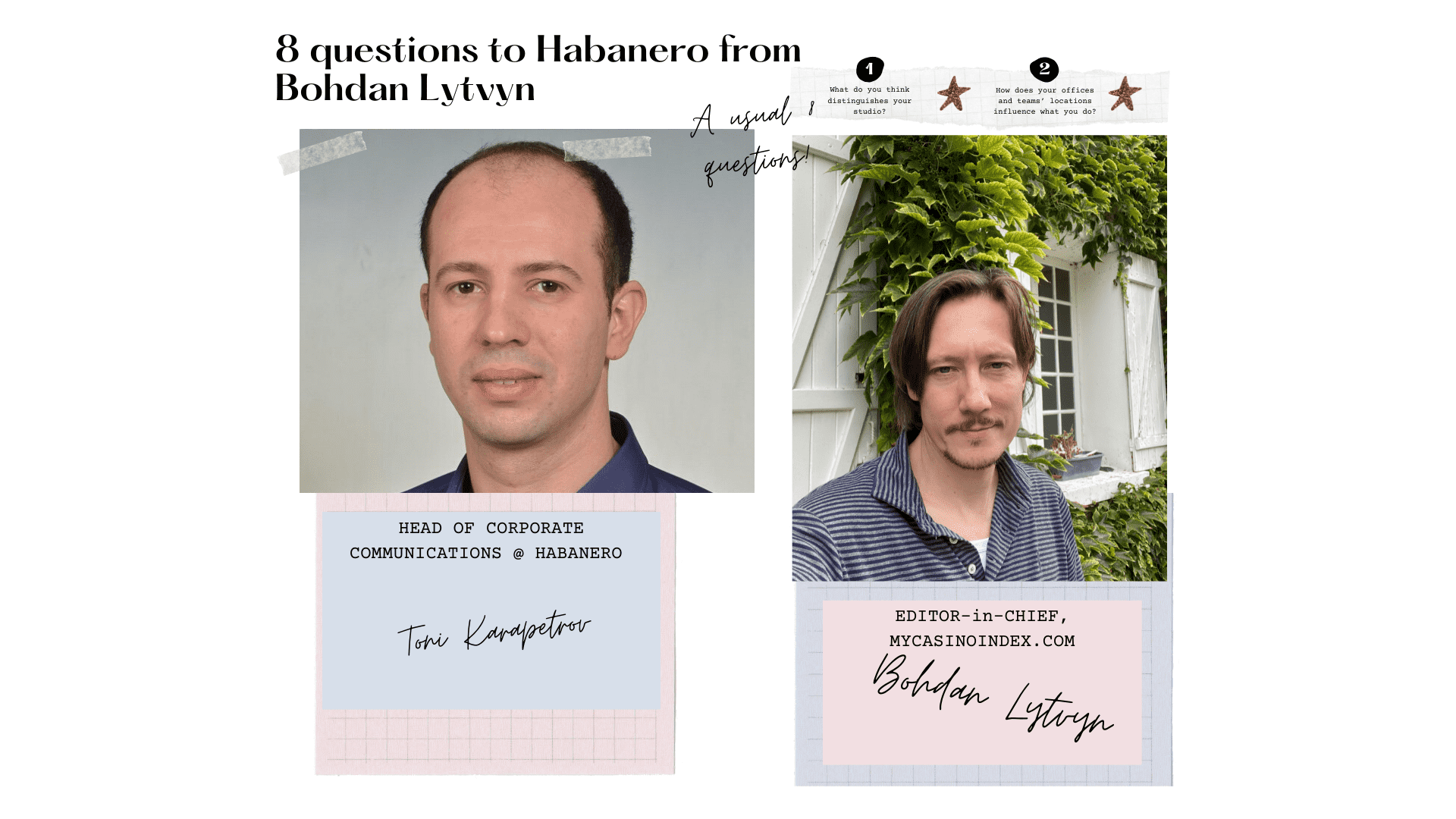 2022-09-14
Toni Karapetrov (Habanero): Our goal is to deliver high-quality titles with the best underlying mathematics on the market
This is an interview with Toni Karapetrov, Head of Corporate Communications at Habanero, conducted in August 2022.
To date, Habanero's portfolio includes over 130 slots... How can you describe the average game from Habanero? What do you think distinguishes your studio?
At Habanero, our overall goal as a business is to deliver high-quality titles with the best underlying mathematics on the market, all while enhancing services that typically accompany our products. For us, no game is ever the same – and our fantastic creative teams work closely to ensure we bring something new each time. We really want to introduce the wonderful world of Habanero to everywhere that slots and table games can be enjoyed by players, and we believe our diverse approach, and superb mathematics make our games the best. Hopefully our fast-growing popularity across LatAm and Europe is testament to that!
How does your offices and teams' locations influence what you do?
We're spread across the world to make use of our global presence, but Europe of course, is a very special place for us. That's especially reflected in our Head of Business Development, Arcangelo Lonoce, who can be found regularly in any major location where our games can be enjoyed online!
When it comes to influence, I really think you can see all our favourite locations influence our games - Scopa, our classic Italian card game, re-invented for a slot setting and a journey across Italy's most iconic landmarks, is certainly testament to that European influence.
We're also entertaining plenty of players in LatAm, so I think the likes of Taberna de los Muertos, which is heavily inspired by Mexico is a great example of taking our local presence and having that influence the way we're producing titles.
What were your first online slots? How they were different from the current ones?
Two of our big first hits in Europe included the likes of Wild Trucks, where we really stepped on the gas, as well as Hot Hot Fruit and Egyptian Dreams.
If we're comparing them to our current games – yes, on the surface, and when it comes to the presentation – we can see how far mobile has come since the 2010s, but in many ways, the core maths models can remain the same!
After all, for our studio, the core mathematics are what makes a game truly great, and enjoyable for the long-term by players far and wide. I believe we've carried this through into even our latest titles, offering a gameplay experience that can be truly engaging.
How does your company culture translate into your games?
Every business has its own set of core beliefs and practices, shaping everything that it does from its game design and development processes to its recruitment. At Habanero, I definitely think the multi-national approach we discussed earlier has been very reflective in our titles. Especially when it comes to Italy and South America!
Beyond the visual side and narrative, again, it's all about a dedicated approach to being the very best.
That's everything from taking on board feedback from players, speaking with our casino partners on a regular basis to work out how we can create even more enjoyable products, or indeed, how we can provide a story and title that can resonate with local places that we are live.
What is your ideal casino customer like? Do you provide games directly or through the aggregator platforms?
The wonderful world of Habanero really is for everybody! We're all about ensuring we can be as flexible as possible, whether that's direct integration with us via our own platform or with an aggregator partner.
For us, I think its key to finding a good fit – we've got a really diverse spread of titles, so it's all about working with our casino partners, or aggregators, to make sure we're offering the best performers we can.
How do you think online casino slots are changing nowadays in comparison to real casino games? Do you think there can be even an inspiration from or mutual influence between them both?
I think that's certain – we're dealing with two very different worlds.
A well-made slot provides a very different experience to what you'll find in a land-based establishment, including storytelling aspects and community features that allow modern players to interact with each other.
Taking into consideration the preferences of players since COVID is of paramount importance when thinking about the marketability of any modern slot. Again, I think the pandemic and staying at home accelerated an already-emerging trend.
Certainly, I think there's plenty of influence one could take from the likes of roulette, blackjack or indeed poker – the underlying mechanics and fundamentals are now very different to what he had 10 years ago when both channels were more similar.
How do you plan your next game? How far ahead do you usually think in terms of the schedule, resources, etc?
Great things take time! I don't think many realise that when they load up a a slot, it's the result of many, many months of meticulous planning, designing, and testing that have already gone into a product before it even reaches their screen. For developers, ensuring that both the back end of a slot product as well as its front facing features are of a high standard is what tends to determine the success of any game.
Getting to the Goldilocks zone takes a considerable amount of time and resources, and as no two slot products are the same, neither are their design processes. We focus on quality over quantity at Habanero, and by releasing one well thought-out slot a month, we can guarantee the quality of a given release. A slot can only be truly successful if it has the right amount of attention given to it, as well as the strong mathematics and immersive gameplay to match.
Tell us more about your upcoming releases and what to expect in the near future.
Our vision for the rest of the year and beyond is to become an established global force in iGaming, and this is achievable by continuing to develop the processes we've already set in motion, distributing our pioneering content across all major operator groups and global regulated markets..
I really can't say much about upcoming releases, but of course – we aren't far away from the World Cup and indeed, Christmas before we know it, which are always a great time of year to be entertaining players. Of course, to do that, we'll stay true to our principals of strong maths, immersive designs and the very best in terms of customer service.
We have identified this as a unique selling point that will continue to set us apart from competitors in the years to come, and will continue to define our strategy in the years ahead!