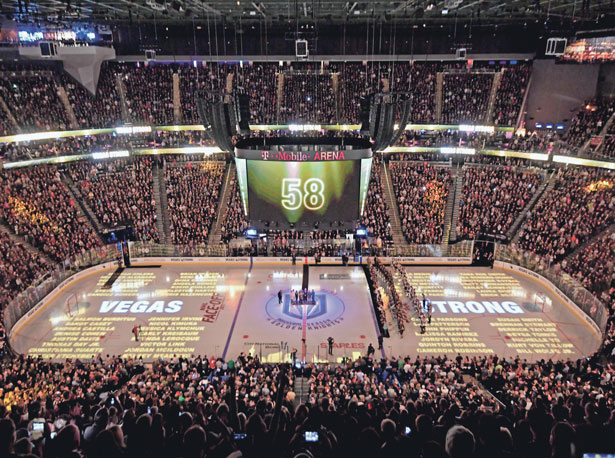 2020-10-01
An anniversary we can't forget
Las Vegas on Thursday commemorates a celebration it never wants to be part of. Three years ago - October 1, 2017 - a mad gunman set up at Mandalay Bay inside his hotel room and riddled a concert with bullets across the street.
Fifty-eight disappeared. Hundreds more were killed. It remains an individual's biggest mass-murder in history of United States.
But most impressive how a recently founded hockey team did its best to help a city rebuild, one with very little connections to the culture that it served.
In the days that followed the shooting the Golden Knights suddenly became Las Vegas'. Players that meet with emergency responders and travel to hospitals to console both people injured and their relatives. The team is getting behind the "Vegas Strong" campaign, raising awareness and contributing millions of dollars to support people who desperately needed it.
And who will ever forget the stirring speech of Deryk Engelland on the team's home opener on the night of Oct. 10? The soft-spoken defenseman, who from his days as a minor leaguer was the only player with connections to the city, spoke from the heart and told us that we would get through this as a community, that he and his teammates were committed to doing their best to help us rebuild, that we were all "Vegas Strong".
After a horrible incident marred the Boston Marathon in 2013, and the city sports teams did not encourage their fans to capitulate to violence, and a Red Sox baseball player who wasn't even born in this country gave the middle finger to those who tried to injure his area.
Wherever overt acts of abuse have been committed, youth athletic clubs have come in to support the recovery process and have been present.
No, it doesn't get the ones who died alive. It's t changing culture. Yet that is the bond that keeps families and their sporting teams together.
Here in Las Vegas, where we now have an NFL team and a WNBA team to go with our NHL team and our Triple-A baseball team, it gives us something to reconnect with, a reason to hope that when things seem most worst, there are others among us, good people, working together, being there with our society and taking us back to the sun. Men and women who call this place home and have as much worry about it as we do.
As we muddle our way through what is probably the worst year of our lives for most of us, it's reassuring to know the teams that we support to give a damn about us in our region. Let's hope there s never replay oct. 1, 2017 and let's focus on them again to help heal us.