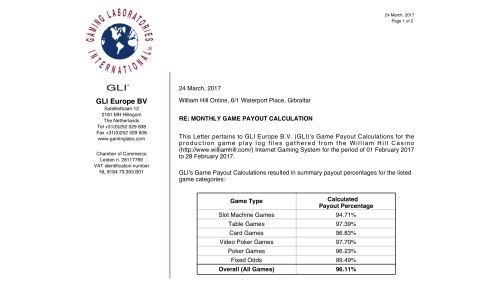 2021-05-03
Best Top Paying Online Casinos
Technical standards for remote gambling and software play a vital role in ensuring games are fair to consumers. Software developers and publishers are obliged to comply to these standards by the terms of respective license. While there is no formal requirement on the part of online casino operators to undergo compliance testing, they may voluntary do so to indicate to "players and other stakeholders that operational systems are secure and games are fair, and continuously monitored to consistently high standards". Source: eCogra Egap Seal description.
This is done by way of testing of Summary Casino Payout Percentage by month by a game category and / or by testing Random Number Generator (RNG) engine.
Table of 3rd party tested RTP Payout rates for the month of April 2021 by casino operator:
Highest Payout Casinos by RTP / RNG Testing

| Casino | Test Agency | Note on slots games | Certificate |
| --- | --- | --- | --- |
| Platinum play | eCogra | 95.67 | not published |
| Betway | eCogra | 95.61 | not published |
| Jackpotcity | eCogra | 95.6 | not published |
| 32red | eCogra | 95.48 | not published |
| Betsson | GLI | 94.71 | not published |
| 888 | eCogra | RNG only | not published |
| Unibet | GLI | RNG only | not published |
| William Hill | GLI | RNG only | not published |
Limitations of summary casino payout info
Theoretical RTP vs Actual RTP depends on your stakes. Theoretical RTP shows a game's return under the condition of choosing optimal bet and play choices (where in-play settings exist). In real life, players don't play optimally, so actual RTP rates might be different.
Selection of casino providers matters. Where a casino has only one software provider, for example, consider Jackpot City casino and Microgaming software provider, the summary payout data tend to be higher than in the case of multiple software providers.
Recency of publication of RTP info may skew the picture. Casinos are not responsible for keeping the schedule of publishing of the RTP reports: they may well omit the reports that show the controversial numbers.
Discoverability of the payout info is dependent on casino providers. Licensing houses do not publish this info for the general public, therefore, if a casino operator wishes to hide the report, they will find a way to do this.
Relevance of the RTP rate to a specific player is limited. If you wish to play a number of specific games, what good is knowing the monthly calculated payout percentage across all slot machine games available in the casino? Obviously, it is more instructive to look for specific games RTPs.
Alternative ways to find that a casino pays
Possible ways to find that a casino pays include:
License requirements,
Withdrawal limits and times,
Overall reputation factors.
Casino License per se provides strict measures to ensure compliance, including mandatory RTP testing on the part of softwares as well as mandatory testing of Random Number Generator (RNG) engine required from casino software suppliers. Plus, licensing bodies will investigate all complaints by players as regards technical sustainability of the system and impose giant fines.
Withdrawal limits is another important metric to assess a casino standing. Financially healthy casino operators have no withdrawal limits. This is an indirect sign of casinos that have no actual reason to compromise the payout.
Casino establishment date. Casino reputation is measured with time. 80% of casino operators die in the 1st year of their life due to poor management and promotions that ruin casinos' bottom line. So, if a casino operator stays alive for a long time, it means it most probably has already been tested through by players and regulators as well.
How do we consider the best way to determine a 'Top paying casino'?
We honestly think that Summary Payout Percentage per game category or RNG certificates are way too inflated these days.
First, casino sites DO NOT show them on the websites anymore. It has been an ongoing practice to state that RNG certificates are available on request AND collectable within 10 working days.
Second, only a tiny portion of online casino operators have them. Mostly, these are dinosaur sites that have been around for ages. One reason for this is that RNG / Summary payout testing is costly.
How to find a high paying casino that is right for you?
If we picked Top-3 factors to find the best top paying casino, we will be doing these:
Casino licenses: the more licenses a casino has, the more it has been tested
Casino slots providers: if the choice concerns you, make sure the site has casino operators that matter to you
Casino withdrawal limits and speed: easy withdrawal casinos are most probably the ones that are most secure and fair too.
Top list of the Best Paying online casinos by 'Banking' criterium
Guts (pending time 2-6 hours)
Casumo (pending time: up to 23 hours)
Betsson (pending time: up to 24 hours)
Brands above have No withdrawal limit and they all are UKGC-licensed casinos + MGA-licensed casinos as well as Swedish Gambling Authority licensed casinos.
Casino payout info
As a part of voluntary data monitoring and analysis, casino RTP and RNG data samples are audited by 3rd party testing agencies to ensure fairness. The Calculated Payout Percentage is computed by summing all monies won (for all games within a category) and dividing by the total money bet on the same games. Ideally, casino's payout info is a median of RTP of all slot machines available therein.
Sometimes, a series of big wins can skew the payout stats -- a summary payout can lean closer to 100%. Alternatively, a casino may pay on the whole closer to 90% if, for example, some 'high roller' will mostly lose in a given month. Obviously, casino payout data depends on the casino operators life cycle and size: newer and smaller casinos will tend to be more volatile by month as compared to old and established ones.
A new generation of Provably Fair Online Casinos is another way to tackle fairness issues - the blockchain technology offers a precise tool to check if the casino games have the same RTP as stated. If you would like to learn more, check Discover Provably Fair Bitcoin Casinos
Licensee-approved test houses are:
eGaming Compliance Services: eCOGRA
ITL: iTech Labs
QALab
Quinel
Slovenian Institute of Quality and Metrology
Trisigma
Source: Test houses approved by the UK Gambling Commission
Casino sites that have RTP / RNG testing certificate:
Monthly payout reports
Summary payout reports are published over a 4 week period and accessible through the casino operator website (if they wish to disclose it). Reports can be directly asked for through the customer report representative of a casino brand. According to the results of an online gaming survey involving 11,000 players conducted by Nottingham Trent University: 88% of players rate monthly RTP reports prepared by a reputable independent third party as important, and 91% rated RNG fairness reports as important (as cited by eCogra by the link above).
Representation of results of RTP reports
These reports are managed by an advanced content management system and accessed by players via an image on the casino homepage.