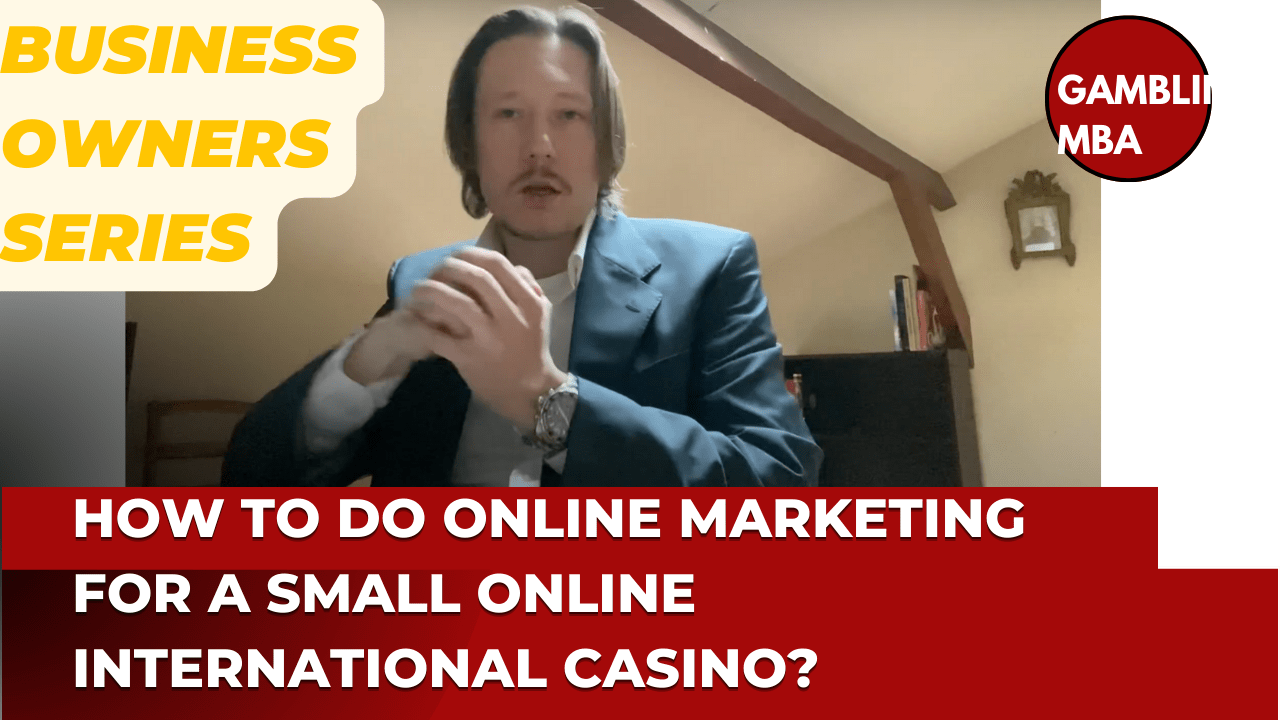 2023-02-22
How to build a marketing function in an online casino?
How to build a marketing function in an online casino? This article is for those of you who are planning to start an online casino and are making plans on how to:
build a marketing strategy,
do budgeting,
build a team and make KPIs,
define a Break-even point,
make plans for GGR / Sales.
HERE'S A VIDEO DISCUSSION OF THIS TOPIC
When we are discussing how a marketing function has to work in a new online casino, we come from a premise that an

owner has got herself an out-of-the-box white label solution, which actually is a BaaS (Business as a Service), and is going to

acquire traffic from online gambling publications on a Revenue Share (RS) affiliate scheme. These two things will take away about 50% of your total Gambling Revenue (GGR).
So, all discussion below rests on a condition that we take 50% of your sales and put it aside - we are only talking of what's left to us. These 50% consists of roughly 20% that goes to a prodiver of a BaaS, i.e. casino platforms including 1) payment for the software licence, 2) payment solutions, 3) access to the games aggregation as well as outstaffed support, etc. The other 30% of GGR (which is roughly a 45%RS) goes as the RS to traffic gatekeepers.
Now that is clear, what are the key components of marketing that should be addressed here? First of all, whenever we talk marketing in online gambling, we talk
Acquisition,
Activation and
Retention.
All three are equally important and are actually the essence of online casino operator's marketing. Cost discussion of online casino marketing revolves around two variables:
Costs of Handling [the operations ] that is a fixed cost and
Cost of Sales, that is a Variable in nature, which means it is incurred only if there are actual sales.
Likewise, all further discussion will gravitate towards Acquisition, Activation and Retention concepts and will be expressed in terms of Fixed and/or Variables costs.
If you'd think of producing a marketing strategy, you will probably ask yourself: where to start? I will base my claims here on two preconditions:

1) Time to Break Even is 12 to 18 month, that's a Core Target;
2) Fixed costs are inevitable and it's a more a less stable amount for a small start-up online casino.
Explainer: In such a competitive market observing Time to Break Even (TBE) is crucial: if you miss, you might not break even ever. Geo markets are closing often, just like the publications (advertisers), so there's a great deal of uncertainty that comes up on you unless you are in the "green zone" already. The second premise is that you can't get away without bearing fixed costs in this business: whatever you do, at the end of the day there will be fixed costs that you'd have to pay, no matter if you made any profit or not. These are mostly the salaries, rent (if any) and administrative costs as well as software subscription fees.
Bearing in mind a 1) need to break even on time and 2) the fixed costs that you incur, we can make a budget and a solid marketing strategy. We can even arrive at the number of the First Time Depositors (FTDs), the Sales (Revenue), etc everything is already there.
Online Marketing Team Composition
The online marketing in an small international online casino may consists of 3 operations:
Affiliate Marketers
Activation team
Retention team
Affiliate Marketers team composition and salary
Affiliate Marketing lead (salary: €3.5k net)
Two affiliate managers (salary: €1.5k + % of KPIs net)
Two Lead generation associates (salary: €1k + % of KPIs net)
Activation team
I strongly suggest that you would outsource this function, so it might be taken from the market as an agency.
Retention team
Retention may consists of 2 or 3 persons (roles):
CRM manager or a Analyst (salary: €2.5k net)
Email marketer (salary: €2.5k net)
Brand manager (salary: €2.5k net)
And finally we have a Chief Marketing Officer (CMO), with a salary of €5-6k
Online Casino Marketing Budget
Obviously, marketing is the most important function of an online casino. So, coming down to numbers, you may see that the affiliate team on the whole may cost you around €8-9k per month pre tax. Activation team might be outsourced as discussed. The Retention team may cost €7.5-8k monthly.
In terms of software to power up the operation of your marketing team, you may need:
affiliate marketing software,
some CRM extensions (since the basic CRM is provided as a part of the online casino platform licence),
Email marketing tools (software, server, etc) as well as
website hosting for an affiliate program's site, etc and also
several traffic analysis and SEO tools.
So, on the whole I recommend allocating around €3k per month to the software above.
Total fixed costs budget for marketing team of 6-7 roles plus software licences is €18-25k per month or €220-300k per year
In terms of the overall casino operation -- apart from the Marketing you may obviously need Administration (CEO) and a Risk & Fraud Management team -- I predict that an overall yearly budget of a small international casino might be €400-500k, closer to €0.5mil per year.
Why is that important? Apparently, you can't get away without bearing this cost if you want to run a casino. Now that you have an idea of the potential value of your fixed costs of running an online casino business, you need to create your portfolio of depositing players that will cover up those fixed costs in the first place. So, we are coming on geos and the lifetime value of a player.
Selection of geographies for operations
First of all, as you know there are Tier 1 and Tier 2 geographies. These are the most profitable geos and those where people would tend to spend less.
As an owner of white-label casino, you (reader) will have a Curacao licence and this is how you can target most of the unregulated 'grey' geographies. Also, in principle, having such an off-shore licence you may also target the regulated ones, which, although illegal, may generate you a good profit since there is a certain demand for offshore casinos even in good old regulated geos, etc.
For the sake of simplicity of this discussion, I presume you have either all the necessary licences or may go without: for particular aspects of operations you may always consult me in person too.
Second, if you have an ability or option to have your casino website localised in several languages I strongly advise you do so. The same concerns the support department: as an owner (or licence holder) of an out-of-the-box casino business, you'd see from the start which languages the support team speak: stick to options where support speaks many languages. Suchwise, you may actually target many Tier 1 and Tier 2 geos. So, what I actually recommend is targeting the following Tier 1 geos:
TIER 1
Top-5 English speaking countries:
Canada
Australia
UK
New Zealand
Ireland
Nordic countries:
Sweden
Finland
Norway
Netherlands
Denmark
German speaking countries:
Germany
Austria
Switzerland
Plus, you have Japan separately.
TIER 2
Poland
India
South Africa
LATAM countries:
Chile
Brazil
Argentina
Life Time Value (LTV) of an online casino player
I posit that the LifeTime Value (LTV) of Tier 1 players on average (across all countries) is €500-600 for the sake of this discussion.
This LTV is realisable over the 1 year time after Time to Money, which implies that every player will start making money to a casino only after 6 months from registration (before that time he/she will consume money in terms of promotions, etc). Effectively, it is presumed that an Average customer lifespan is 18 months, of which the effective lifetime (when he/she is a paying client) is 12 months. Likewise, the LTV of Tier 2 players is €200-300 on average.
Coming from the idea that you have:
1) the fixed costs of running a business of €400-500k per year and
2) LTVs of casino players for Tier 1 of €550 and Tier 2 of €250 and also
3) the pressing need to break even after 12-18 months of operations,
you can easily create a matrix of clients' traffic.
One thing that might be missing here is variable costs of making sales (acquiring a player). These include money you give away for advertising (marketing) and activation of those who fail to make a deposit.. From my experience as per Tier 1 geos your Cost of Sales (Cost of Advertisement and Cost of Activation) per player might be €150-€170, whereas in Tier 2 geos it's closer to €80 per player.
My CLAIM is you need 1.5k from Tier 1 and 2k players from Tier 2 geographies, which is a total of 3.5k players.
Likewise, it makes around €120 per player on average in terms of fixed costs of Handling operations and just about the same amount of variable Cost of Sales (which is a cost advertising and making this deal happen).
So, your target Cost of Client or Cost of Client Acquisition (CAC, here used interchangeably) is around €250.
This is an average unit of value that you give away to have (and be able to service) one client irrespective of geography. Notably, while the fixed costs are laid evenly by all players, it makes Tier2 less profitable (even though their Cost of Sales is lower).
Apparently, you may earn net €260-300 (€550 LTV minus 290 CAC (Fixed + Variable) from Tier 1 and €50-100 (€250 LTV minus €200 CAC) from Tier 2 geos.
So, after you extract the LTV off 3.5k players you have onboarded (1.5k from Tier1 and 2k from Tier2), you may have a revenue closer to €1.4 mil. A year of running your online casino will cost you €400-500k fixed cost, plus about the same amount (€420k) will be paid by you as a Cost of Sales to onboard 3.5k players. So, your yearly expenditures will be roughly €900k all together. If you make an active start from month 1, coming from my experience, you may expect to have 55-60% of LTV realised by the end of the first year alone, which makes around €800k.
CONCLUSION: If you are lucky, you will break even by the end of the year. In more realistic terms, it may take 13-14 months from the start of operations. But the target is to break even within 18 months of start of operations.
PLAYER ACQUISITION
To get 3.5k FTDs you will need to get at least 70k of visitors to your casino site. I am talking about the 5% Conversion Rate (CR) of a FTD -to-a Visitor Ratio, which is a sign of more or less quality traffic. This 70k visitors has to be broken down to 30k visitors from Tier1 geography as well as 40k visitors from Tier2 ones.
Therefore, each one particular geo may have to bring you about 5k-6k visitors, which makes 200-300 FTDs from a geo. This is data to set goals for your Affiliate Marketers Team.
20% TO 80% PRINCIPLE
While the structure of publishers market within each geo is different, on the whole, you may want to think of 3 pillars of traffic acquisition strategy:
Top-10 publication: the most expensive ones
Top 20% Percentile
The rest 80% Percents
This is how you may actually work with traffic owners: start with Top-10, proceed onto 20% of the most visible ones and after that go on to dealing with the rest 80%. Notably, timing is crucially important to break even within a target. Considering this, you may understand that it's vital to quickly get hold of the large traffic providers in the first place.
Therefore, you source the Top 20% Percentile of traffic owners from:
Big Media Companies and their Sales Houses of the like of GIG, Catena Media, Blexxr, XL Media to name a few
Affiliate / Publishers networks and
Some visible individual publishers.
These are sources to get the best portion of your traffic: maybe it's not going to be the largest one, but be sure that through the gatekeepers of 20% of the top visible sites in each geography you'd get the most quality traffic. But also you'd have to pay money for this kind of traffic, now the industry has gotten so competitive, you must get prepared to pay money for the exposure right away.
What about the rest 80% of sites? These are smaller publications, each particular one will give you not so much traffic (if at all) as the larger ones, but on the side of your budget these are the most cost-effective ones. In the end of the day, they on the whole will probably give you just the same amount of players, but at much less cost.
Also, you may get away with much smaller upfront fees or even without ones. Yet, to collect players from this group of publications you need much more time. So, as discussed, your online casino business is a "time and money: game: you need to observe a balance between your budget burn-rate and CAC. If you'd pay more for the traffic that comes from Top-20 percentile, you then need to pay less for the rest of the traffic with a view to keep to a goal of CAC of €250.
So much for the traffic, we move onto the Activation part. But before that, let's wrap up the Acquisition part.
A total of 3.5k players, 200-300 players from each geo specified above (Tier 1 and Tier 2)
LTV of closer to €600 for Tier 1 payers and €200-300 for Rest of the World clients
CAC is €250 (fixed costs of €120 and €120-130 of Advertising and Activation costs)
Start with Top-10 traffic owners, go down to Top-20% and only after go to the rest 80%.
After 18 months you may expect €1.4mil in Sales before tax, and it's a target time to break even.
PLAYER ACTIVATION
The practice shows that good traffic has a ratio of Clicks to Registration of 6 (5) to 1, which is 15%-20%. Likewise, the target ratio of client activation from Registrations to FTDs is 25%-30%. So, it means that on average 1 of 4 clients that have registered shall make a deposit. This Ratio (Regs to FTDs) shows how well you as a casino operator are able to onboard a client who already registered in your casino. Apparently, the Support team will generally lead a client till the Registration point, and further it's the Activation team that steps into a game.
As discussed, the Activation team might be outsourced for CPA or % (sub-affiliate deal) or both. So, another target variable here is Cost of Activation (CoA). You must remember that you have actually already paid for a client that you are activating: so, first, Activation is not necessary for all client, only those who are flagged; second,
I claim that CoA shall be no more than 20% of CAC, which is no more than €50.
That's close to 10% of a player's LTV. So, the best remuneration model for an activation team is €25 + 5%RS.
Importantly, there are two risks:
High Activation costs weigh on the overall Cost of Sales.
Bigger bonuses is a bad way to activate players.
Notably, the bigger bonuses you give to activate a player, the higher your actual Cost of Sales and the longer Time to Money for your publishers and you as a casino operator. So, at some point it is not even economically viable to activate.
PLAYER'S RETENTION
Retention is the way you work with existent online casino players. As discussed, we expect that a customer's life span is 18 months of which his/her paying time is 12 months. So, it means that your principal Retention goal is that your player will stick for more than 18 months with your online casino.
My claim is that a Target for your Retention team is to make at least 10% of total clients base "live" longer than 18 months.
It's not an unrealistic one for a bigger casino, actually it's the opposite, but for a small international online casino working in "grey" markets or under an offshore licence in a regulated market I suppose it's quite a decent target.
Likewise, your Retention team may consist of the CRM manager (analyst), Email marketing manager as well as a Brand manager role. The KPIs for your team are:
Average Deposit Value
Number of Deposits per Month (Year)
This is how you will measure the Retention performance. So, it will work like this: an analyst will highlight specific players using a scoring methodology and it is to these highlighted ones that you will deliver promos and offers using email marketing (sms, etc).
ONLINE CASINO MARKETING ACTION PLAN
1. Start with Hiring and Onboarding people on a team. It is good to use a Hiring agency therefore: it's faster and more effective.
2. Branding and Upstream hunting for B2B partners: a good way to go is by starting with upstream sourcing of B2B publication partners. Not players, but traffic owners. Likewise, before you go to the sales houses of the big media publications of the likes of GIG, Catena Media, XL Media, Blexxr, etc you have to think about contacting a site(s) that would advertise you as an affiliate program. This way you can get hold of other affiliates that'll find you like this. In all, it is wise to start hunting for B2B partners in the first place. It may also require creating some public profiles, making a couple of videos and giving interviews discussing your affiliate program in order to get in front of the eyes of your potential publication partners and become recognizable.

3. Affiliate Marketers Training. Once you have got a hold of several publications, you get to train your affiliate marketers. You'll go over scripts, overall logic of sales, making training on communications and, most importantly, KPIs.
As being said, the most important KPI for affiliate marketers is CAC, more precisely it's variable part -- a Cost of Advertising.
As we posited, the target CAC is €250 on average. If they make it less, the difference shall be a base for Affiliate Marketers Bonus. Likewise, you may allocate 10%-20% of the saved amount (a difference between a Target CAC and the Actual one) as a bonus motivation to Affiliate Marketers.
4. Commence with driving traffic from Top Percentile of Tier 1 affiliate publications: start with Top-10 most effective (but also most expensive) publications and, once done, proceed onto Top 20%, i.e. the rest of the most visible ones. This stage will take some advance payments (flat fees, listing fees) as well as other types of hybrids. Here, you would want to make sure you burn your investment budget both effectively and massively (fastly). Importantly, the more money you'll burn in the beginning to get hold of the players from the Top Percentile of igaming publications, the more effective you are and the faster you get to the money in the end. Only once finished, you may go on to the Rest 80% publications in Tier 1 geos.
5. Once done with Tier 1 publishers, in the same fashion, you proceed to driving traffic from Tier 2 publishers. You will start with your branding and building relations with your B2B partners that will advertise you as an affiliate program. Top-10 suppliers of traffic, then proceed to Top 20% of the publications making your affiliate deals.
6. You then may proceed to streamers and influencers (if necessary) and do retention procedures' check up and further training on retention.
7. Finally, only after this you proceed to the rest of 80% publishers in Tier 2. When it's over you may sit and calculate your revenue.
RISKS OF THE PROJECT
You miss the CAC target because of the Activation team's overheads. It's a common thing, actually, so whenever the risk of it appears, put your activation team down to the most profitable geos (Tier 1) and potentially most high profit yielding clients (through developing a scoring and prediction methodology). In all the rest cases, you may just leave those registrations alone.
You miss the target of an amount of Tier 1 clients. It's also a usual thing since the competition is really high there. If it's the case, you can, first, expand your Tier 1 geographies, looking out for the Netherlands, Austria, Switzerlands, Denmark players, or second, adjust your plans and get more Tier 2 players (with a lower CAC obviously).
You end-up giving away excessive bonuses that will bite off your LTV and weigh on your Time to Money. As discussed, this is a way to get a greater market share at the expense of longer time to money.
WRAP-UP
Online casino marketing comes down to Acquisition, Activation and Retention activities. Marketing in online gambling will operate two types of costs: Fixed costs (cost of Handing all business operations) and also Variables costs (cost of Sales, including a cost of advertising, cost of activation ,etc). The latter is called variable because it only comes with Sales, i.e. active accounts (players) only, whereas the fixed cost does not depend on whether or not you have active accounts, because your people will get the salary anyway.
The overall cost of acquisition (fixed and variable) when put to a player shall not exceed €250 per player on a base of roughly 40% Tier 1 and 60% Tier 2 accounts. So, it's 1500 players from Tier 1 and 2000-2500 players from Tier 2 (Rest of the World). If CAC is less than a target, that's a KPI for your Acquisition team. Likewise, you shall give away 10-15% of the difference to them as a bonus.
Fixed costs of running a marketing team for a small international online casino are 220-300 thousands euro per year, whereas the overall cost of running an online casino is 400-500 thousands euro per year. These funds you have to put aside for running a business and forget.
Except for this money, you shall invest in advertising and activation. If you set a target of breaking even somewhere between 12 and 18 month from the start of operations, you must attract 3500 to 4000 players with 40% origin from Tier 1 and 60% origin from Tier 2 geos with an LTV of €550-600 (former) and €250-300 (latter) that realisable over one year alone.
It means that - given this number of players - your fixed costs are around €120 per player, whereas your variable costs are just about the same. This is how we arrive at around €250 overall CAC per player. So, effectively, apart from putting aside €400-500k to cover expenditures of handling your operations, you must also put just about the same amount (yet, maybe, you will be able to stretch them in time) for extra incentives for the traffic owners including flat fees, listing fees, right away advert costs, all kind of hybrids. It means you will invest around €900k in online casino over the year and, preferably, will be able to break even by the end of the same year, if no, - in a year and a half.
As we discussed, you maintain an "assemblage" of traffic from Tier 1 countries (English and German-speaking countries as well as Nordic countries and French-speaking province of Quebec in Canada) as well as Tier 2 countries, which includes most of the developing countries of the likes of Brazil, Chile, India, etc. In all, you might need about 70k unique users to be able to arrive at 4k of FTDs (under the conditions of a normal quality of traffic). Geo-wise, you might want to attract 5-6k of users from each local market, which means that you might want to structure your work with potential advertisers accordingly: start from Top-10 the biggest, proceed to the rest Top-20% of best visible traffic owners and finally proceed to the rest 80% of the publications. We also noted that the real trick is that the latter 80% of the traffic owners will turn to be the most cost-effective of all, but they will pay you back over the long time, which means a long time to money, and this is how we concluded that you might seek the quick fix solution with the Top-10 traffic gatekeepers notwithstanding the price.
When it comes to activation, we emphasised that it's important to keep the cost of it as low as 20% of all Variable Costs. The whole activation shall be better outsourced to an external team. As regards the Retention, it can be performed by a small team of 2-3 roles: one does analysis of players behaviour, the other communicates them with a tailored offer through email and sms and the third one deals with a casino brand issues, interviews, professional press, etc with a view to advertise a casino to earn more publishers.
Your action plan starts with hiring a team and goes on to branding and making yourself visible to potential B2B partners and the press. And after that you proceed to training and setting clear KPIs to your Acquisition and Activation teams and this is how you proceed to Top-10 to Top-20% and the Rest 80% funnel of working with publishers. The risks discussed involve the risk of missing the CAC target due to excessive expenditures of activation as well as a risk of failure to drive a target number of Tier 1 players and also a risk of ending up with giving away excessive bonuses down the road of activation and/or retention of your clients.
If you have questions or would like to discuss up things with me, I am available by email [email protected]