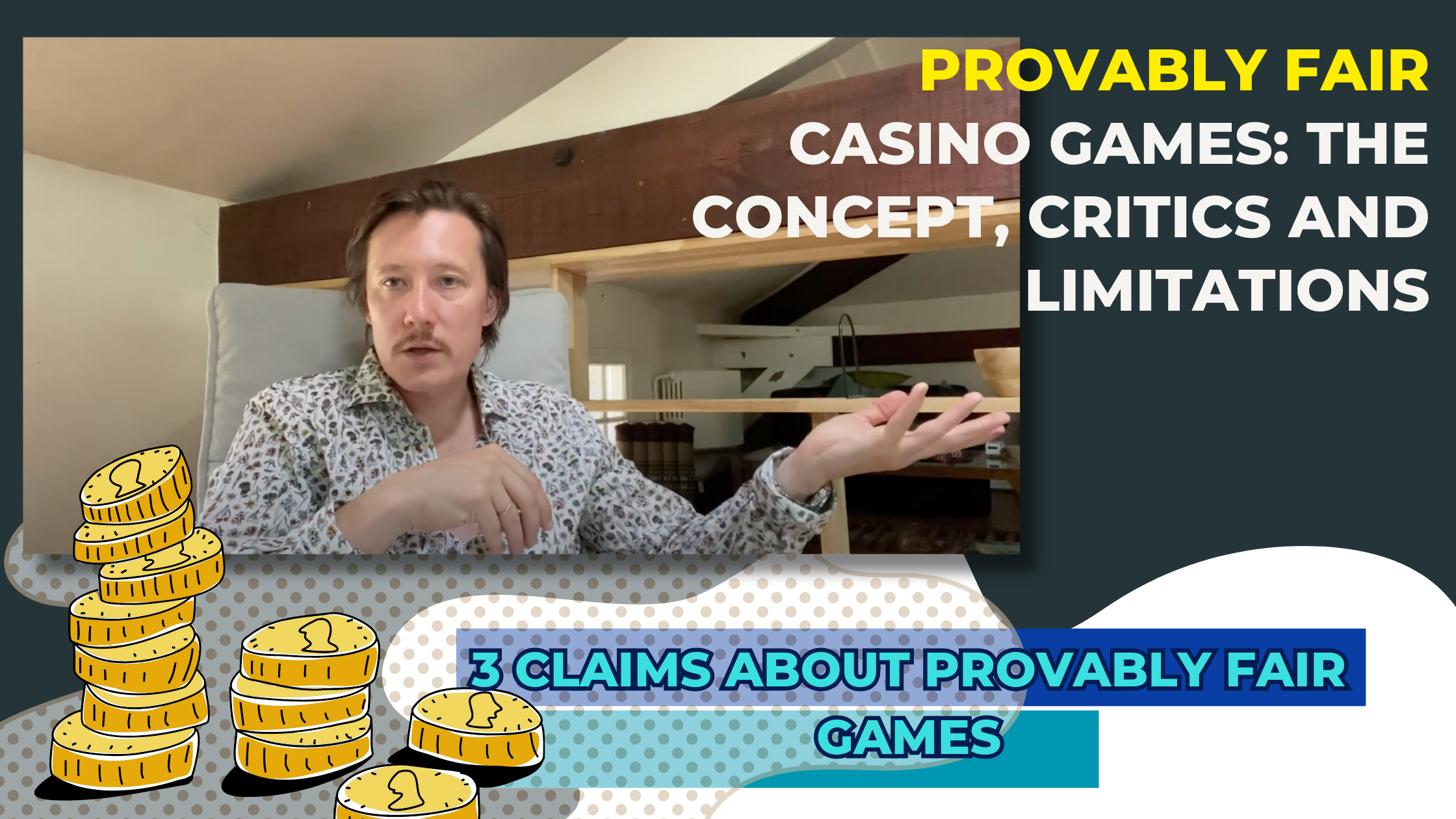 2023-07-23
Provably fair casino games 
I invite you to discuss provably fair casino games and all the things connected to it. Let's see who uses these and why it even matters? What are the implications of playing these games and what about the RTP and licences? These are the questions that I will try to address now.
First, I take a relaxed stance on this topic because in my honest opinion it is something of a fashion. It's how fashion goes these days: you will probably find more provably Fair casino games anywhere in casinos than ever before and it's a new trend, a new reality. But in fact it's really nothing new. So let's see how it works.
Suffice it to say that despite all the different modes of games or a different gaming modes like crash, roulette, coin flip or even slot machines are the same concept with a different visual design. Slot machines obviously are most popular these days and still the actual function of the game essentially is the same.
So, being able to prove:
the fairness of the game,
how the winnings are distributed,
is it really random generated or not,
are the outcomes of the game are really dependent on either on a chance or on people who do it to their advantages
- it's a big question, and every time it was the case.
But as the games get really complex, more complex than ever, the question of fairness not only boils down to a specific outcome of one game, but also to the whole sequence of gaming rounds and it would also involve RTP, volatility, etc, so it would require serious testing and serious audits.
So in the first frame of our attention there is a fact that probably fair gaming methodology is really simple and nice. It works in three steps.
First, when you sit down to play a game we'll find a button to push and find a hash (the same technology has been used in Bitcoin). Hash is where there will be announced an outcome of this gaming round for you.
Then you put your (bet), put your event in the winning combination if it's for example Coin Flip and when the round goes down to an end, you will find the outcome and you see together what was the initial hash (before you put a stake) and what is the final one.
And this is how you may witness the game was not dependent on your stake and it was seen in advance. So it is true for instant games it is even true for slot machines but you have to do it before each spin you make.
So why does it even matter?
It matters because uh it is attached to the very idea of trustless economy, trustless business. That is essential for the whole crypto industry: we must not trust anyone to make this industry or a transaction work. This is a principle, and this principle only has developed once again in the context of games.
So it's fun because when you play some kind of game you can see the outcomes of winning combinations per particular player
beneath your playing window. It's really fun, it's provable and it's a sign of a trustless economy.
How was it done in the 'old days'?
In the old days there were companies like GLI (they exist till the date), so that would put servers and try to play games automatically and try to prove by millions of combinations that actually this game results was real random generated and the random generator works well.
So what's the centrepiece of it in terms of the business?
Claim #1. I claim that the central argument is a licence. For example, most of the online casinos in crypto are moving (fastly or slowly) away from licensing at all because they didn't actually feel a need for a licence. There are many of them like Just.bet casino, for example, that do not actually have slot machines from those big names. They have their own In-House Games. In-house gaming is a whole new industry, everyone provides simple but clean and nice in-house games and by being able to prove that they're Fair
they can depart from the whole idea of licence. They don't need a licence in any case because it is just another way to prove the fairness of their games.
But it gives a lot of new opportunities: if you don't need a licence you're not bound by all the things related to a licence: geographies, banking and all this stuff. To say, banking has been already overcome by the very wallets and crypto depositing and withdrawal methods. The last stumbling stone in their way is game developers. So, if game developers are in-house, they're probably Fair, so then the license can be extinguished from this equation: it doesn't even matter right now.
Claim #2. Provably Fair s a way to show a greater significance to the 'New Waive' games. Apart from license, there's also one emphasis that can be attached to probably Fair casino games and this is about a visual distinction between 'New Waive' games and you know older ones.
So, the 'New Waive' games is something that has been done just recently and it has to be properly facilitated, properly advertised and publicised. So probably fair - as a beige - is a good way to publicize this type of games by contrast to the older ones, of which
you cannot effectively tell that they are fair from their appearance. Likewise, you have to employ intermediaries like GLI and players have to at least trust them to be able to gather the information that they are actually fair. In this case nothing must be taken for granted, it's a trustless economy and this is, in my point of view, a distinction between old and new. This is a new hallmark of quality.
As a major way to detach from licence-based gaming the probably Fair casino games are a great great vehicle thereto. And the instant win games are all the
time are using them.
What about RTP in slot machines?
Claim #3. My third claim is that the RTP is not actually covered by the whole idea of provably Fair games, that is proving games return fair by the technology of Bitcoin and SHA-256 and so on. So, obviously, it can give you a proof that the round's result was randomly generated but it cannot give you a proof that the RTP satisfies or really what they claim.
This is a crucial point here: if you play slots you must not really attach that great attention to the batch of probably fair games.
This is the end of this discussion. I want to make three key points:
1) that is a way to detach from licenses,
2) a way to show a greater significance to the new waive games,
3) but also it doesn't really make much difference because it cannot cover the RTP in slot machines if you're playing slot machines so it doesn't really convey much importance to you.
If you have questions or comments here please drop me an email, you can find my contact on the site too.