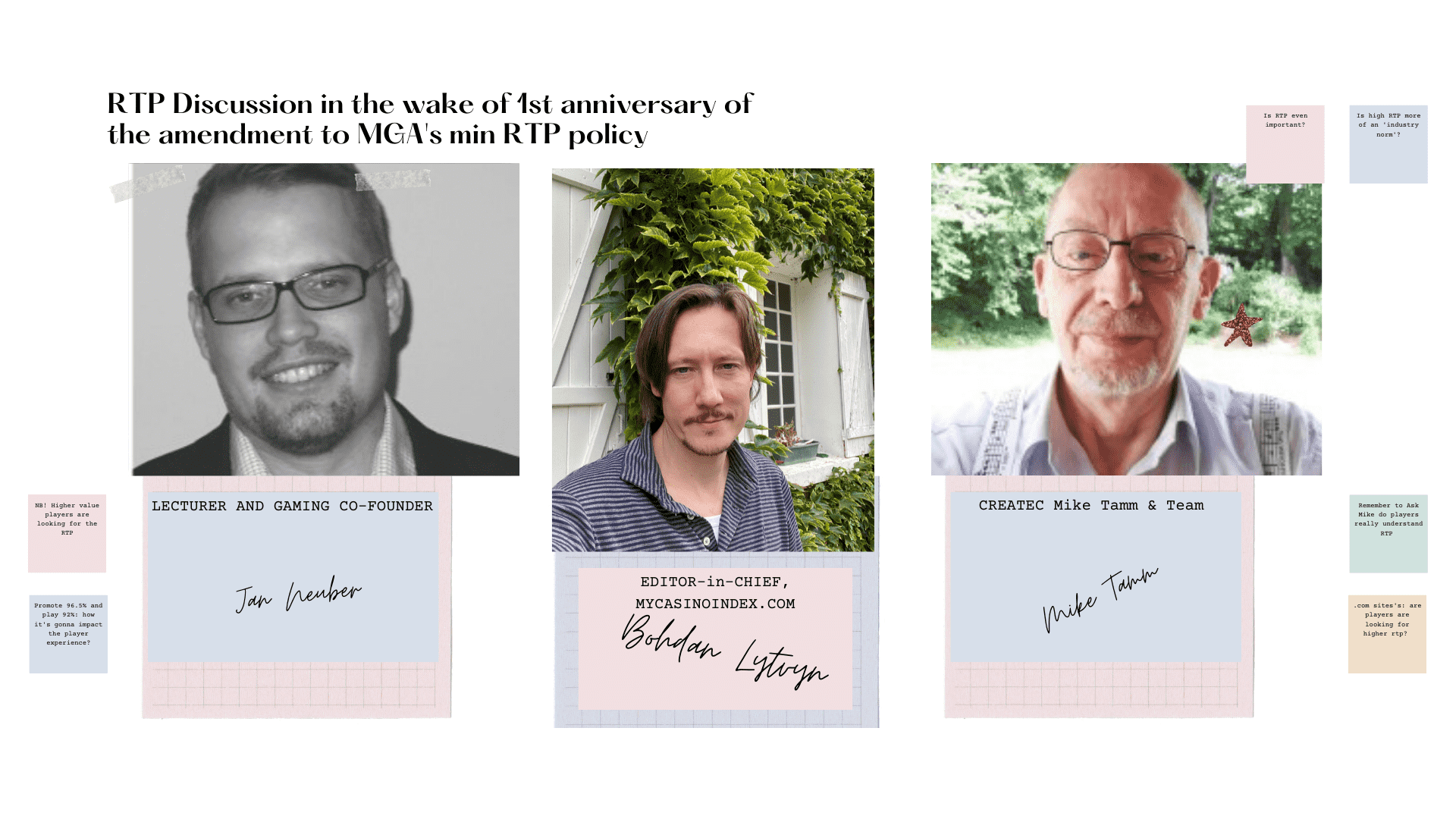 2022-09-15
RTP discussion with Mike Tamm and Jan Neuber
We talked with Mike Tamm (founder at Createc Mike Tamm consultancy) and Jan Neuber (co-founder at NewAge Games) on RTP in the wake of the first anniversary of the amendment to MGA's min RTP policy (28 May 2021). The backdrop for this discussion is being Robert Lenzhofer's article on what is the right RTP for the German 5.3% turnover-taxation as well as iGaming FM's podcast 004 Events horizon & the RTP condumdrum with Relax Gaming CPO Simon Hammon.
1
Bohdan Lytvyn: How much do players really understand RTP? How does the sense of it differ across the types of players?
Mike Tamm: Because this is a random game, players cannot capture the RTP directly. What they experience are gaming sessions with very different RTPs, which can be significantly lower (usually) or significantly higher. However, there are effects that players will notice over more extended periods of play. For example, with an RTP of 92%, the playing time that players can play is (approximately) halved compared with a slot with 96%. However, this in turn depends on the division of the RTP into small, medium, high and very high wins. If with an RTP of 96%, very high winnings accounted for 1%, then the halving effect of the playing time would also occur in a game with a 6% share of very high winnings. In these cases, the players would mostly play with an RTP of 95% or 90%. The more glaring the differences are, the quicker players will learn from them and avoid the slot; then, it may only earn its money through new players and its graphic/acoustic quality. The vast majority of players have changing phases, so the game behaviour is the more accurate criterion compared to player types. There are no fundamental differences between the different playing behaviours, those who play less and more cautiously only need longer for the same experience as it occurs faster in intensive games. An exception may be the player who only cares about long playing time; they should react very sensitively to shortened playing times.
Jan Neuber: Never underestimate a player's sense of feeling for a game. Players in general highly understand RTP and the value they get back. A low RTP effects directly the performance. As a supplier/operator you can cover low RTP with visual presentation and extended gameplay for a while but players will realise sooner or later if you try to trick them. There is a difference in between playertypes and their interpretation of RTP where highrollers care much more about the RTP then "time-on-device" seekers as well as general casual players - but a lower RTP will always make you lose players in the long run.
2
Bohdan Lytvyn: Is high RTP more of an 'industry norm' or, when lowered, it gives an actual sense of a flatter experience of the game?
Jan Neuber: Lowered RTPs gives a bad and flattened gaming experience. As an outcome less players will return to the game.
Mike Tamm: I've certainly played more than 10,000 slots by now; the high RTP is the norm internationally in my experience and in the regulated markets and is around 96%; Deviations up and down are the higher, the rarer. I would not speak of a flat gaming experience because this feeling depends more on the concept, the graphics, the animation and the sound. I would prefer to name that, that it is a more or less expensive game.
3
Bohdan Lytvyn: In your opinion, what has been a 'higher RTP strategy' (championed by NetEnt) to the market? Was it then a predatory pricing issue to push away smaller suppliers from the market? An erosion of the supplier margin in the exchange to the market share?
Jan Neuber: Whenever possible suppliers should think about games as a service to satisfy players and fulfil their needs. Pushing higher RTPs is a smart move to create a good reputation among players and help to manifest a player fanbase which leads to higher market share- if you are able to translate hooked players to your following games and the word of mouth.
Mike Tamm: I have little knowledge of strategies of this kind, but I can't imagine that such considerations occur often. The RTP has no clear meaning in this regard. If it's high and the slot is good, it can attract more players; if it is high and the slot is bad, the operator will be dissatisfied with the earnings. If it's low, it can lead to more revenue as well as less; again, the game quality is crucial. It is likely to be more decisive for the strategies of the game manufacturers to cover all possibilities, less with the player in mind and more to fit the vision and desires of casino companies. An excellent way to damage competitors would be an improved RTP strategy that allows the player to win big (be able to cash out) more often. However, it is increasingly evident that care is taken to ensure that players leave their money in the casino as much as possible. The background could be the low casino loyalty on the part of the players.
4
Bohdan Lytvyn: How does multi-rtp strategy as per market actually affect advertising of the content?
Jan Neuber: Based in Germany we as a supplier studio face direct consequences of absurd politics, lowering the RTPs is a needed change to compensate tax regulation but instead of a regulated market I fear it will lead to players exits and turning them again to international platforms with higher RTP. As a supplier, we will try to keep a strategy where we will be able to keep RTP as high as possible and develop new supportive features to keep players' experience as good as possible.
5
Bohdan Lytvyn: How can suppliers police that the RTP lowering is done in the proper way over 1'000+ brands, resellers and aggregators, etc? Does it even matter apart from the brand equity implications, etc?
Mike Tamm: There are companies that leave the setting of an RTP to the operators and therefore also the decision about success. There are slots on the market worldwide that allow settings of 94% and 96% or, to give another example, 90%, 92%, 94%, and 96%. The default settings of the RTP can be selected but not changed further. Manipulation of the RTP is not easy to do and is also illegal.