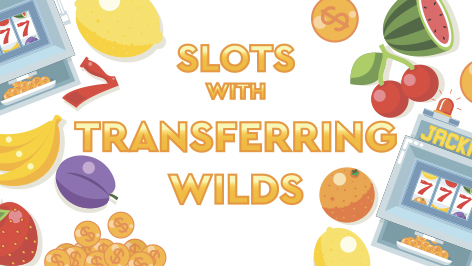 2020-05-14
Best Slots with Transferring Wilds Feature
Transferring Wild symbols is another wonderful feature that could theoretically make your game experience more fun and exciting. They work about the same way other wild symbols do because they are able to help players shape winning combos on paylines and replace other symbols.
However, in practice transferring or trailing wilds do behave in a slightly different manner across the reels. You might find that the slots that feature trailing wilds have larger reels or several sets of reels. More specifically, the reels in the slot's first two positions are larger while the other three reels are much smaller in size. When players land a transferring wild symbol on the first two reels, the icon is moved to the other three reels to provide them with wilds from the next spins.
This feature mainly appears on video slots created by WMS software. The KISS slot, Bruce Lee Dragon's Tale, Fire Queen and Spartacus are among the most famous games to feature trailing wilds. The screen is divided into two parts in these positions: the central reel set and the colossal reel set.
Please notice that since transferring wilds holds tremendous winning power, they will not land too often on the reels, because that will give players a huge advantage. Therefore, transferring wilds are said to increase online slots volatility.
How exactly do trailing wilds work?
Although developers can handle Transferring Wilds somewhat differently, they typically do:
Appear stacked on the reels

Feature in slots where more than one set of reels

Appear during bonus features as well as bonus games feature in high-volatility slots that only rarely grant big prizes
WMS leads the way where their Transferring Wilds feature. In the 'Super Multi-Play' games of the US maker, you are playing basically four sets of reels with one price. Stacked Wilds trail over to the neighboring reel sets to raise wins. When the Wilds arrive stacked, Transferring Wilds will be used to fill any single spot on all four reel sets (80 places).
Top-3 slot machines with Transferring Wilds feature (and what its significant about them)
Bruce Lee: Dragon's Tale (WMS)

Significance: Normal transferring Wilds
We are starting off with the WMS slots developer whose Bruce Lee game has originated this feature. WMS (Williams Interactive) has developed and grown through their games on a feature that is now a staple of their slot architecture. They long achieved popularity with its variety of slots focused on the Kung Fu master's story. Bruce Lee: Dragon's Tale features four sets of 20-payline reels on a thrilling 5-reel slot. In fact, instead, you play four games at once. Although all sets of reels feature different patterns, though, the Wilds do something interesting: once you strike Wilds on the main set of reels, they duplicate the other three sets to the same locations.
When the wilds become packed (filling two or three spots on the same reel), this can be especially promising. The slot also features 'transferring scatters' which repeat on the other three sets of reels, giving players the chance to activate a bonus round four times over.
Spiderman (wms)
Significance: Bonus transferring wilds
And more WMS mayhem, and this time a Spider-man focused Marvel slot. The slot features a bonus 'wild transfer spider sense' which plays through its two reel sets. When the feature kicks on, spider-man will appear on the screen at random and simply swap the wilds from one set of five reels to the other. appearing packed with wilds, that can often lead to some major wins.
Epic Monopoly II (WMS)

Significance: Colossal Reels
For years, wms has put out slots based on monopoly, the popular board game. However, Epic Monopoly ii takes the trademark moving wilds and ramps up to 11. The slot is played using the 'Colossal Reels' engine from WMS. Two sets of reels are played on - a 4-row main, 5-reel set and a solid 12-row mini set. In total, then, every spin is played on 100 paylines.
If the player reaches four stacked wilds on the main reels, wild transfers will start, making the corresponding entire mini-set reel wild (for example, reel 1 on the main set has four stacked wilds - all reel 1 on the mini-set then turns wild). This may mean twelve symbols going Wilds on the second set of reels at once.
In whole, Transfering wilds is viewed as scatters or incentive marks, to be struck irregularly. You may get lucky and hit a successful moving wilds run so you can see the earnings impacted by these bonus signals in the long term. Additionally, icons are stacked together on the reels in games such as WMS's Epic Monopoly ii. Hitting a large Transferring wilds reel could not, however, necessarily help to complete too many winning combos if the other symbols do not happen to land on reels properly.