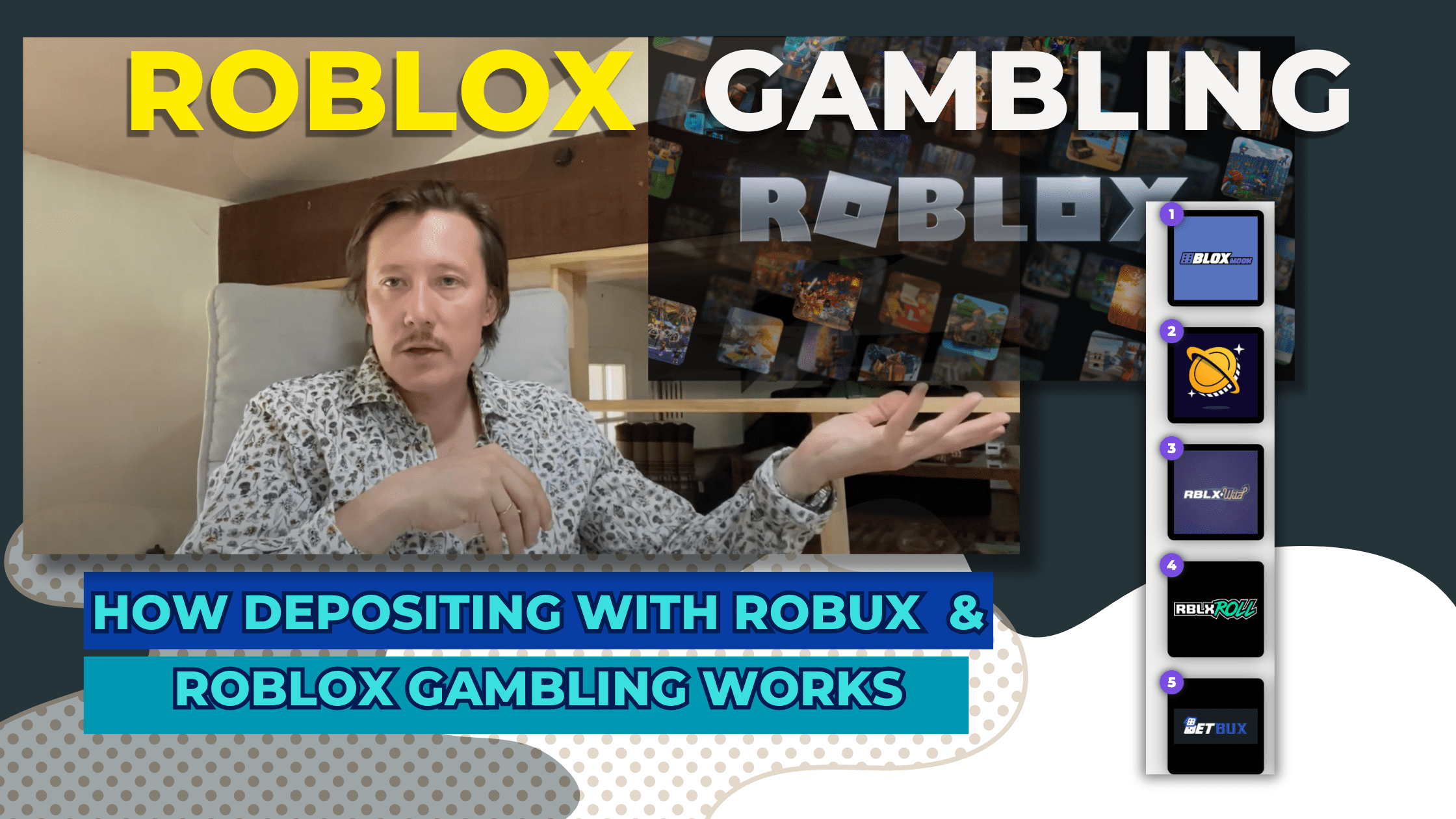 2023-08-09
Roblox gambling: a Robux coins gambling. How it works for casinos and why it's tolerated by Roblox?
This is the first one of the series dedicated to a gambling with Robux currency and all the things about it:
what is Roblox gaming,
how developer exchange has been used,
where to get Robux for players,
can you earn free Robux?
how it works for Casino operators what is it in the,
how things get worse these days & what is the actual scope of the problem,
what are the gambling sites that were involved,
how [potentially] the problem can be solved.
So let us start with what Roblox actually is. In case you didn't know, it's a platform for monetisation of games from their creators. 62 percent of all Roblox users are under 16, so their audience is probably from 10 to 16 years old and they have both players of these games (these are mobile games and so on) and also the developers.
So anybody can claim that they are a developer if he/she is at least 13 years old and so this is actually a creative way of monetising their games, their add-ons and so on and so forth.
Despite everything being clean and nice, it's a backdoor to gambling. Because it is really through developers' exchange that users can can withdraw money. So the developers have a way to withdraw if they are at least 13 years old.
I am saying an backdoor in the sense that there's:
a 'children's' Robux currency,
an exchange rate for deposits and for withdrawals (actually, two different exchange rates) and there's a
legal way to actually exchange Robux into Euro and
to withdraw it.
It all works like this.
So there's actually an exploit that has been used by casino gambling operators to cheat the kids out of their dinner money. But not only that.
As for the Amazon, they sell gift cards all over the place. There's an exchange rate of real money to Robux that depends on the amount of Robux you want to buy. Pricing starts from 2.5 eurocents per Robux to, probably, 1.25 eurocents per Roblox if you buy a hundred of Robux or, as in the latter case, 2 000 Robux. So, for the sake of understanding, to buy Robux you'd pay around 1 cent per Robux.
You can also earn free Robux money (even on these casinos' sites) by participating in surveys or doing simple things like downloading applications, opening loyalty cards in supermarkets (the reward for which is the equivalent of five euros in Roblox) and so on. These are trivial tasks that are obviously done for referral fees that everyone in the ecosystem has to pay.
Similarly, there's a free way to get Robux, but you can also buy it.
How does a Roblox casino work?
First, players log in to these casinos using their Roblox account or a cookie
Then they authorise the transfer of Roblox money to a casino account, and
then they play and are able to
withdraw their winnings in the same Roblox currency back to the Roblox account.
So it is obvious that the difference between money wagered and money taken is a casino's revenue. So a casino withdraws its Revenue using the same Developers accounts and
there is a question who are these developers who give these accounts to online casinos? Is this a real a developer or a developer who only maintain this account for for cashing out the casinos money?
So, we're coming down to the centeral question of this what is this gambling scheme exactly?
It looks like a scheme to cheat the kids out of their lunch money, but but it's not only not that simple.
First of all, it's a scheme to lure children aged 11 to 16 into gambling, which is actually facilitated by Robux money.
Secondly, there's a whole bunch of people who are doing black market exchanges of Robux into real money and so on.
It's not just the ecosystem's of the Roblox problem, but there's also a huge demand to buy or sell this currency on the internet. There's also a whole bunch of people on Twitter, YouTube and Discord who are working as influencers and really fueling the engine, because kids are really interested in it.
If you want to cash out and look at the exchange rate, you'll see that, as I said, if you buy Robux money, you could potentially pay 1.25 cents per Roblox (if you buy 2,000 coins), but if you wanted to cash out the same amount, you'd have an exchange rate that's three and a half times lower.
See for yourself: if you bought 2,000 Robux, you would spend 25, if you sell 2,000 Robux, you would only get 7 euros, so it's 3.5 times less. And where this difference comes from, it comes from the whole idea of Roblox. Because Robux itself takes 30 percent of all the money that has been exchanged in the system and they are responsible for the exchange rates.
How big is the problem?
Some of the problems outlined above are really immense: there's a whole bunch of Roblox casino websites, there's a high volume of searches for these keywords on Google, and sites like Blox Moon or Blox Flip are really popular.
13-14 year old creators who have some followings on YouTube and Twitter have been reported to have been approached by the same Roblox Flip Casino, asking them for two thousand euros to promote this Casino to their allegedly underage audience.
We also take for a fact that Blocks Flip - one of the largest casino sites in the industry - is sponsoring content with tens of billions of impressions and views on Tik Tok. And that an entire industry of sponsored views is being driven by influencers who are themselves under the legal age to gamble. So the very influences and their followers are really really susceptible to this gambling fraud and underage gambling.
Blox flip itself has had at least 1.3 million users by in January 2023, and in the article from June, they reported that their users' monthly betting turnover is the equivalent of 1 million euros in Roblox currency, which is not bad even for a regular online casino. We see this as a huge problem.
Does Roblox have a sking in the game?
And the ecosystem of game developers that is Roblox itself probably has a stake in the game because they're really interested in these casino exchanges because they have a huge piece of the pie (30% on all these withdrawals and cash-outs) and they are not doing anything.
Once they (Roblox) were reported to say that they claimed to be trying to writing to Amazon Hosting to take away some domain that has Roblox in its name (through the Millennium Act), but it was not really successful because the the gambling site went to another 'black' domain registrar and so on. So it's nothing.
And most of the time they have real leverage or real ways of fighting it. It's the same idea as skin gambling (with a Valve Corp and Steam taking the place of Roblox). So they don't take any real action, but the casinos like Blox Flip feel that there might be a that there might be a 'tight spot' in this whole relationship because once their developer accounts have been
blocked, once the lawsuits are there against the YouTubers & the developers, they are left to their own devices and they cannot withdraw any money. Maybe there is some hole in the black market, but it's not that big.
So they are trying to build their own marketplace where people can buy and sell some limiteds, some rare things, etc to be able to break away from these relationships on Roblox itself.
So these are very serious things. And if you like my report, if you have any questions or would like to about Roblox gambling or gambling with the Robux currency and so on, I would welcome you to do so: you can find my email on this website.