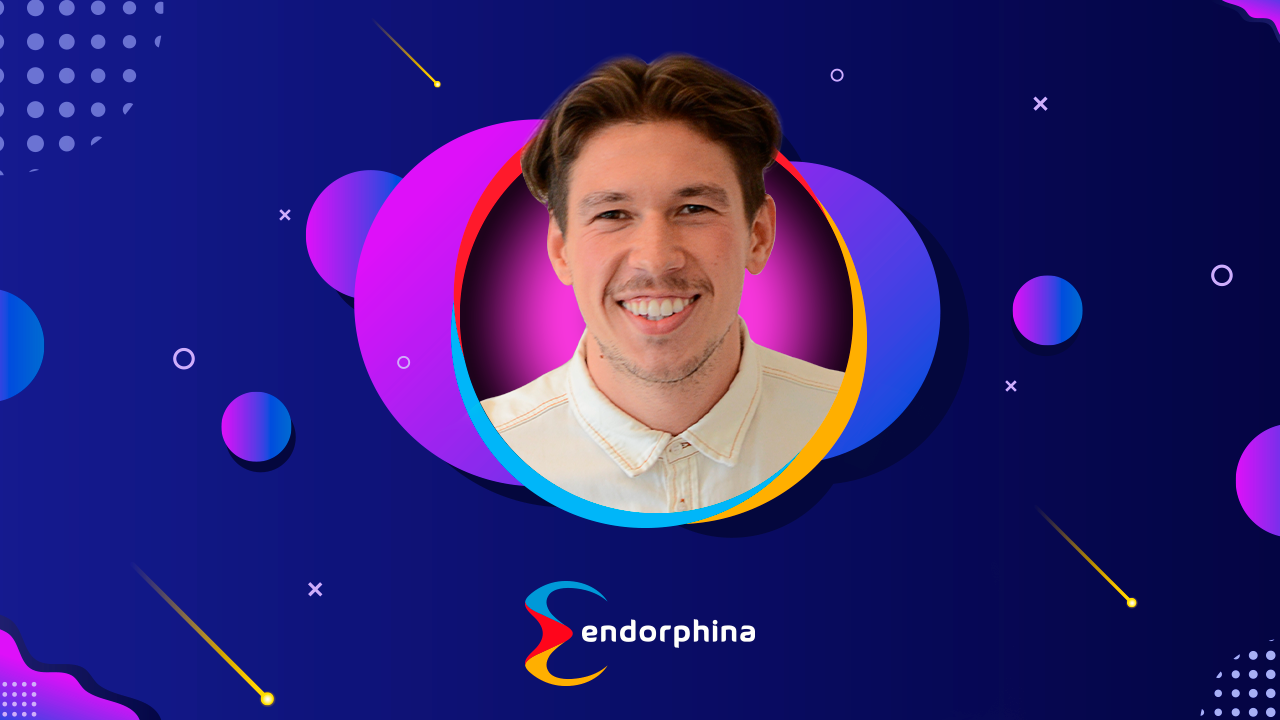 2020-10-26
Exclusive Interview with Kirill Miroshnichenko from Endorphina: Gathering Best People to Make Work Productive
Hi everyone, my name is Maria and I'm glad to welcome you at MyCasinoIndex Channel. We are happy to announce the new Interview Series - the video interviews with important people from the iGaming industry. And today let me introduce our special guest, Sales Director of Endorphina, one of the major gaming suppliers for online casinos: please meet Kirill Miroshnichenko.
Maria: Hi, Kirill. How are you?
Kirill: Hello, I'm good. What about you? Thanks for inviting, so glad to meet you! I hope it will be useful and really informative for you and for me.
M: Many thanks for your reaction for your time. Tell me, please, a few words about the pandemic situation in Prague.
K: To be honest, it's not the best time now, because we are facing the second wave of the lockdown and since Monday (October 12 - editor's example), all restaurants are closed again. So unfortunately, no pubs, no restaurants, but we're still trying to work from the office. So somehow we're still trying to manage the normal life. But it's getting harder and harder, unfortunately.
M: I suppose everything will be changing in a better way, but working remotely is quite comfortable, don't you think so?
K: It's actually very tricky because we had a lockdown during the first wave of the coronavirus and it was quite useful. The actually interesting fact that I mentioned is that I usually worked more from the home office because you don't have these strict timetables, when you start working and when you need to finish the work. So, basically, you work for the whole day and it's actually quite useful, but still I would prefer to work from the office because I can gather some people, my colleagues, some colleagues from different departments to make a meeting. So anyway, this way is faster, more effective, at least for me. So I still prefer to work from the office, not from the home.
M: I agree with you. I suppose that team building is a very special point of good working. Okay, so, let's move on to our questions.
As we have noticed, Endorphina is always happy with game releases, partnership deals and even events. I know that this November you and your partner SIGMA were planning a Race in Malta for all participants of gambling industry. Unfortunately, it was delayed until February because of a pandemic situation. And I'm impressed how Endorphina managed to do business in such a successful way during the pandemic? What is the secret of your professionalism and your activity in common?
K: So I want to start from the beginning. Basically, we become very famous in terms of the creation of interesting stances and unusual activities during conferences and expos, and we need to keep this level. You know when you reach this high level, we don't have the other ways. We just need to create something more interesting, more impressive, more original every single time. So I want to announce that anyway, our Race will happen during February. I hope the SIGMA will happen in February.
So I'll be planning everything as it was before and what I can say, I'm really glad that we have such a great marketing team who bring some new ideas and they are really pushing everyone to follow those ideas. And you know, we have quite a lot of challenges in the team, some of them publish it in some social media. So we're really trying to keep this entertainment environment inside of the company and also bring these ideas wide to expos and festivals. So, basically, that's the idea.
M: Since March 2020, a lot of companies have had to close down and in particular the situation affected land-based casinos, and now we see lots of markets, closure and New States Treaty on gambling and so on. Does Endorphina have any losses related to human resources?
K: Actually, it's an interesting question because of quite an interesting answer. Because actually we have the opposite tendency now. During the lockdown our HR managers start to hire even more people. There are two two factors for it. First of all, we are growing a lot. I mean we keep hiring people almost every month and we're still looking for like a lot of people in our team and during the lockdown we had even some idea, that once someone fires - we hire. Basically, we hire more and more people and we are happy actually, because in this particular time you can find really interesting people, who love the company because of COVID situation, and we can hire them for our beautiful, young and interesting international team. So basically, it's at least a good moment about the COVID that we hired some really nice and interesting people.
M: And who is the most sought after specialist for Endorphina now, and why?
K: I would tell you something personal because I'm a Sales Director and, of course, sales managers are the most important for the company - that's what I believe (laughing). So basically, we are looking for new sales managers in our city, because we are growing and we are expanding to the new markets and we are very welcome to find some new and talented people to our team. We are looking (for people) for all departments: for marketing, for account managers, for the financial team because, you know, when you're growing, we need to grow for each department. I wouldn't tell you that we have some specific position which we are looking for the most now.
M: And how to get a job in your company? What should be your ideal candidate, and maybe you will share some live hacks for those who dream of working for Endorphina and in the iGaming industry in common?
K: First of all let's talk about how to apply for our positions: you can actually go to our website and leave the message to the HR department and they will receive the information.
Also, we are looking through some popular platforms like LinkedIn. Our beautiful and very talented Christina - she's leading for the HR department, so she's looking quite often and quite intense (applicants), especially on LinkedIn. So I would suggest you also to follow our LinkedIn account and Christina will post some really interesting positions. So if you really want to work in Endorphina, you can easily find the positions. It's not that complicated.
If you're talking about the ideal candidates, I think it depends on the departments. But still I think that first, which is the most important for me, is that you have to be patient to work and especially in this interesting industry. Of course, if you have some fast experience, that's great, but I'm not only looking for people who have some experience in gambling. I came for Endorphina without any gambling experience. So I have my personal example that even without the experience you can grow and you can perform very well so this is not the most important stuff. This is not the important stuff, it's very personal.
Only one thing which I want to recommend is to be prepared for the interviews, because I had quite a lot of cases when some candidates came to us and they didn't even know 100% what they are doing here. Because, when you're telling someone that you are working for the iGaming industry, they think about some games, but have no specifics about that. So I really recommend to be prepared for the interview. This is crucial. And also another small hint: what I'm doing for sales guys, which I'm interviewing now - I'm doing some stress tests. We are trying to make some play roles without any preparation, so I just start asking to sell me our product. And you know this is actually very interesting because I'm not looking for the right answer for me. The most important is the reaction: how fast you think, how you can adapt to an uncomfortable environment. This is the most important. These are some small hints about how I hire people.
M: Stressful factor is the most important (laughing).
K: It's not even stressful. It's mostly about how fast you can react, it's like you are in a new environment. This is important.
M: And here is my last question. We all faced difficulties during this 2020 year. It was a year of testing, examination, some difficulties, and now we need just some positive things to happen. And how is Endorphina going to inspire its fans by the end of this year?
K: So basically, we have a lot of news and actually this autumn is very informative for us. First, I want to announce that we are getting a new license and specifications. So I'll be entering new markets. We already published information that we're entering Romanian market and some exclusive for you - soon we will enter Croatian market. So Croatia is our next market which we will enter. And few more countries we also will enter by the end of this year. So basically, we have a lot of plans for this year.
If you're talking about the games, of course, there will be new, interesting releases. Unfortunately, I cannot tell you because it's still a secret, but it's going to be really interesting and, as always, very high quality games.
Something which I also want to mention, our marketing team launched the new promo Jumping Minotaurus (#jumptocrete). So, basically, you need to jump, during the Minotaurus jumping, in our slot. You need to make the video and you can win the trip to Crete or you can get the money. So basically, because we understand this is COVID situation, you can just take the money. This is a really interesting thing.
And also, of course, we'll launch some new tools in our games. But again I cannot tell you now, because it's still a secret and we want to want to test everything before we launch, so we have to be 100% sure that everything will be 100% quality test proven tests.
M: Great to hear that! And all I can say that we will be eagerly waiting for your new releases! And I wish prosperity for your software. I thank you once again for this interview and wish you also a success in your career, Kirill.
K: You too, Maria. Thanks a lot for the interview, and I hope during this COVID situation, everyone will stay safe and healthy. This is the most important now.