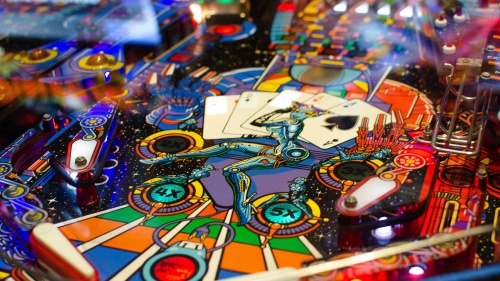 2020-06-01
Best Bonus Slots of all time
Updated: February 3 2022.
Bonus round is a fantastic online slot feature. There's nothing better than the thrill of a bonus game option. You will definitely be in for an exciting ride with the chance to win huge. There are several types of bonus available in online casino slot, ranging from free spins to free credits or free play. There are a number of slots that offer bonus features, few of them distinct and prominent. We have created a list of the top 7 slots with different bonuses. You can play all of those games at an online casino for real money. You can also check their demo versions prior to investing money. We've picked the most impressive slots with games for you to play, enjoy and finally pick one of that pays off.
Here are the top 7 online slots available online with amazing bonuses:
Gonzo's Quest – Avalanche reels, rising multipliers, Free Fall bonus game with x3 to x15 win multipliers.
Guns 'N Roses - 3 different kinds of bonus games for rock music fans from 90s.
White Rabbit from Big Time Gaming - Random Bonus Wilds + bomus game with more than 248'000 ways to win build on their superb Extending Reels feature.
Hot as Hades - Among the highest RTP rate slots.
Pink Panther - 5 various games with incentives
Jurassic Park - several types of free spins, a bonus game to reward you.
Avalon II - several bonus rounds and payouts up to 15x.
Mega Moolah - flawless gaming and one of the biggest payout online slots.
Let's look closer at each game
Spot 7. Gonzo's Quest by NetEnt

Published in 2010, Gonzo's Quest slot started the famous NetEnt's Avalanche reels mechanics: falling reels where symbols would explode and new ones fall in their place. When you get a winning combo, symbols explode and new one appear with an increased multiplier, from X1 to X5 on consequitive winnings in the base game.
The bonus game starts when you hit three Scatters on consecutive reels: it's a 10 Free Spins Game wherein multiplier is even higher : from X3 to X15. Wild Symbol act as Scatter to unlock a bonus spin game. And the fun part about it is that a bonus lot game can be retrigerred. We played with one and recoreded a video walkthrough how we, for example, hit a Free Fall bonus round with a Mega Win of 834 spins and has gotten ourself in the green zone in this high variance slot game.
Spot 6. Guns 'N Roses – RTP: 96.98%, NetEnt

NetEnt's Guns N' Roses slot is influenced by the legendary rock band. The game includes a number of bonus features as well as cool music by Guns N' Roses band. Bonus game is not hard to hit.
As you land 3 LP symbols on reels 1, 3, and 5, the bonus wheel appears and you are offered to gamble which of the three types of bonuses you will get. Please our walkthrough of the game when we take a 100 Spins Challenge to test the game. At 4:04 I hit three bonus symbols and unlock the bonus game.
There are three rewards with the bonus game:
Encore Free Spins,
the Crowd Pleaser Bonus and
Coin Rewards.
Encore free spins with a band member turned into overlay wilds in the shape of a cross offering you 10 free games. The Crowd Pleaser bonus is a three-level pick-and-win game which rewards coin wins and the ability to cause free spins. The slot also contains a number of randomly activated bonus items, including the Cross-shaped Appetite for Destruction Wild which overlays reels. The rewards are achieved by solo multipliers and legend spins. Make sure you checked out the Guns' n' Roses slot with hit songs from the band or watch a video walkthrough of Guns'n Roses online slot right here.
Spot 5. White Rabbit -- RTP: 97.24%, Big Time Gaming

White Rabbit is a recent slot machine from BTG that was said to introduce their cool Extending reels feature. This is when you get extra reels of up to 12 to add up to your winning combinations. We have recorded a walkthrough of this special online slot machine game and have even hit a Mega Win there of some 830 coins - make sure you have watched it, because the game is a gem of all high paying slots with bonus games. Now, the White Rabbit has a Bonus Wilds feature that appears randomly as the slots' personage, a Catepillar, would exhale smoke that brings multipliers of up to X4 times.
When you hit 3 bonus symbols (White Rabbit), the award comes in the form of a bonus game with the rules of its own: the number of different ways to win jumps to more than 248'000 and the reels may extend. Here we must further explain: as you may see on min 8:47 of our walkthrough video, the bonus game provides that each Cupcake symbol extends its reel by an extra one. When it comes to 12 symbols in a reel, the bonus game is retrigerred.

Microgaming's Hot as Hades video slot has 5 reels, 20 paylines and a 96.75% RTP. This game not only features a thrilling bonus round but is also one of the best rtp slots on our list. With a vivid, cartoon-like theme, the game features excellent 3d graphics and animations. Through this mythological based game you battle the king of the underworld and other Greek gods. Hot as Hades is showcasing the enjoyable and immersive bonus Quest.
If you land 3 or more scatters, it unlocks the search for the crystal helm. There are 4 different levels, and you take your pick from various obstacles at each. Complete all 4 levels and you'll take on Zeus and play with additional bonuses for the crystal helm. The game also has the Bonus Feature Super Mode, which is triggered at random. You get 3 free spins, with additional wilds that will stay in place for this time. Game re-issued in 2015 but is only currently available if you have a Flash player.
Pink Panther crosses all the right buttons, if you want to enjoy the best slots with best bonus games. This slot with an outstanding 5 bonus slots, including 2 inclusive jackpots on mystery is based on the iconic cartoon feline, incorporates the character's essence with authentically generated characteristics. The bonus games can be automatically activated as you play. The bonus to the Crack the Pink Code rewards free games with a multiplier or wild expansion. Bring on the Little Man bonus in The Color Pink to win the cumulative bet multiplier. In the Wheel of Pink incentive, turn the hammer to grab cash prizes and multipliers. And track the footprints in the Pink Trail bonus with Inspector Clouseau, opting to win the prizes or take a chance at bigger bonuses. the jackpot game eventually offers you the opportunity to win one of two egalitarian jackpots. choose the doors carefully to get the best chance of winning. We advise to check it out as soon as possible.
This microgaming slot may have been published over 5 years ago, but none of its appeal has been lost. It may be reasonably the secret to the success of the Jurassic Park slot is the retro movie style, or maybe it's the fantastic bonus rounds that make the gameplay so fun and gratifying. Dinosaur animation is contained in yellow amber fossilised in the video. And the classic sign is the way to unlock the incentive of free spins. Any of five separate rewards for free spins will be given at random. Tyrannosaurus Rex with crazy reels, Velociraptor with multiplier and broken wilds, Triceratops with racing wilds, Brachiosaurus with mystery multipliers, or dilophosaurus with victorious wilds. After the free spins app has been played 25 times, you unlock the bonus, allowing you to pick all of the dinosaur games. Every of the bonus rounds contains video clips and videos that bring you back into the action making the bonus much more thrilling.
Encouraged by Arthurian myth, this game slot from Microgaming takes you on a trip through ancient kingdoms. Truly holy grail. Eight potential bonus games await exploration as you start on this slot adventure. During any moment, they can be activated unexpectedly, holding the excitement and adrenaline high. Each single bonus game is special. For your choice of extra wild multiplier Misty Vale offers you free spins. You reforge Excalibur at Lake of Legend, building up a reward of up to 15x the overall stake. Compare the helms to cash prizes at Dusky Moors. Or send the black knight in the Shadow Hall to find the grail along with payouts. Clear info on the entire selection of bonus rounds can be found in our slot analysis of Avalon II. Why not give it a free try right here!
Mega Moolah holds iconic status in the world of online casinos. In its revolutionary jackpot bonus game it has made multiple players millionaires and still proudly maintains the Guinness world record for the biggest gaming slot payout ever. The animal-themed slot has a vivid, eye-catching, funny cartoon-style. The main draw of the game is the jackpot incentive which can be triggered at random on each turn. You get to turn the jackpot wheel for a chance at either the mini, medium, big or the prized super jackpot pocketing. Because the super jackpot still resets at least £1million, the slot is commonly regarded as the millionaire builder. This slot also includes a free spins bonus as well as the egalitarian jackpot. Landing 3 monkey scatters will reward you with 15 free works, with x3 compounded by all winnings. The Mega Moolah is a must-try if you want to play a slot with the most enticing bonus apps! Are you ready to try your luck?