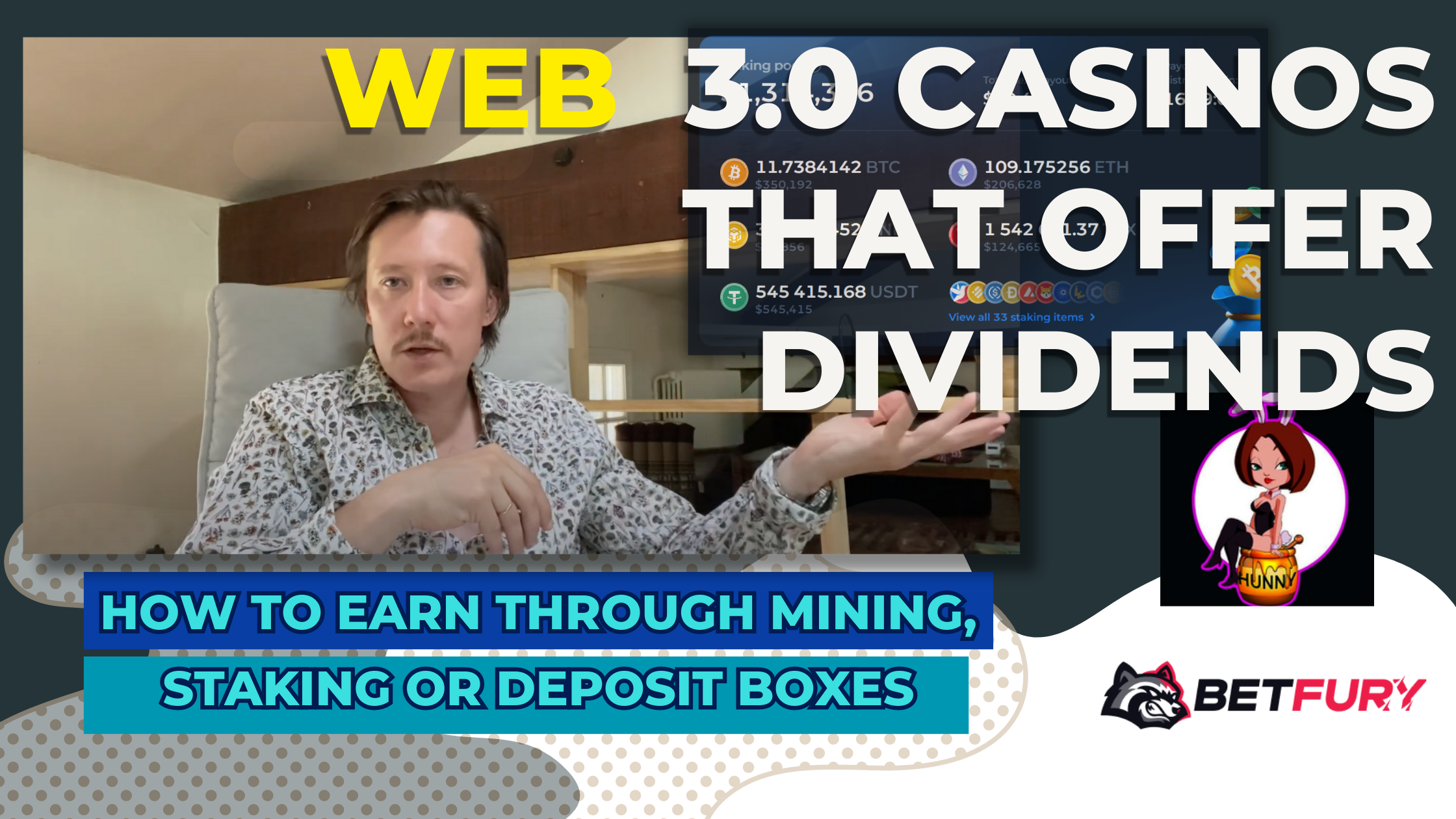 2023-07-24
Web 3.0 casinos offering dividends
Today's topic is What are the casinos that are offering dividends? Obviously we are talking about web 3.0 casinos that are offering an option to make you some money. First of all, what is the centrepiece of the casinos in the web 3.0 age? Make sure you've seen this report for a bigger dicussion of dapp and web 3.0 casinos.
The centre piece is a token. So you get tokens, when you go through mining, when you make staking and also you may earn your dividends if you go for boxes.
So let's discuss:
Mining,
Staking and
Deposit boxes as a way to earn you additional money, dividends, etc in an online casino.
First, among the multiple reasons that might encourage you to hold a certain token in your portfolio the number one reason is that of Profit Sharing. Everyone who uses a specific token of a casino, say, Hunnyplay, BetFury, Just.bet - any web 3.0 casinos - it means that you'll be able to receive a portion of a platform's profit.
MINING
It's on the initial stage when you - as a casino team - just starting up because you need liquidity, you need money, so then it's done by mining or farming.
How does the overall thing work?
The farming is mining the coins. In a casino, it is done by making your bets: it is by making your bets that you are mining a casino coin. Likewise, this is a closed pool with only a finite number of coins that can be mined, for example, in BetFury there were five billion coins.
Distribution of coins
When every coin is mined the half of the coins (money) goes to players, and the other half of the money goes to the team. So for one coin mined, there will be two coins: one goes to players, the other goes to a team.

Obviously, later on some tokens will be burned for the price to give up and so on. So, the Token Economics or the Economics of Mined coins is the centrepiece of the whole concept of making money.
Now that you got the whole idea we again proceed to farming or mining. As I was saying, mining is mostly done in the early stages of Casino life and mining is done through placing bets on both in-house and the 3rd party providers' games and Mining can be done in several levels.
Levels of mining
For example, first level is just mining, second level when you've mined some portion of the coins and it gets more difficult and the price thereof increases. It is obviously done by voting of the coin holders and it extends the overall time for mining. For example in the BetFury case, the Mining period was extended by up to 53 months. As a result, the mining prices - an exchange rate between USDT or some other major currency and the casino coin - rise.
Lock-up of the coins mined
Also, what's worth noting about mining is that newly mined coins are frozen from withdrawal. They are locked for obviously half of the Year (180 days) in most cases. And when the whole idea of mining is that you are left with the casino's Equity, so you're entitled to probably receive some parts of the casino revenue (if you go by staking it or leaving it in your account specifically dedicated for staking for maintaining liquidity) and as a owner of this coin you are experiencing the rise or fall in the exchange rate so you can swap these coins exchanging into other currencies.
Purpose of Mining
So the first stage - a Mining - is to acquire some Equity in a casino and to be able to step into the game to profit from fluctuation of the price and, obviously, from burning of the coins from rise of price in this token and this is all regarding the number one stage.
STAKING
The second stage (when everything has been mined) is you get to staking. The stake - as is - is a casino purse, a pool of money, a revenue by day or a sun of non-winning bets. And when a casino fills this staking pool, it actually feels also the sub-pools, the dedicated ones.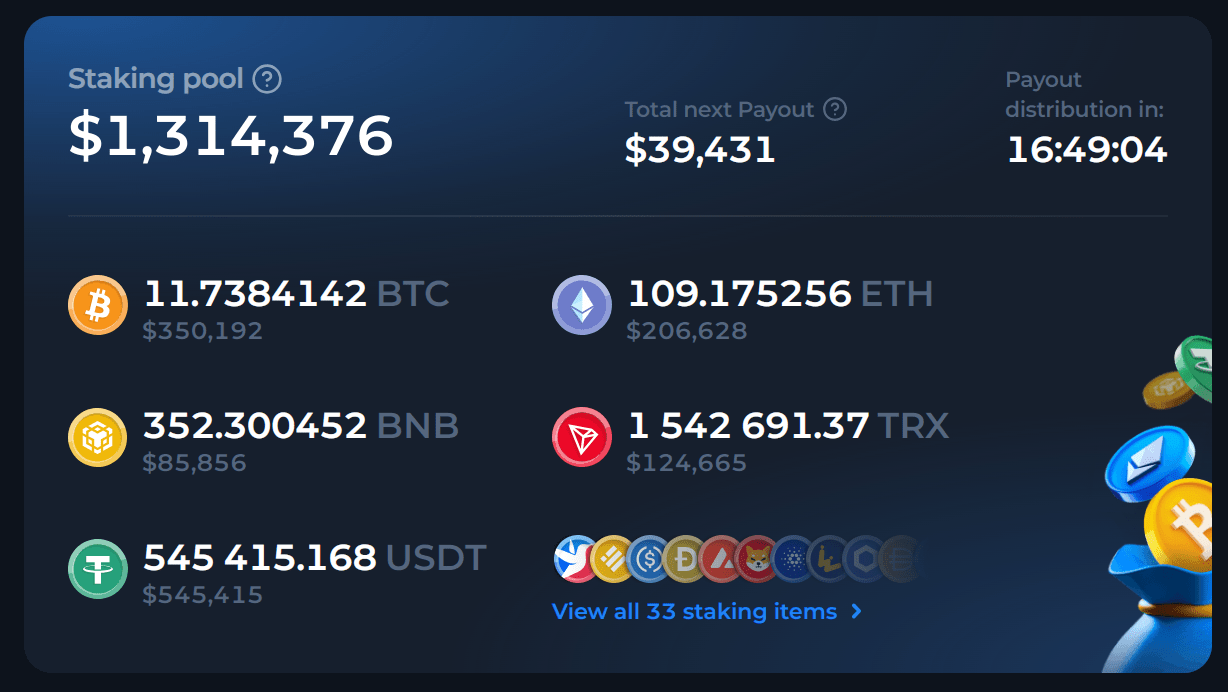 This concept of staking pools goes down to daily sharing a portion of this Revenue, in most cases it will be three or four percent of Revenue to the holders of the coin, those who actually maintain the coins on the balance on their accounts. So it's just a measure to give things back, but mind that a casino doesn't have a binding obligation to pay out in any currency and so on. These payouts are called Daily Drops and you get a chance to receive the dividends in proportion to the money or tokens that you have in your account.
DEPOSIT BOXES
Except for staking, there's also another solution that you can profit from (get dividends or a profit sharing) that is called boxes or deposit boxes. You can find it right away, for example at Bet Fury.
So boxes are a way to target a larger number of people, apart from those who already participate in staking pools, because taking pools is good but it actually concerns the holders of larger purses (or larger deposits. It's not for smaller ones. But those who cannot fulfil this entry entry threshold requirements are welcomed to use boxes.
So boxes have two types:
free boxes and
for money boxes.
We are not talking about free boxes as free boxes is another name for giveaways, free chips or free spins. It does not have a place in this discussion. We are talking about money boxes.
The idea of for money or deposit boxes is to provide inter exchange liquidity and maintain swaps between non-native tokens. For example, they can be swaps for UNIswap, PANCAKEswap, ZIL, etc.
So the idea is to be able to provide support to the growing or volatile coins from stable coins (Bitcoin or Ethereum) and so on. So the money box looks like this.
It's actually a financial instrument with a fixed yield and fixed date or term. They can be compared to a deposit in the bank or to a bond. So it has a duration - a number of days for which it has been purchased, for example, it is seven days, 15 days or one month.
It has a price in this swap currency, for example, in Pancake and it has a rate given in annualized terms. So,for example, if it's seven days it is seven percent per annum. If it is 30 days it could be 15 or even 30 percent per annum. So in the case of seven days when seven days have gone you will receive only a proportion of the annualised return by seven days, etc.
The deposit box is another way to enjoy this profit sharing or to enjoy these dividends. And it's quite new, because apart from making money in boxes itself you can also make money as a referral profit if you refer some guys to boxes and so on.
LIST OF CASINOS OFFERING DIVIDENDS
From the casino world the ones who offer Dividends are BetFury, Hunnyplay, just.bet, etc.
To give you the idea of how much you can make in staking in Hunnyplays it's reportedly up to 55 percent. In BetFury the actual return rate is 33 percent, etc. So the annualized return for dedicating (putting) money in your account, not moving and just providing liquidity to the system is quite nice, in the region of 30 percent per year.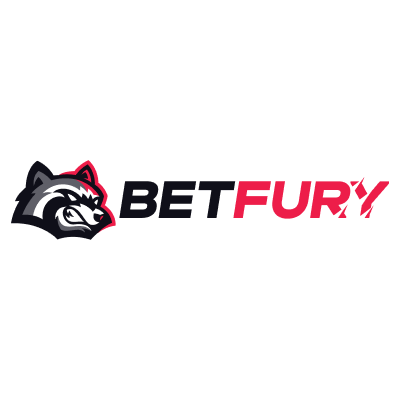 A large dapp web 3.0 casino with its token call BFG offering Staking and Deposit Boxes. Effective yield of BetFury Staking is 35% APR.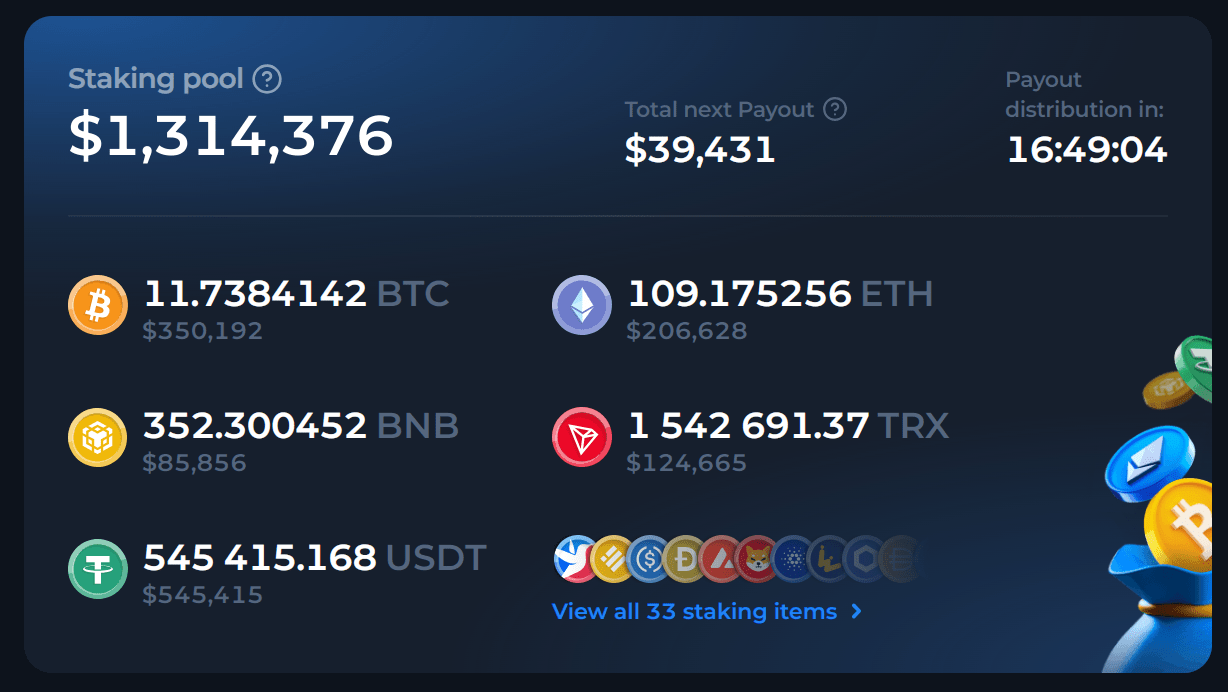 Read here a full review of BetFury casino
Decentralised on-chain casino with its Swap App, Staking option and NFT marketplace. Working since 2018. HunnyPlay claims that Staking their coin HUNNY can make you to 65% APR.

Read here a full review of HunnyPlay.io
I hope you like my explanation of the casinos that provide dividends, of the idea that there can be three types of ways of
of making money :
by buying / mining coins
by staking
and finally through using deposit boxes.
If you have some questions or would like to share your ideas with me you can find my email on Contacts page.