Apparently, the Hunny ecosystem is unique, and, unlike any other product in crypto-gambling, it is complete. A casino facilities look an integral part thereof, not a aim of its own.
So, the company created the engaging and fun DeFi destination where every user can enjoy high yields and exciting games at the same time. In this ecosystem, HunnyPlay is an i-gaming playground with all settlements/payments integrated across blockchains. So, what are the key features of HunnyPlay as a casino and also as a part of Hunny ecosystems?
Staking
Quite surprisingly, you may earn money through HunnyPlay casino. It is called Staking, which is locking crypto assets for a set period of time to help support the operation of a blockchain. In return for staking your crypto, you earn more cryptocurrency (source: https://www.forbes.com/advisor/in/investing/cryptocurrency/what-is-staking-in-crypto/). Likewise, you stake your crypto assets by changing them to Hunny coins and locking them up and may earn 65% EPR.

How to Start Staking
1) Go to the HunnyPlay Staking page and connect your wallet to HunnyPlay.
2) Deposit your $HUNNY or $LOVE coins to your HunnyPlay Account.
3) After the $HUNNY or $LOVE coin is in your HunnyPlay Account, you may click on the "Stake" Button to stake your $HUNNY or $LOVE!
4) Enter the desired amount of coins to stake or click on "MAX" button to stake all of your coins.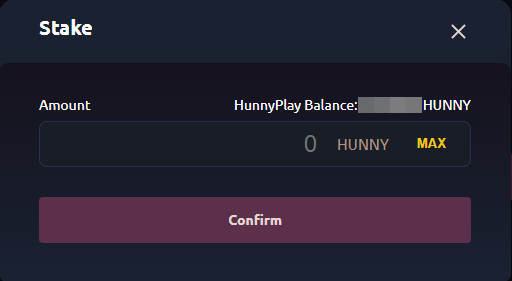 5) Click the "Confirm" button to start staking.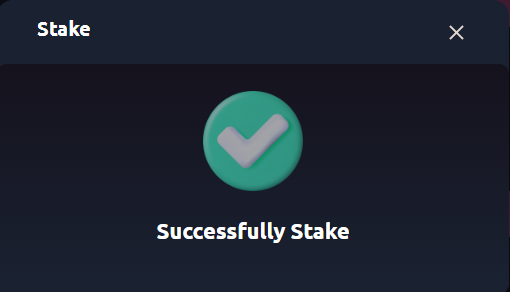 6) You may click on "Unstake" to unstake your cpins. Unstaked tokens will be transferred back to your HunnyPlay Account.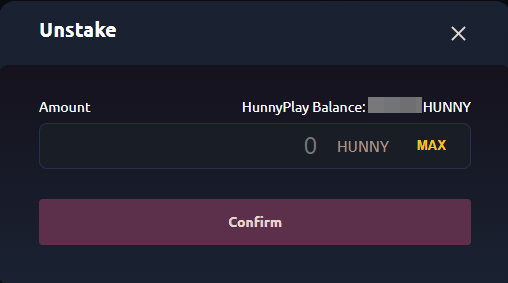 How to claim your Staking Payout?
You may view your claimable staking payout in "My Staking Payout". You may proceed to "Claim" your Payout when the rewards are distributed. After claiming your payout, it will be added to your HunnyPlay Account.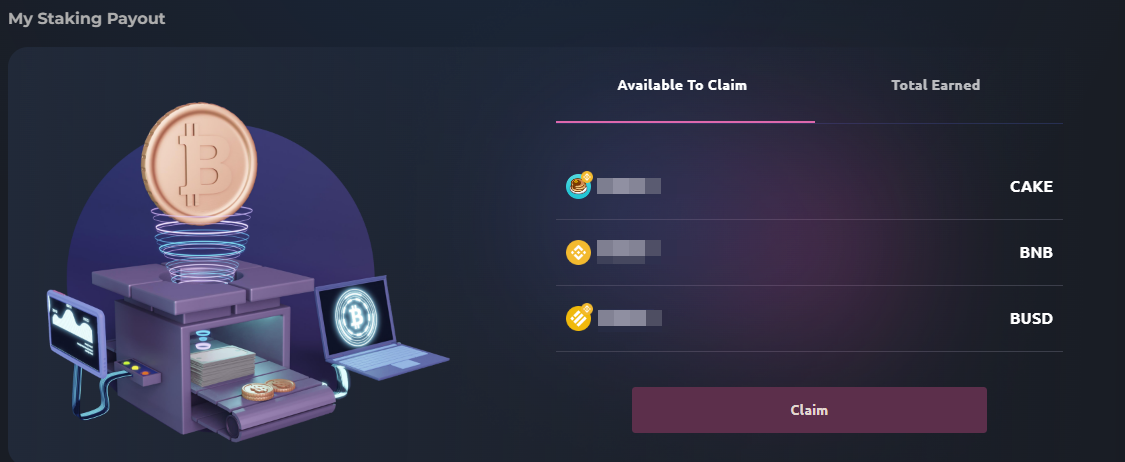 Cashback
You may have up to 28% cashback on your coins lost during the game. Evidently, this is an immense amount of cashback, the largest one among all casinos that we have reviewed or confronted here on Mycasinoindex.com. Maintaining this huge amount is cashback is, obviously, economically not efficient, except for you are not only a casino, but also DeFi bank of a certain kind and also several other things in one. So, here the ecosystem approach pays back well to players that will decide to try it.
HunnyPlay claims that it takes one click to get a cashback to your wallet. And also it is frequent: you can claim cashback twice a week Monday and Thursday.
Cashback is calculated from all your gaming activity during one period according to the formula: Cashback Amount = (Your lost coins in one game period) * Cashback%.
In all, you have one week to claim cashback amount before they expire.

---
First Time Deposit Bonus (valued in HUSD)
HunnyPlay offers up to a 180% bonus on your first deposit in excess of $20 USD:
Deposit ≥$20 and receive an 80% bonus in HUSD.
Deposit ≥$200 and receive a 100% bonus in HUSD.
Deposit ≥$2,000 and receive a 180% bonus in HUSD.
---
What is HUSD?
HUSD, apparently, the Hunny USD, is a stablecoin that's pegged to USD and has the same value. In order to play games on HunnyPlay you make a deposit with any supported coin.
How to get HUSD?
HUSD can be obtained through various promotions or bonuses in HunnyPlay such as a first time deposit bonus and lucky spin. Any HUSD obtained will be in a locked state.
How to unlock HUSD?
Locked HUSD can be unlocked through wagers in HunnyPlay by the following formula:
Unlocked Amount = Amount Wagered * 3.33% * 5%.
Effectively, it's 0.16% of the Wagered Amount. So, it means that if you deposit $200 you will get 200 USD on top of it. If you played, 1'000 spins on 1 HUSD per spin, you may unlock only 0.16 HUSD.
How to claim unlocked HUSD?
As you wager in HunnyPlay, your HUSD treasure box will automatically be filled with unlocked HUSD. You may click on the "Claim" button to claim the unlocked HUSD balance. Once you have claimed the unlocked HUSD, it will be immediately available for use!
Can you Swap HUSD for another currency?
You can swap your unlocked HUSD into other supported stablecoins such as BUSD/USDT/USDC at any time. The value of 1 HUSD is bound to the price of 1 USD.
---
How to receive a deposit bonus?
To receive a deposit bonus, top up your balance with the supported currencies to the amount not less than $20, and you will receive a deposit bonus in HUSD. The bonus amount will be locked and can only be unlocked by wagering on any of the games available on the HunnyPlay platform.
How to make a deposit?
1) Click on Deposit button.

2) If this is the first time you are using, click on the Approve button.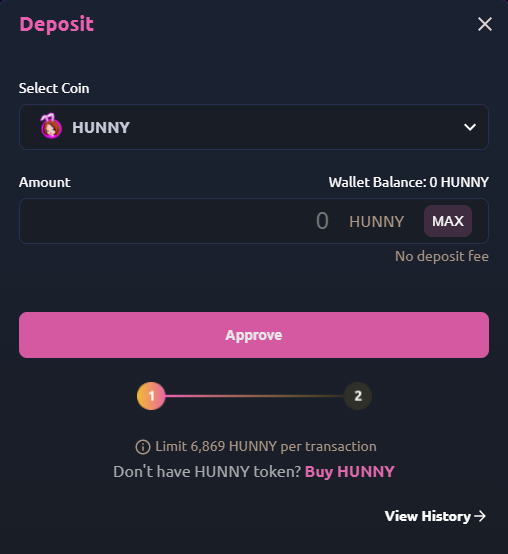 3) Confirm the transaction in your wallet and 4) Select the type of Coin you would like to deposit.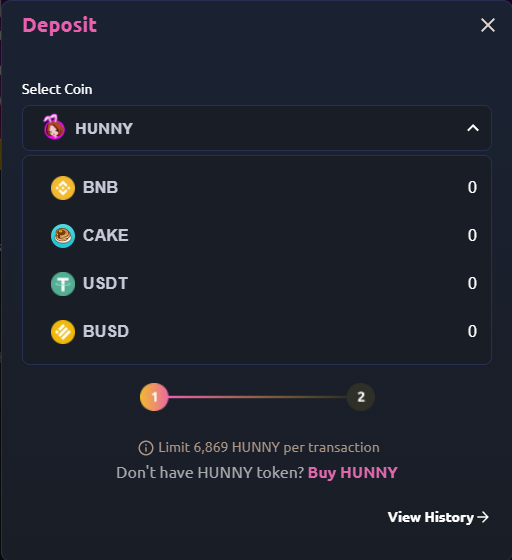 5) Enter the amount you would like to deposit and click on the Deposit button.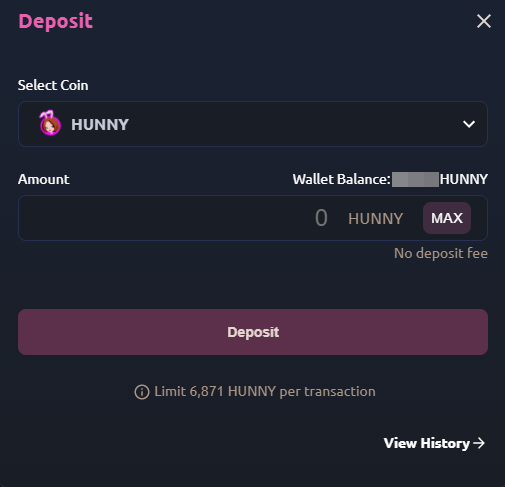 6) Confirm the transaction in your wallet.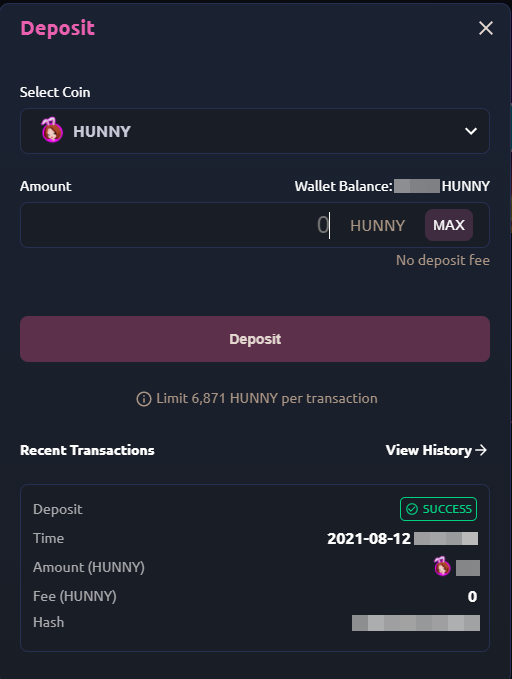 7) Review your balance in HunnyPlay.

Making a Withdrawal ay HunnyPlay
1) Click on Withdraw button.

2) Select the type of Coin you would like to Withdraw.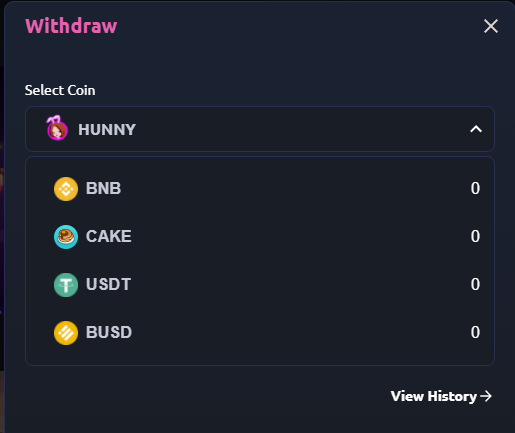 3) Enter the amount you want to withdraw and click on Withdraw button.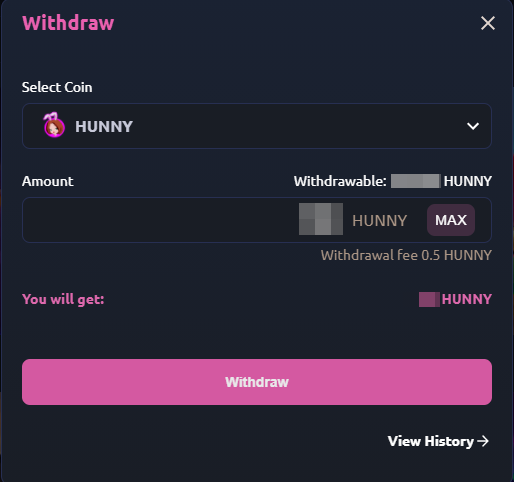 4) Confirm the transaction in your wallet.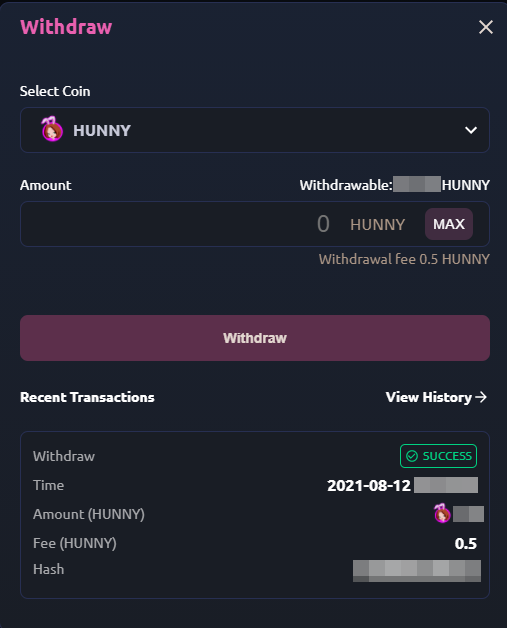 5) Review your balance in your wallet.
---
Supported Currencies at HunnyPlay
HunnyPlay supports multiple currencies. You can use currencies that use different blockchain network as below:
Ethereum: ETH, USDT
Binance Smart Chain (SC): HUNNY, CAKE, BNB, USDT, BUSD, BABY, XVS, VAI
Avalanche: AVAX, USDT
Fantom: FTM, BOO, USDC
OKEx: OKT, USDT
Polygon: MATIC, USDT
Harmony: ONE, USDT,
Solana: SOL, USDC.
While in-game, the value of your chosen currency will be shown as USD and you can play the game as if you are playing with USD. Also, please note that there is a Withdrawal Fee for every withdrawal transaction around 0.5 USDT per transaction (depending on the coin).
VIP Club
Overall, the HunnyPlay has 15 VIP levels, each called by the name of the Greek God or Goddess, except for the Level 0, Novice. So, the VIP level depends on a total amount of money wagered, likewise, if, for example, you have wagered $3'000 you are VIP 1, the Hercules, and you are entitled to a 3% and additional $3 bonus.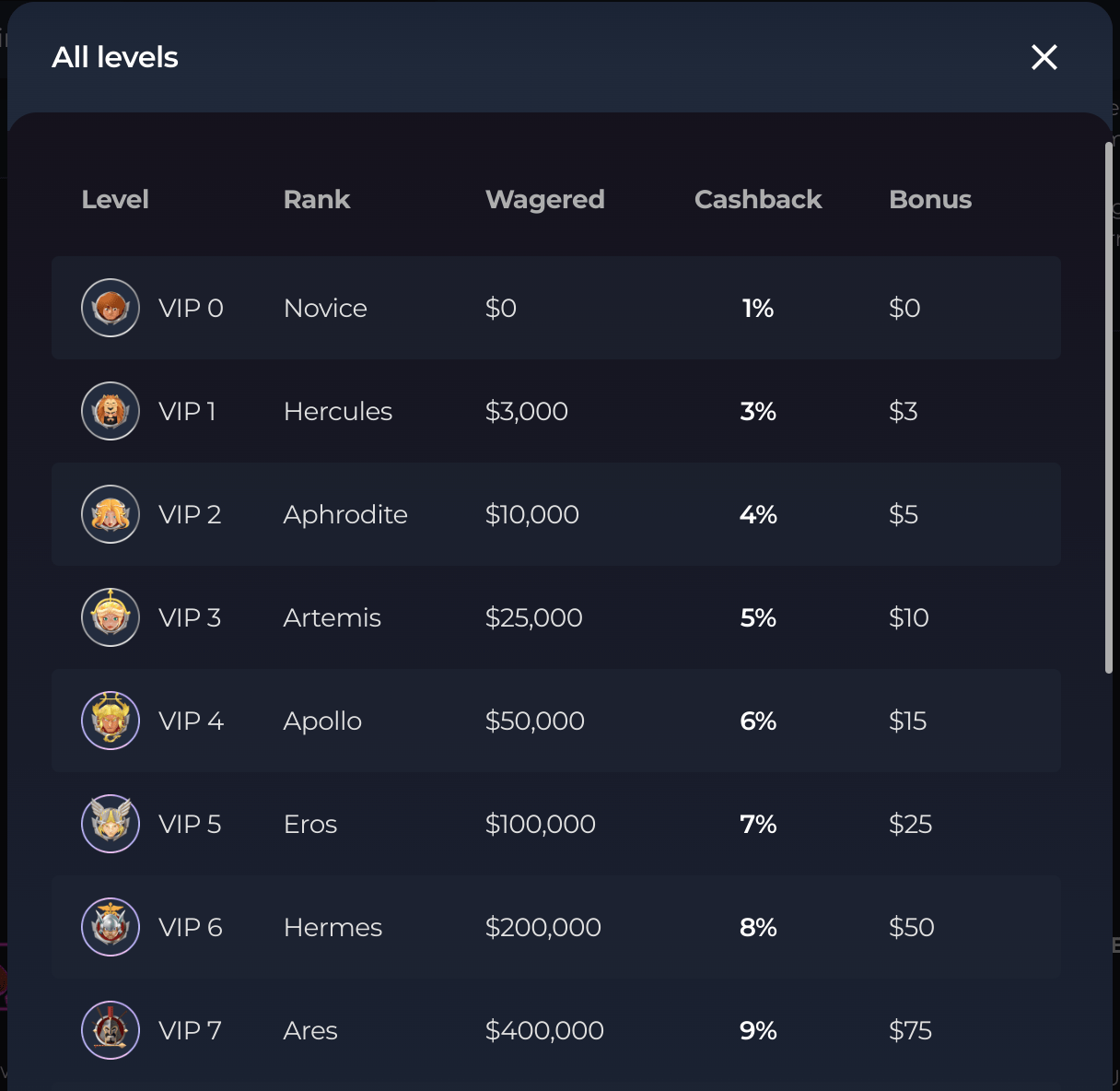 In practical terms, it means making 1500 bets of $2 per bet, which might take for example 15 gaming sessions per 100 spins (15-25 minutes of time). As we discuss in the article 'How online casinos work?', in order to be eligible for 3% cash-back, you may get yourself prepared to lose around €100.
... If you play high RTP slot games (and 96% RTP is indeed so) and your bet per spin is €1, it will take on average 25 play sessions to lose your deposit. Likewise, if you play 100 spins, it is 15-20 minutes of play time, depending how you play (in a manual of auto-spin mode). So, 25 sessions of 15 mins on average and you have lost €100 by a statistical expectation. If your preferred slot's RTP is less, say 94%, it will then take 16 sessions for you to lose your deposit of €100 according to statistics. If you make bets of €2 per spin, it will take 8 play sessions for you to lose your deposit above.