Let's review BetFury Casino. So I start by saying that Betfury is a large casino operator that has been around for a couple of years and I will try to go over it though the task is immense because this is a really large online casino that uses decentralised technology and it's one of the most visible in the market.
what were the objectives of this casino,
their Multichain crypto support,
Free-to-Play feature,
their Rank system,
Welcome Bonuses,
Tasks & tournaments,
Games, etc.
Starting from the the overall objective of this casino is that in their white paper they have been claiming that they want to create a big profitable and successful platform for gaming that use minimal transaction fee and a broad token usage. It is a fact because they have their BFG token that has been emitted in the number of five billion tokens and it is widely used and can be converted from other tokens.
BetFury platform is CertiK audited, which is a smart contract and protocol audit service, and by artificial intelligence, etc it has been proven to be really lacking leakage (leak proof).
MULTICHAIN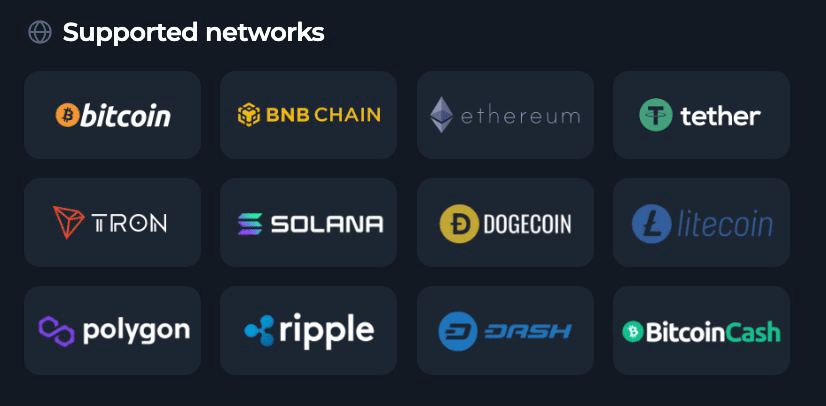 What's important about this casino is outstanding in the number of crypto protocols that it supports. I'm not talking about the number of currencies: in my calculation there are more than 50 currencies that they support. I'm talking about 12 different multi-chain crypto protocols that they use including:
BNB (benance smart chain)
Polygon Network / Matic (ETH)
Ripple network (XRP)
Solana Network (SOL)
Cardano network (ADA)
Stellar network (XLM)
Fantom Network that supports Fantom (FTM) as their a native token as well as USDT and USDC stablecoins
Dogechain Network (DOGE)
So it means that the players are not really limited to a single Network and its functionalities. It's really good if you use some swaps and some smaller coins and so on. When playing slot games, table games, etc on your balance can be available in coins and also in USD, whereas the internal accounting currency is crypto.
FREE-TO-PLAY
BetFury are not only a real money casino but they also have a free-to-play feature which has been widely used in the world of gambling and it allows, at least in the first place, I try to play without a real currency. So they have two options to actually get this free to play entry:
by spinning the Fury Wheel and by getting this currency in a
Free box.
Fury Wheel is a classical wheel: you get to register and then spin the wheel and you can earn up to probably 10 000 of the local in-house currency that's called a Fun Fury. This is a special token that's used for free play.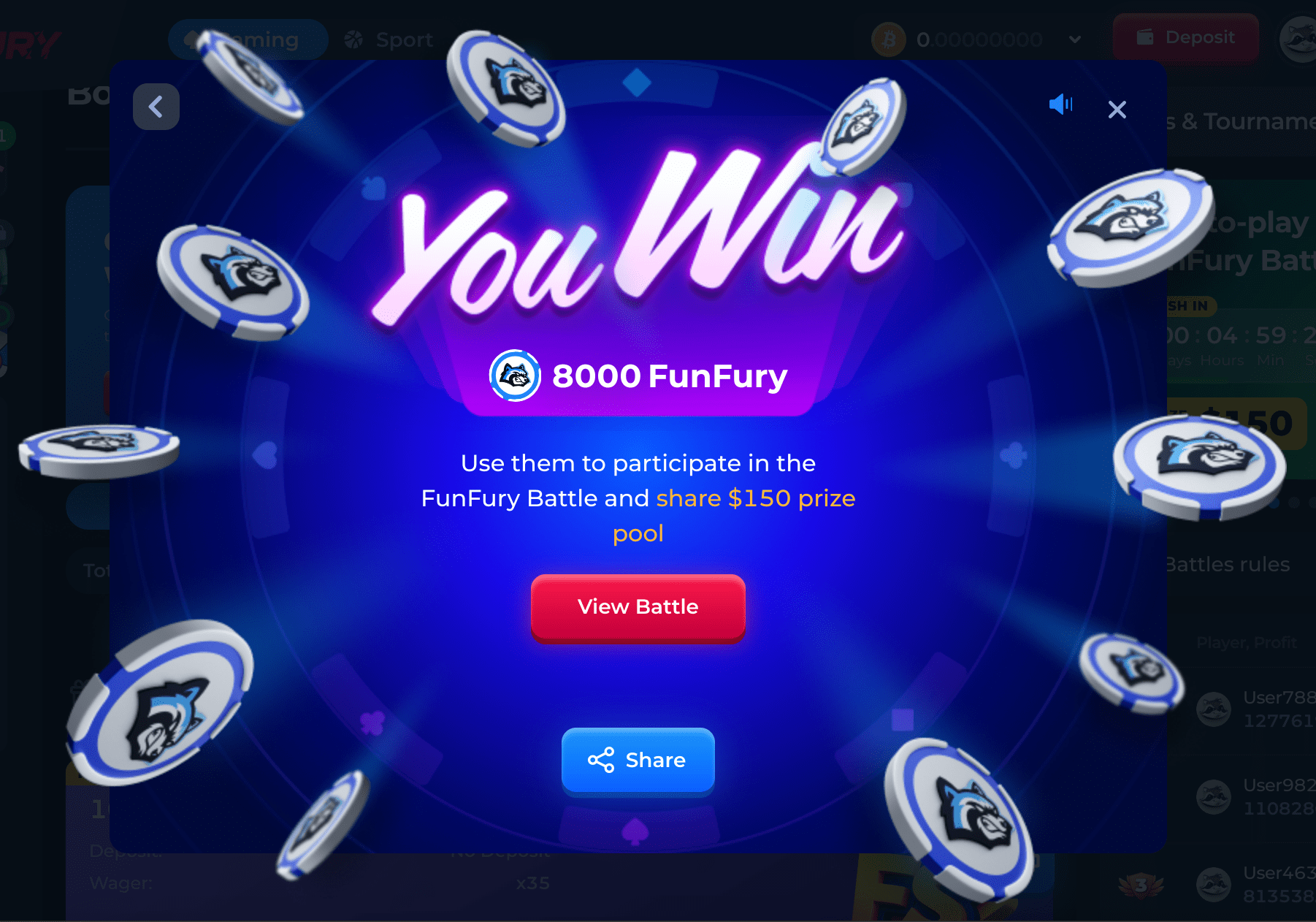 It can be actually exchanged into real money but you have to then participate with this currency in daily battles and if you win you actually will win an actual cryptocurrency that you can withdraw.
So obviously this Fury Wheel is a good way to start, by some extent it may substitute free spins made to try your way into a casino.
Also there's a free box option: free box is something that can be checked by hour. It's a money pool that is filled in and when it's filled you can claim your fun fury tokens free.
But the idea about this free-to-play feature is that those free tokens shall be reset by say at the end of the day and you cannot obviously withdraw them.
So what's also interesting is that there are lots of daily tournaments, daily ways to to spend this free cash and like today you can see two specific daily tournaments and also three generic ones (that come from slot game providers and they can be found in a number of other casinos as well). Therefore, it's kind of a very Vibrant activity of daily tournaments to use your fun coins.
RANKING SYSTEM
You may also see that many things in this casino depend on your rank. It is not new to use the rank system but here it has been put to an excellence. Depending on the total amount of money wagered you get your level and reward. So, what's included:
Cashback
FuryCharge
Rakeback
VIP club
So your ranking system will actually boil down to your cashback availability from 1% to 25 percent cash back availability. Also, interestingly, your rank will actually imply your RTP on specific games including slot machines. There's a small difference but still it's a difference depending on your actual rank.
Also there's a FuryCharge, rakeback and VIP club.
A fury charge is an option that's available from I believe a rank five and it's, in effect, an accrual to your percentage bonus (the daily or weekly).
Also there's a rake back. It's a kind of cashback that's so it's accrued on each bid and depends also on your current Rank.
Obviously, there is also a VIP club which is a whole another story: you get a personalised support, specific kind of bonuses and so on.
So the Ranking system is employed here in its full meaning and it also touches upon even the RTP of specific slot machines and several interesting things like cashback, rack back and supercharging your bonuses.
BONUSES
All right, what about the usual bonuses, like those that you can expect from other casinos likewise?

At BetFurt you have got the welcome bonuses as well as free spins and no deposits for registration. The welcome bonuses can be obtained in three packs called bronze, silver and gold.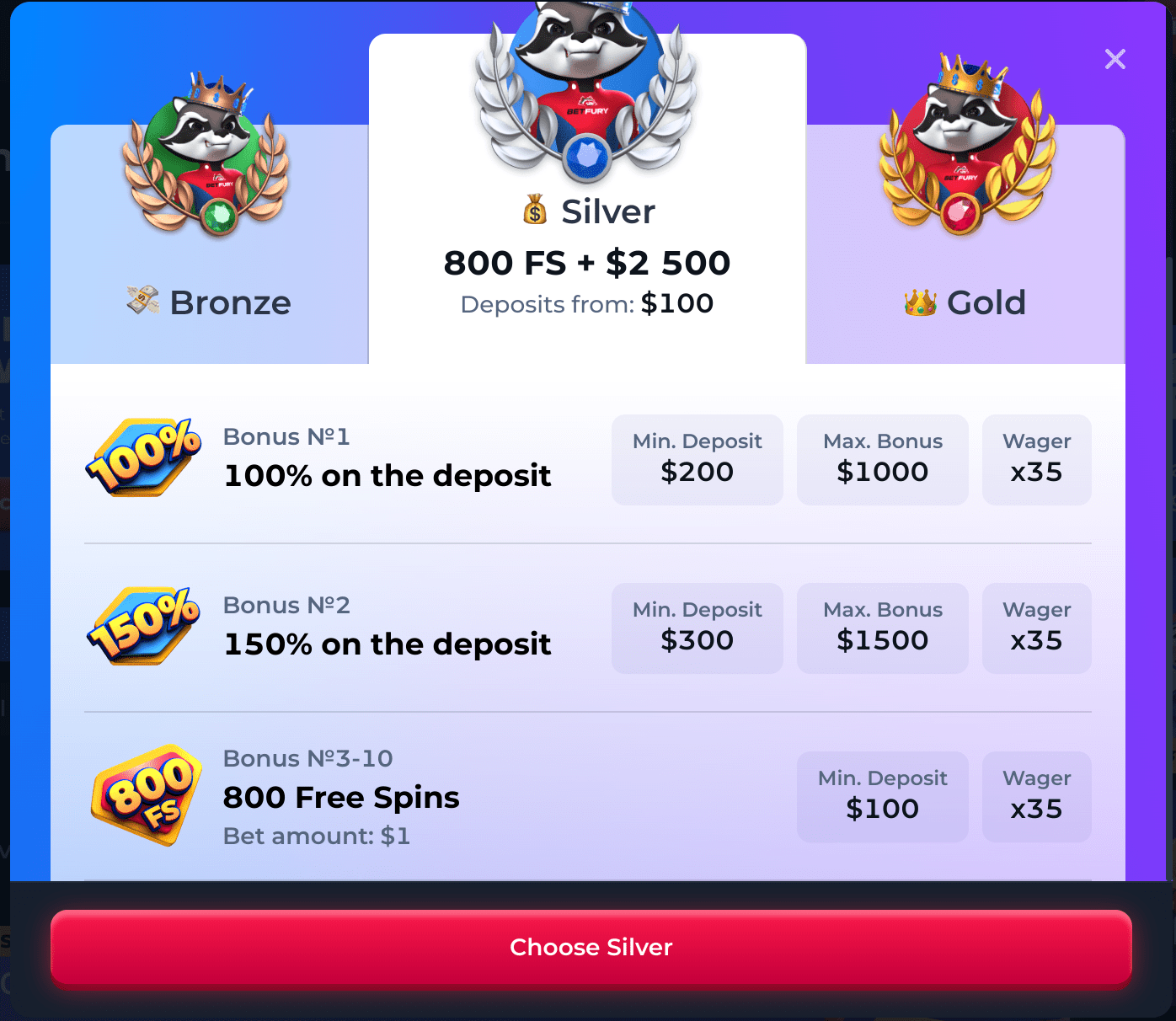 If you go for bronze (it actually depends on the amount of your first deposit) bronze is for 20 bucks then 100 and 200 bucks respectively. For these deposits you can actually have free spins: you get 600 800 and 1000 free spins for this amount of deposits respectively.
If you double them up, you make forty, two hundred and five hundred USD and you can expect a matchup bonus that on the on the lowest level starts from 50% to your deposit, on the silver level it's 100 and on the gold level is 100 or 150 percent your deposit depending on the amount (from from 500 to 700 euros it requires deposit).
The wagering requirements here are more or less moderate: so it's 35 percent your deposit and obviously readings can be withdrawn.
GAMES
Let's discuss games here. It's interesting that Bet Fury has both in-house games (or they call original games) including dice, plinko, high low, crash, mines, coin flip all the stuff and also a live and table games as well as slot machines. They have lots of online slot machines (more than eight thousand of them) I have checked so it's really a lot.
TASKS
Let's also talk about daily tasks and rewards. It's also another thing to keep you engaged. Depending on your rank level they have different tasks for you, for example, like you have to win 40 times in Dice or win one time in High and Low with the same cards in one game and for this you will be given something 56 Euro in Bitcoin equivalent and so on. Overall, you get from 30 to 90 Euros in Bitcoin equivalent for these simple tasks as you go and as you rise in your rank.
Finally, a couple of more words about battles and tournaments. So as I was saying there's an entry-level battle for free to play users with a prize pool of 150 Euros.
There is also a Daily battle with a price of 20 '000 Euro price pool and it also depends on your actual amount of money wagered by day.Participating games are in-house developed games as well as slot machines.
As I was saying there's lots of custom made games like Bet Fury exclusives including from BGaming, Spinomenal, Belatra, Endorphina and so on. So these are a couple of things about this casino so I invite you to play if you like. If you want to contact me there's my email in the Contacts section.