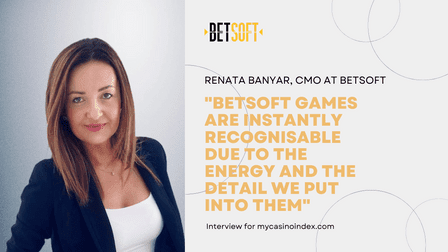 2022-06-16
Renata Banyar, CMO at BetSoft: "Betsoft games are instantly recognisable due to the energy and the detail we put into them"
How would you describe the 'average' game from Betsoft Gaming? What do you think distinguishes you as a developer?
I don't think there is such a thing as an 'average' Betsoft game. Betsoft deliberately chose to go down the quality not quantity route. That is why, after 16 years in business, our portfolio is currently in the hundreds not thousands, but for award-winning titles.
I would say that Betsoft has signature features that distinguish our games from the competition. Our outstanding graphics, humour, compelling narratives and characterisation – which make series such as the 'Take ' and 'Pop' games, and sequels such as Return to Paris™ successful – are the highly visible elements. However, our mechanics, the Betsoft Buy-In feature, the counter design we use in our special progression games such as Take the Kingdom™ are all specific to our style and instantly recognisable as Betsoft.
In addition, bonus features, progressive jackpots, multipliers and free spins are built-in features in all the games. Betsoft is an entertainment business first. Our clients and players come to us for great gameplay.
How does your office location influence what you do?
That's an intriguing question. Betsoft is a genuinely remote working company and has always been one. Our natural habitat is online: possibly the varied stories and deep detail in our games reflect Betsoft's diverse work environments. Our staff is globally located and multi-national so that probably has more influence over our content than an office building would.
What were the first online slots you released? How are they different from the latest ones?
Lucky Charms and Clovers™ was one of the first slots released under the Slots3™ system. I think anything previous to that was archived.
In the early Betsoft days, the internet was still in a formative stage for online gaming. Slots were built with Adobe Flash. Players had to download the software before they could start the game.
Betsoft designed the Slots3™ suite which brought stunning animations and fast gameplay to players. This was a groundbreaking method of showcasing a 3D effect with cinematic animation quality. Subsequently we moved into building our games in HTML5 as we could see Flash would be discontinued ultimately.
Many of our older releases such as The Slotfather™, Stampede™, Jumbo Joker™ are all still hugely popular. As we are also renowned for releasing sequels, players buy into the recognition. How has the game and the narrative moved on? What new features will be included? Safari Sam™ (2012 release) for example is a 5 reel, 30 payline slot set on the African Savannah. With a collapsing reels feature, free spins and a Double Up feature, players were massively attracted to the gameplay as well as the frequent wins. 2021 saw us release Safari Sam 2™ and this time with 50 paylines, an RTP of 96.3% and some amazing features to trigger the Free Spins.
Alkemor's Tower™ (2015) brought Merlin-eseque magic to the reels with a bearded wizard and magical spells plus 243 ways to win. Cut to 2022 and Alkemor's Tower™; the wizard is back in special progression game to fill the Elemental Counters and win up to 1,200x your bet. Players who connect with a character or narrative will buy straight into the sequel. New players search back through the portfolio to find the original. It's a win/win for everyone.
In terms of differences in our games, the storylines are more universally inclusive for character representation to reflect current cultural mores. We have more female characters and comedy storylines and our male characters are generally better behaved than Gary in The Tipsy Tourist™ for example. We took risks in the early days - Alien Fruit for example in 2015's It Came from Venus ™ was quite unique - and we still continue to push boundaries.
A significant difference would have to be in the volatility of the games. More new clients with no previous exposure to slots are playing alongside the High Rollers; so we offer a greater mix with a wider betting range to appeal to both styles of risk and play. Book of Helios™ - our latest release - has very high volatility and a potentially massive payout with a max bet of 20,168.4.
Overall though I would say our style is still recognisable across the portfolio.
Do you think you possess your own style of designing slot games? Why?
Definitely. Betsoft games are instantly recognisable due to the energy and the detail we put into designing and building them. All Betsoft releases have superb animation, characterisation and humour built in. Many releases have signature mechanics, such as a base game that switches into second screen once a feature is triggered.
That 'constantly getting a new experience' feeling appeals to everyone. Mr Macau™ and Stacked ™ have some of the best examples of this. Players gain access to the VIP section of Mr Macau's casino when they trigger the feature . In Stacked™, the one off Prismatic Reel feature begins with a flash of blue lightning as one entire reel goes wild throughout the free spins rounds.
These distinctive touches are emblematic of the Betsoft style.
What is the production process for games at Betsoft? Can you describe a working day at your company?
Betsoft is an efficient and professional business; we are working six months to a year ahead and have mapped out the releases. This enables 100% delivery of the Roadmap - which clearly makes our clients happy as we can plan exclusives, promotions and campaigns around releases. Content is also designed around seasonal events, influenced by social media memes or film releases, books, games and everything or anything that our designers believe they can make into a successful Betsoft release.
The working day is a long one as people are coming on line from across the world at different times. Meetings predominantly are held on IM applications such as Skype and Slack and everyone knows what they have to do and by when. As I said, we are efficient. Very importantly however, we have a great team spirit and a lot of banter across the departments so the days are properly productive and enjoyable.
How does your company culture translate into your games? What does your working title 'Designed and made for you' actually mean for your clients?
The company culture is based on continuous improvement across the business without losing sight of passion for gaming. We permeate the Betsoft brand through everything we do – from recruitment and onboarding, account management standards to internal comms so that we create and maintain a cohesive yet independent culture resulting in genuine teamwork to produce outstanding content
Based on this, I would say that our games are highly professional products showcasing humour and attention to detail. They offer entertainment with big win potential. Pretty much our company culture in a nutshell.
'Designed and made for you' was the working title for the new in-game enhancement tool, Take the Prize™, that we launched in January this year. Our feedback from focus groups provided many insights: clearly looking at what our customers want and giving them an improved version with great potential to keep developing is key. We keep very close to our customers but simultaneously try to stay one jump ahead.
What is your ideal casino customer like? In one of your recent interviews you (Renata) said you are "Always putting your client first"... Does it mean to go all the way to pleasing your customer or, alternatively, try to educate them?
Is there an ideal customer in any business? It would certainly make marketing to them easier if there were! We know we are doing something right because our clients keep coming back to the brand; the older releases still have considerable lifetime value, players and reviewers are discussing them online plus anticipating the new launches.
Obviously, we put the clients first as no clients = no business. We always over-deliver in our slot design, so maybe it would be more accurate to say that we challenge our customers. It is probably more the case that the clients educate us as it's their feedback that guides and advises us in many ways.
What do you know about your players?
We know what they like and what they don't! Research and client feedback are essential. We use in depth analysis of market and competitor data; comparison sites analysis; feedback and Focus Groups; and commissioned research. Constantly collecting data and understanding the research is imperative.
We test our games rigorously with a pool of players who possess a range of different play styles. We then use the data collected to fine-tune the final product for the perfect balance
Player bases are changing across the field. More women are playing slots and this is having an impact – especially as there are more women working in iGaming nowadays; different cultures and languages need to be taken into consideration in game design; different regions and countries are all now accessing online casinos and bringing a new dimension to play.
Betsoft releases appeal across demographics: if you were to pick any theme or storyline - magic; adventure; dragons; prehistory; aliens; treasure hunters; mad scientists; cops & robbers - we have a great game that appeals to new players and high rollers alike.
We also know they love enhanced gamification and extra win potential so we launched our in-game promo tool Take the Prize™ earlier this year to offer a random fortune wheel with cash prizes or bonuses in the qualifying games throughout any promotion. Prize winning spins can be triggered at any point in the game and from any game in our portfolio.
It is also a customisable tool which gives in-game experiences with real-time notifications, instant rewards and a highly inventive UI experience. As it is a visually high impact product, Take the Prize™ is especially mobile friendly and of course, it is also compatible across all devices.
Take the Prize™ is the first product to be launched. While each tool works effortlessly on a standalone basis, all the promotion tools can be combined simultaneously on the qualifying games and across the same promotion and timeframe, leading to substantial wins and massively exciting gameplay.
Can you tell us about your latest releases and what we can expect in the near future?
We have a number of new releases in production. Gemini Joker™ was released 26th May 2022. This will be followed by Book of Helios™ late June and Wilds of Fortune™ in July. A new Red Dragon game, Winds of Wealth™ is scheduled for August release and there are plenty more sequels and new themes coming. We are also developing more enhancement and gamification tools following the launch of Take the Prize™, so look out for our promotions!
We relaunched our Client Area to make it super simple for clients to access the assets and following on from this success, we are mid re-design of our website. This is a big project which we can't wait to unveil this later in the summer.
Busy times with good things coming. If you don't already, then follow us on social media to keep abreast of our developments because there is a new type of game we are working on. It is a bit of a different direction for Betsoft and we are very excited about it. It's definitely worth waiting for.