The game's motto is 'Let the propaganda of love begin'. I must conclude that the ELK's treatment of propaganda ideas is very superfluous. They would try to work with popular myths of propagandist regimes: the red colour of the Soviet Union's flag, the font that resembles the Soviet posters ('plakat') too as well as the drawings of the Wall on the backdrop of the screen.
My conclusion is rather simple: novel features laid into Propaganda slot game are very harsh and clumsy. They alone cannot make a game successful or secure a proper retention.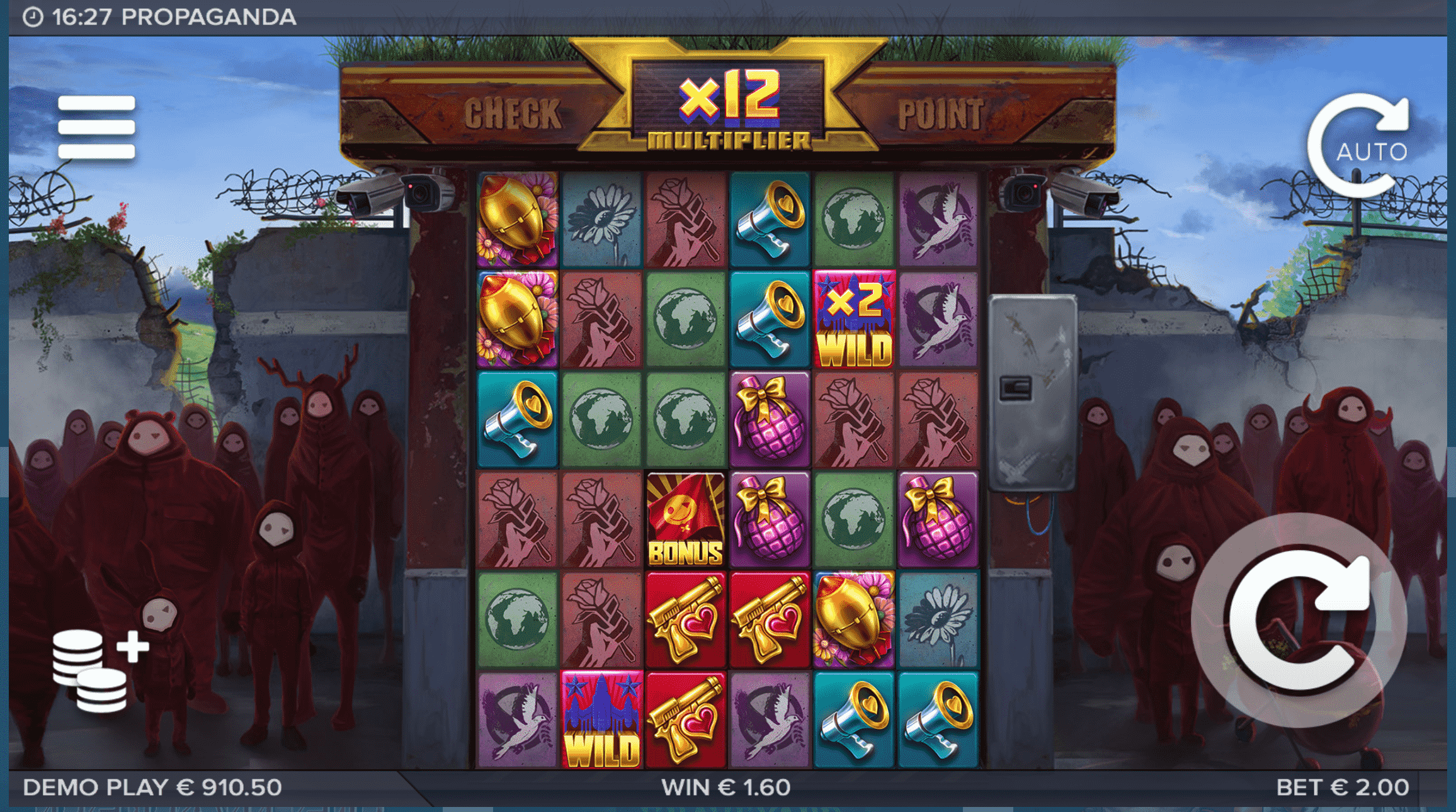 Features:
Multiplier Wilds
Avalanche symbols features
Increasing / Progressive multipliers
Wild Merge / Split
Multiple wild symbols in a winning cluster merge into a multiplier wild. Alternatively, multiplier wild symbols that connect multiple winning clusters are split into the respective clusters.
Multiplier Ladder
The total multiplier applies to all winning clusters. Each winning symbol increases the winning multiplier by one after the payout of a current prize. So, for example, if you have 11 winning symbols, you'd get the win multiplier 11x that will be applied to the next reaction of the Avalanche feature, that is, the next set of 11 dropping symbols. The total multiplier remains active through the Avalanche feature. Each winning cluster generates a wild symbol that appears in an empty space created after explosion of the winning symbols. Likewise, if your 11 winning symbols you have got in the first place where in 2 clusters, so you get 2 Wilds to the next set of dropping symbols too.
This feature is quite new as to me. Apparently, it promises good prizes judging from how it works. But I, as a player, get really disappointed to have a 16x multiplier with 3 big clusters exploding and new 16 symbols (out of 36) dropping in WITHOUT any new wins. To me it happens all the time. And it adds up to the anxiety connected with gameplay.
I conclude that the maths of this game might be poorly connected with player experience: you get constantly teased by a tangible and visible chance of big wins that is hardly realisable. The hit rate of this game is 28.7%, but anyway it seems quite low too. So, I presume, this game will have low retention: I simply do not believe players would like to return to it.
Free drops bonus game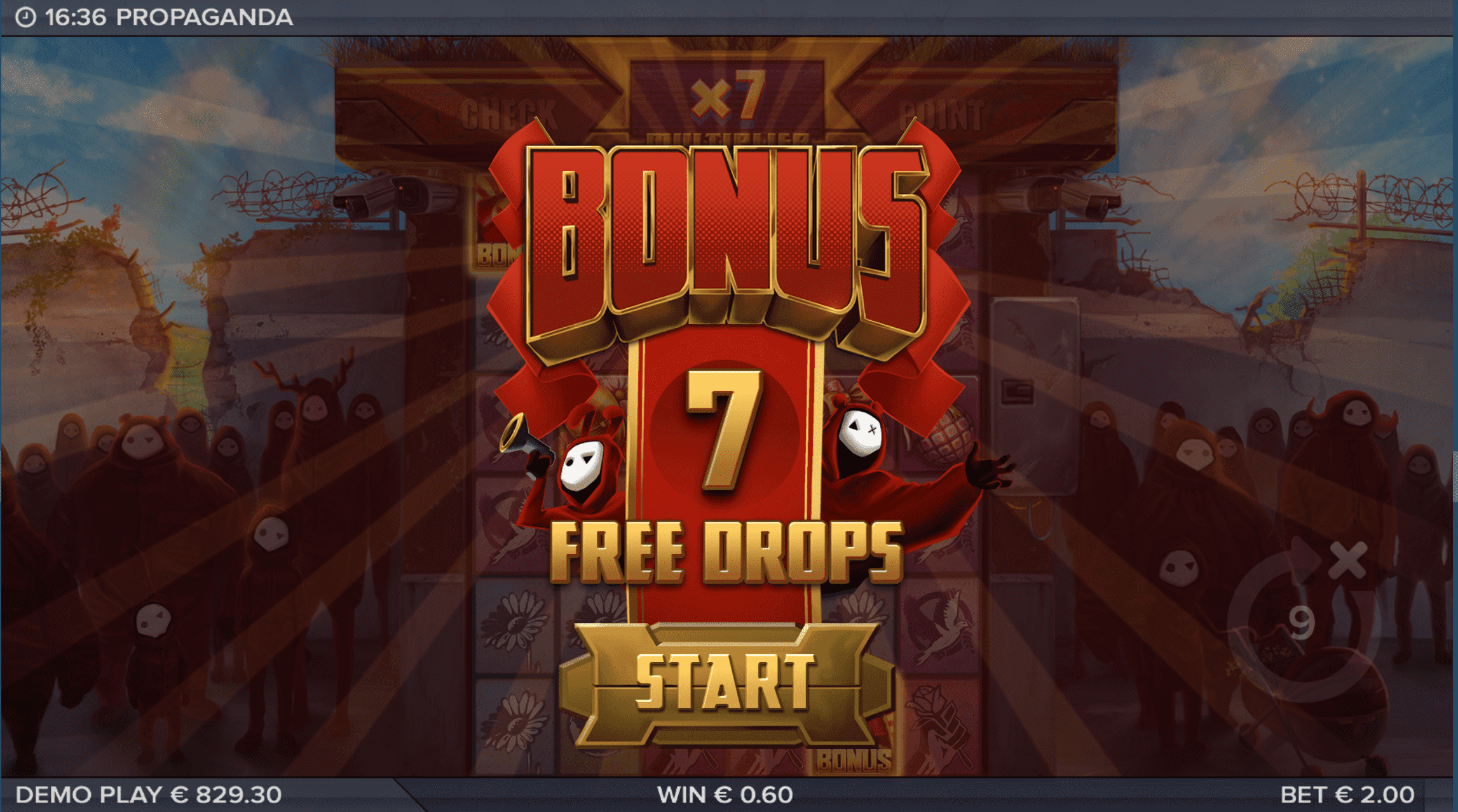 In the free spins / drops game the multipliers will be increasing and sticky. The total multiplier is persistent throughout the bonus game. From my experience, you might need some 150 spins / bets to get to a bonus game. So, first of all, it is not triggered often. Second is that despite a multiplier of 72x I made wins of about some 150€ during this bonus game. So, it's not that generous either. I'd bet I can have more winnings in the base game of for example Fire Forge by Microgaming / Stormcraft Studios.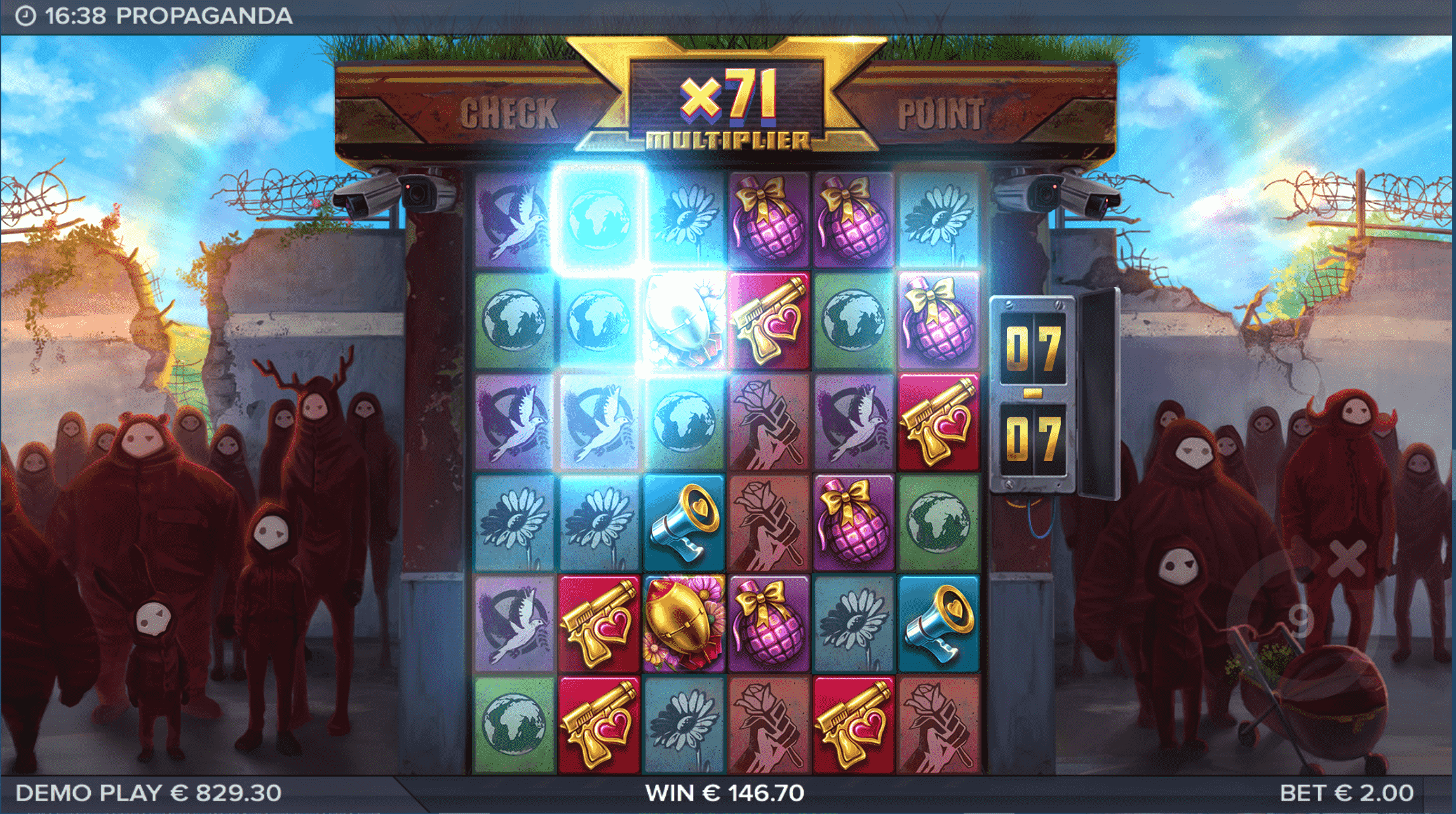 The Wild Strike feature
The Wild Strike replaces every symbol in view with Wilds or Wild Multipliers and can occur in any drop.
Super Bonus game
Landing 1 Super bonus symbol together with 2 bonus symbols triggers the Super Bonus game, where a Wild Strike feature is guaranteed in every free drop.