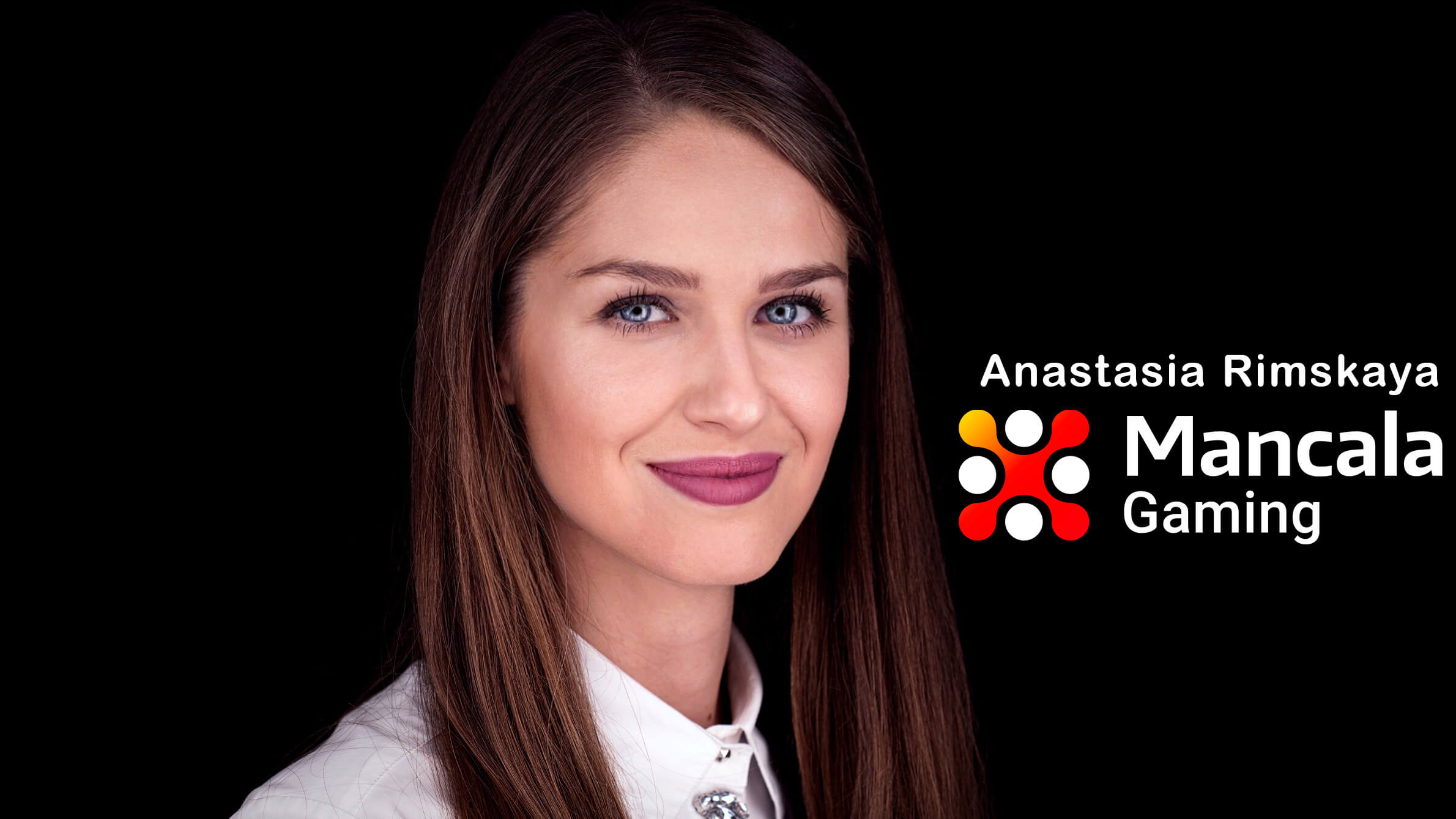 2021-07-26
"We are building a new game line for more demanding players, something more innovative, something more interesting to grab a younger generation": Anastasia Rimskaya from Mancala Gaming Exclusively for MCI
Maria: Hello at MyCasinoIndex Channel. My name is Maria and I'm glad to welcome you again at my new interview video series. Today I have a very special guest and finally it's a woman - and this is Anastasia Rimskaya. She is a Head of Account Management in Mancala Gaming. Welcome Anastasia!
Anastasia: Hey Masha, thank you for inviting me!
M: I'm so happy to see you there and let me, please, tell a few words about Mancala Gaming. It is a young and promising provider of games, game supplier, which is based in Prague. Mancala was founded in 2019, and now it employs over 20 people. There is an interesting fact, it should be distinguished, because Mancala has really artistic gameplay in my opinion, and it also has produced over 70 slots and there I should ask you: why are you, guys, can't stop creating? And how has it happened that you now have such a diverse and big portfolio?
A: Masha, thank you for introducing me and thank you for that question. As you mentioned, we just started recently, but, however, we entered the market already with 70 games. So how it happened. We started building our portfolio a while ago, because right now, it's completely impossible to penetrate the market as a new provider with only 10 or 15 games. You do not sound serious for operators, and they are not that interested to invest their resources for integration in order to get only 15 games. That's why we start with simple games that everyone likes, more classic ones, with more classic mechanics. Right now what we are doing and what's our plan with our game studio, that we are building a new game line for more demanding players, something more innovative, something more interesting to grab a younger generation and to target the audience who just started their experience in a gambling industry.
M: Here I would like to mention that Mancala definitely moves with the times. I'm impressed by your Zero Day Slot. Cyberpunk is something popular right now, and you are most sensitive and understanding to the business needs. Who is your main ideas generator or is it the result of team building and the good atmosphere inside your team?
A: I would say there are different factors, but I would name mainly two of those: the first one is our CEO, he's a really inspiring visionary person. He is always driven with some new ideas and he leads us as a team to a proper direction. And then, as you already guessed, it's a result of having a really great team in Mancala Gaming. We are really carefully hiring. Our applicants and people who we hired should obtain not only professional skills, but also they should suit our company, they should suit our team. As you imagine, when you're going to work, you're spending eight hours - you're spending like half of your life over there - you should enjoy communicating with everyone, you should enjoy these people, that's why we are like a small family there.
M: Yes, I agree with you that all our working teams are kind of small or big families and it's very important to make this kind and nice atmosphere. And I'm also impressed by the graphics of your games! Actually, I personally have a feeling that all game characters are heroes of fairy tales and comics. Here is my question about them: how many artists are in your team and how did you find them?
A: Masha, Thank you very much. We really appreciate that you like it right now. We have four artists: they are drawing the game from the very beginning. The whole game symbols, background, characters are gonna be in the same style and gonna be done by one person. Our artists, they all came from a different background. Maybe that's why our characters are more alive, not that like deep into game ones. I must also confess that not all our artists had experience in gambling industry. Maybe that's why they are bringing us such fresh ideas to our games.
M: But their work is totally outstanding. I'm impressed really! I would ad, every one of these beautiful artists on Linkedin or any social network just to look at their works and their portfolio (laughing). It's very interesting! Okay, here is my other question. Let's get down to it: let's tell players about your main features of your games, taxonomies and some other data and which Mancala's slots are the most popular at the moment?
A: Right now what we have already in our portfolio, it's kind of a common practice in the market, like free spins multipliers, cascading mechanics - we have all that. But our new game, that we're gonna be releasing soon, would bring players a completely new experience, not only in perspective for features, but also in game mechanics. What about our most popular slot? I must say that Zero Day, that you mentioned, it's a cyberpunk themed game, it really bloods the market, it's our top performing game and we are really proud of this one.
M: This is my favorite too! Please tell us about your new game release, which is coming soon, December 17 is scheduled for.
A: Yes, you're completely right. It's gonna be the 17th in December. Basically, several days from today. The game is called Cherry Bombs. Imagine that player would see a retro cut machine with colorful fruit symbols over there. The game has three levels, which means kind of the game has inside one slot game, just three games. So the first game level is 25 lines with the cascadian mechanics. Then depends on how lucky the player is, he is going to be moving to a second level, third level or back. Level two and level three are cluster win games, so level three, as well as a really achievable one, but it's gonna bring proper big wins.
M: I'm sure there will be an interesting game release from Mancala Gaming. The last and my favorite question is about your future plans and maybe some projects which you are waiting to realise in the new year.
A: As a young gambling company right now, we are most focused on two things: first, one is getting ourselves to a regulated market. That's why we are right now in the process of obtaining an MGA license, UKGC license, which would help us to get our contact to a broader player audience. Second one, obviously, is proper games, high quality games, interesting games, some outstanding and brand new mechanics. Also we can't wait to visit some offline expos, because you know the iGaming industry is mostly about exhibitions. We were planning to have a debut at iGB Amsterdam this year, but, however, it was rescheduled and postponed. So I really hope that next year we would meet our clients, our potential clients and our partners face to face and would shake their hands and would talk with them, and would just have a great time over there.
M: Thank you for the interview, Anastasia. You are so beautiful and I was so pleased to talk to you.
A: Thank you very much, Masha. Thank you so much for your questions. It was a pleasure for me also to reply to talk with you and it was a great time.