Slot Description
Muertos Multiplier Megaways gameplay is focused down to getting a user buy Bonus spins and - during this feature - to trying to hit at least any winning combination in the last 1 or 2 spins in the hope that the winning multiplier that you must have accrued by the time will 'buy' you a final win. Needless to say, this final win must be big enough to make up for the money spent on the 'buy bonus' feature. That's practically all you may want to know about Muertos Multiplier Megaways slot from Pragmatic Play.
Seriously, the slot machine is boring. Muertos Multiplier Megaways uses Tumbling reels and Colossal symbols, so they at least convey this game a little more 'live' gameplay. Muertos Multiplier slot has a Mexican, Skull or Day of Death theme with a slight variation, in that it does not look neither scary, nor humorous. It's all super shiny and clean, finished in light soft colours. By contrast to other spooky Mexican slot machines such as Esqueleto Explosivo, Grim Muerto, Dia De Muertos or Mueritos, etc the game is really too light: it does not use night settings, candles or lights...
Symbols are taken from the library of Mexican archetypes (if there's such a library whatsoever). These are all the things an average person knows about Mexico: cactus, tequila, guitar, tacos, etc. Interestingly, as a lower value symbols the game creators would use stone plates with the French suits of trèfles (clovers or clubs ♣), carreaux (tiles or diamonds ♦), cœurs (hearts ♥), and piques (pikes or spades ♠). It's quite strange to me as there are no face cards symbols either. So, the Day of Death themed slot machine called 'Muertos Multiplier Megaways' would actually only use skulls that stick to the theme, other symbols are just stereotypical things about Mexico. In my opinion, the graphics are not quite successful: the graphic items do not actually belong within the theme of death foremost, and also they do not widen the depth of the world Pragmatic Play created.
Music does not fit with the theme either. It is a pleasant music that is good to have in the background, but it does not even resemble Mexican. In my taste, it sounds like disco by moments, especially when you hit some big winnings.
I can perfectly understand the online casino lobby strategy of Pragmatic Play: Halloween is coming up and the roster of seasonal slot machines has to be filled with something. The goal of Muertos Multiplier Megaways is to be featured in the spooky and humorous slots category. Basically, that's why each year dozens of spooky, dark and all the things scary slots are being released by these dates. Obviously, a spooky theme will be hot in casino lobbies for a month or so only. Moreover, given the typical structure or 'grid' of casino lobbies, only about up 10% of spots might be given to scary & humorous slots altogether. It means 2-3 slot games on average. Let's see at the competitors out there: Rags to Riches (Betsoft), Wild Blood 2 (BTG), Ghost Slider (Blueprint), the Creepy Carnival (No Limit City), the Horror House (Booming game), Million Drakula (Red Rake) etc.
Similar slots within the Mexican theme are: Dia De Muertos, Mueritos, Grim Muerto, Diamond Fiesta, Esqueleto Explosive 2, Mariachi 5, Dia Del Mariachi, Day of the Dead, El Cowboy Megaways, etc. Overall, I don't see that Muertos Multiplier Megaways stakes up quite well against the slots in the category.
Muertos Multiplier Megaways™ Features
The game has a 6x7 grid and the Megaways mechanics under licence from the BTG. When I played the game for 100 spins, I had not actually experienced the Megaways mechanics in place. Except for the screen in the left corner of the grid view. So, the hallmark feature about Muertos Multiplier Megaways is a win multiplier.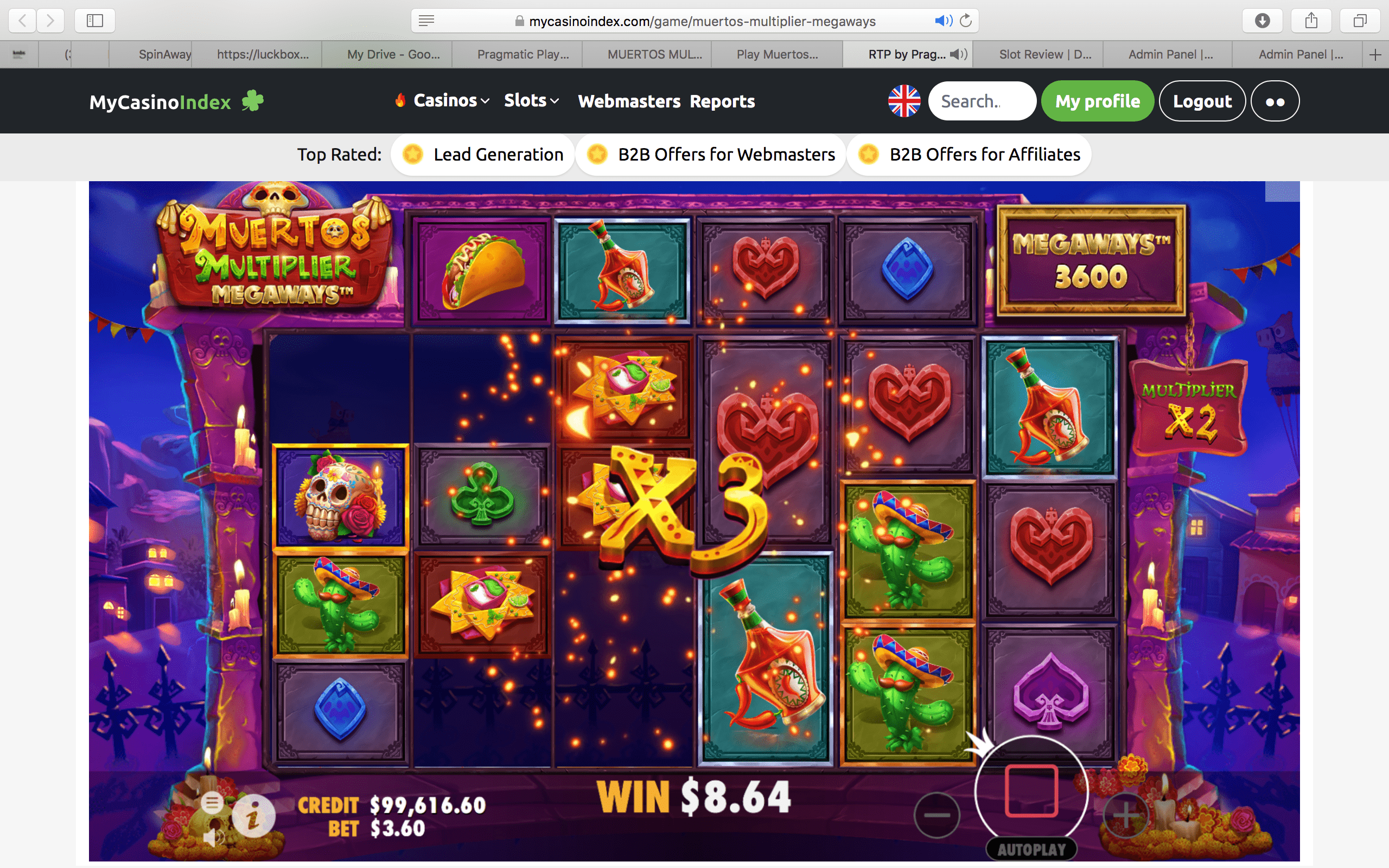 It is not original though: it works just the way a random multiplier does in Gates of Olympus. At least we know now that this random multiplier feature is designed to mask-up the otherwise dull user experience of this high volatility and low hit rate game. The wild symbol increases multiplier by x2 or x3, but the base game is nevertheless cold. Not even cold, it would exhaust your wallet surprisingly quickly if you could not manage to hit a Free Spins game till you have nothing in your account. I personally could not manage to get 3 bonus symbols and earn a 'Bonus Game' in 100 spins time whatsoever.
The Bonus Buy Advertisement is shown on the right and invites a player to Buy 'Free Spins' for €300. The practice of offering to buy bonus games right away is a clear damage to overall user experience and the industry all together as it would result in games with mediocre base games and thrilling bonus games. After all, why is it even called the Free Spins feature if you are invited to buy it for money? Interestingly, the prices will vary from your engagement with the game: the first time I bought it would cost €300, the second time -- €360. So, the whole fun actually drills down this bonus game idea.
The bonus game gives 8 to 12 spins with an increasingly stacked multiplier: there's a roulette to find how many exactly a player gets. We have bought the Free Spins game twice and both times we have had 7 free spins.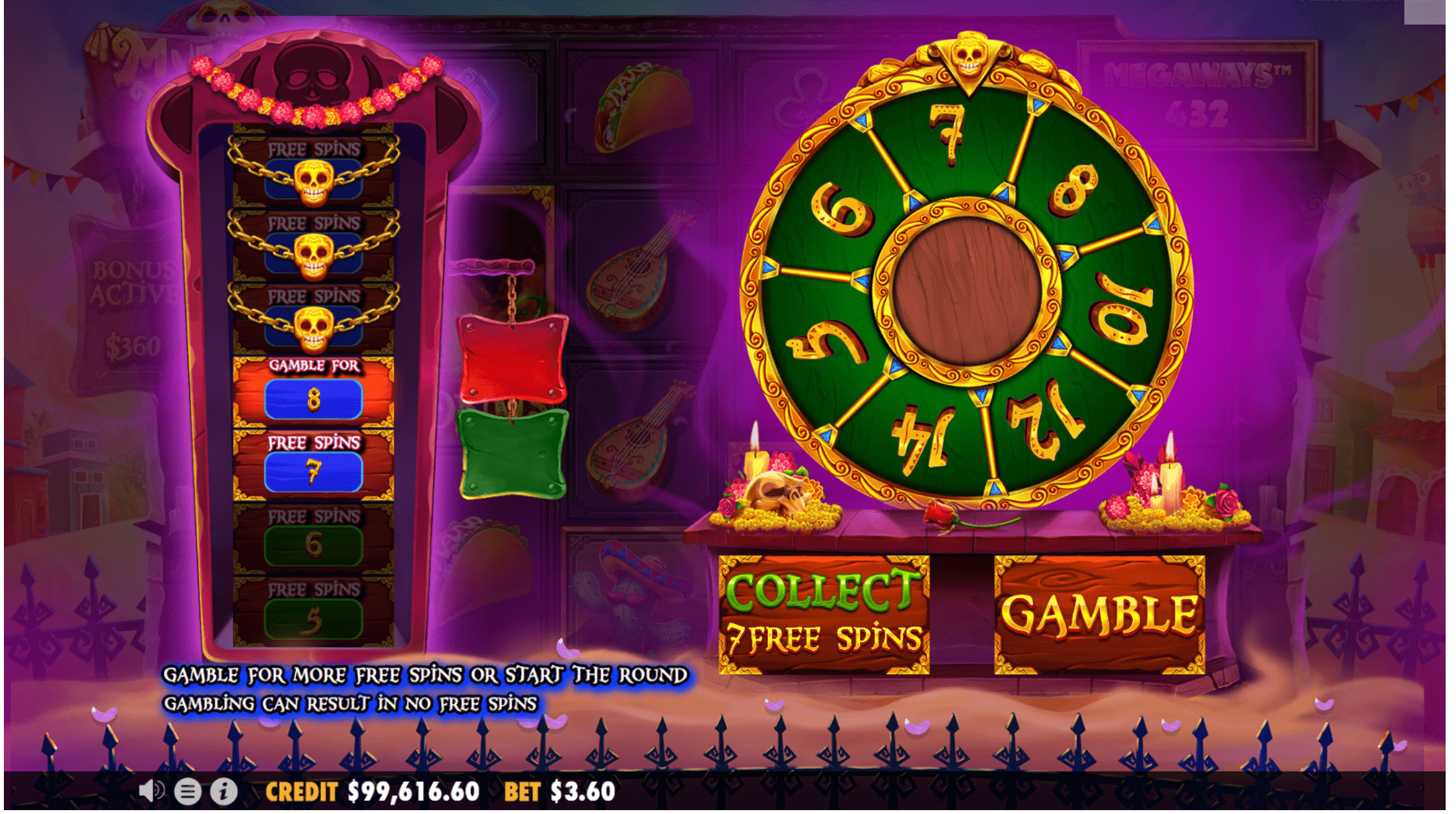 You can Gamble free spins multipliers and get a certain increase if you are lucky (or lose your free spins altogether): I have gambled twice and both times ended up with 8 free spins.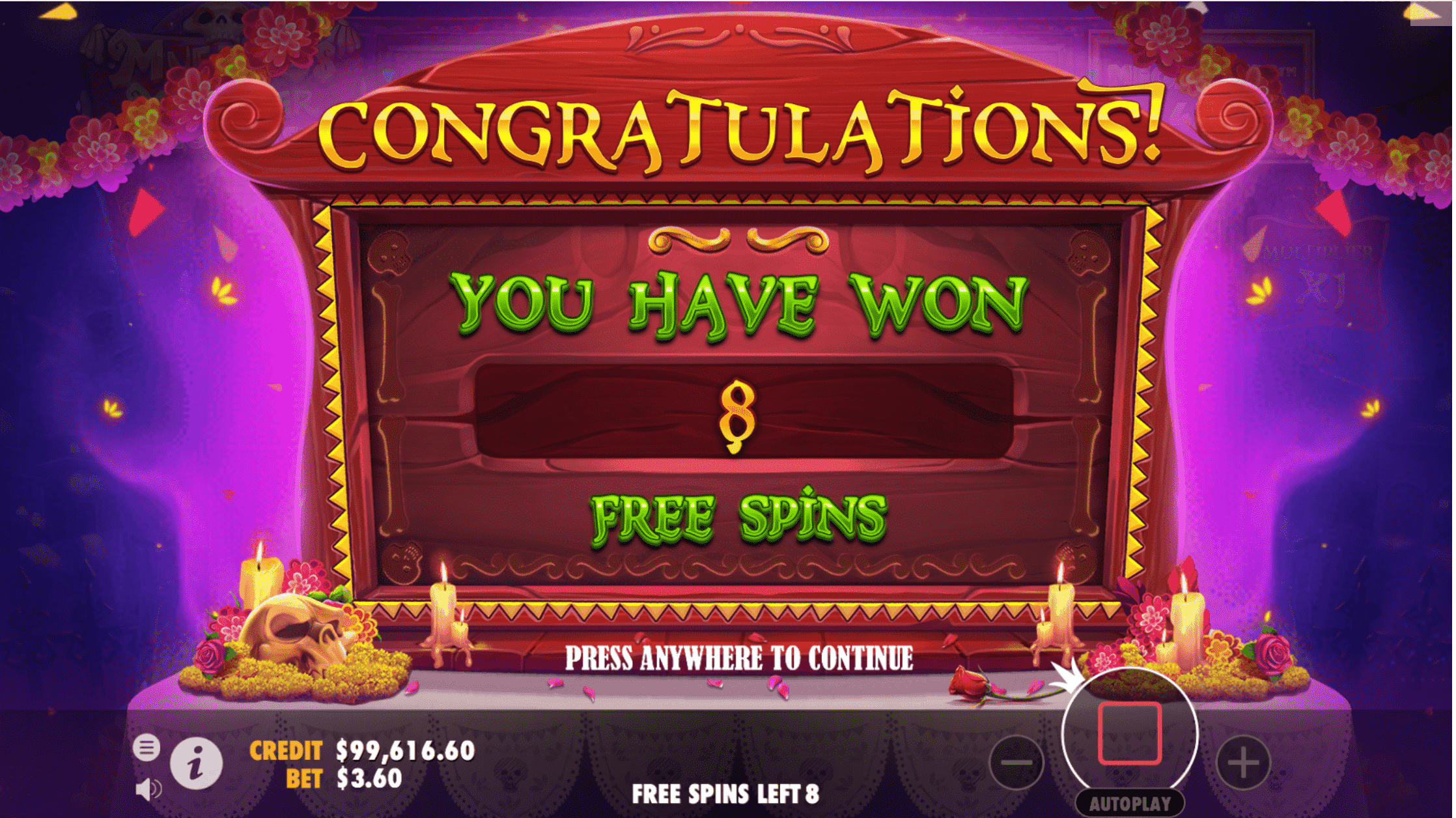 Muertos Multiplier Megaways has an increasing win multiplier during Free Spins game up to x118. This one is quite fun: I personally have got x95 times multiplier and won some €711. But nevertheless, it seems a little too scarce to create a truly successful and engaging slot machine.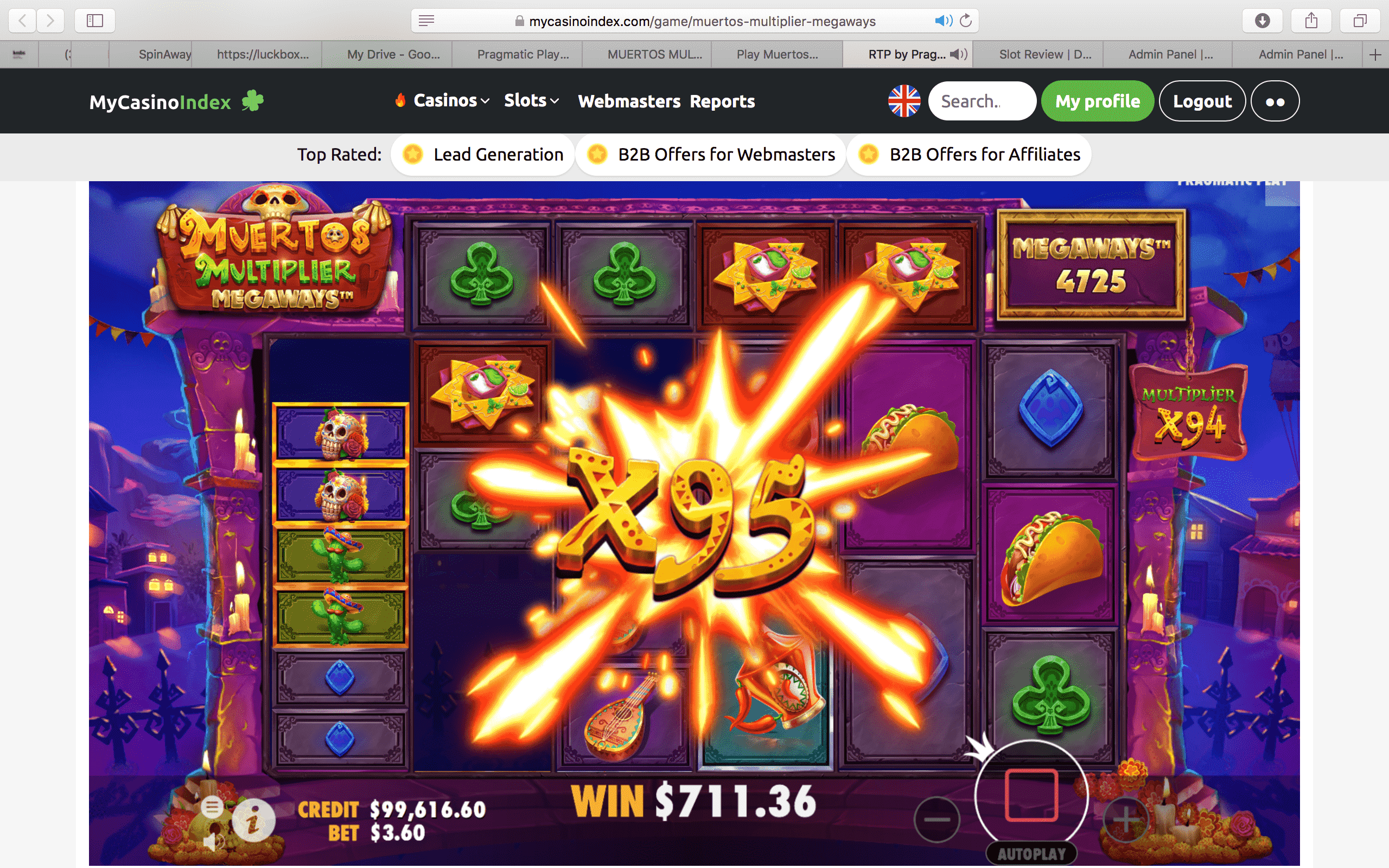 Game Popularity Prediction
I predict the game is mostly seasonal and a passing one. It will not be able to generate a big following or create a big retention. So, presumably, it is just another Halloween reskin that will serve it's purpose for the time being. As a standalone thing the x118 multiplier is a great idea, it gives a good deal of fun. But it's only a feature, not the whole user experience. And the feature cannot substitute the whole game itself.
This game will collect 12-15 reviews from iGaming publications in the first 2 months of time. According to our data, the average MetaScore of slot releases by Pragmatic Play is about 67.9. I expect Muertos Multiplier Megaways to hit the Metascore ceiling of 78 out of 100 by all recognizable review publications in iGaming. As previously discussed, due to the pressure of past 'favourable' reviews from Sweet Bonanza times as well as industry acclaim signs (rewards), journalists tend to set too high scores to Pragmatic Play releases. Supposedly, the highest scores might come from slotsjudge.com and casinohawks.com. These websites tend to give generous scores to Pragmatic Play titles.
Muertos Multiplier Megaways™ Reviews
We anticipate that casinohawks, casinowhizz as well as aboutslots will give the most praisful reviews to 'Big Bass Bonanza Keeping it Reel' slot release. We think that slotsjudge.com, casinohawks and casinowhizz review scores will be in the range of 8.0 - 8.5. The lowest review is predicted to come from bigwinboard.com - around 6.7-6.9. UPDATE: suprisingly, bigwinboard.com gave them 8.0.
---