RTP: 96.27%
Fortune rewind Slot
by PlaynGO
Verified Casinos to play this Slot in
Verified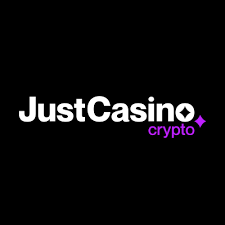 ---
Bonus:
18+ | Play responsibly | Terms & Conditions apply
Verified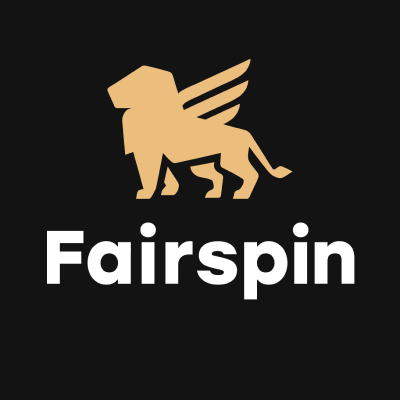 ---
Bonus: Fairspin Casino: up to 100% Bonus + 30 Bonus Spins, 1st Deposit Bonus
18+ | Play responsibly | Terms & Conditions apply
Verified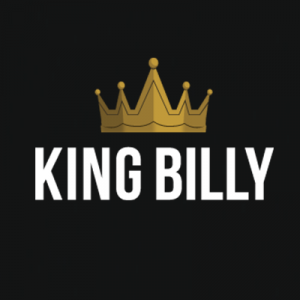 ---
Bonus: King Billy Casino: €/$2500 or AU/CA/NZ$2500 + 250 FS
18+ | Play responsibly | Terms & Conditions apply
Verified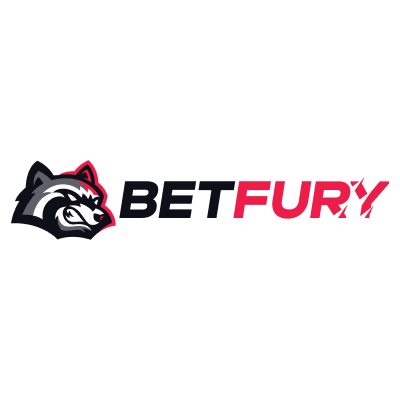 ---
Bonus: 100 FS on Signup + 100% on First Deposit
18+ | Play responsibly | Terms & Conditions apply
Verified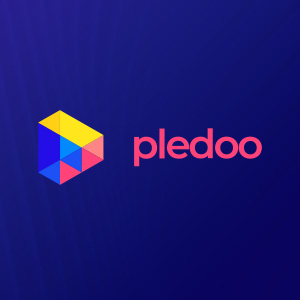 ---
Bonus: 150% up to 3000€/$ + 100 FS
18+ | Play responsibly | Terms & Conditions apply
Verified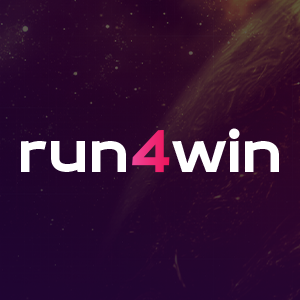 ---
Bonus: 200€ + 50 Free Spins + on Elvis Frog in Vegas (BGaming)
18+ | Play responsibly | Terms & Conditions apply
Slot Description
A new slot game from PlaynGo Fortune rewind has a motto 'Time for a new adventure'. Is this adventure actually new? "Doesn't matter what we'll do, we'll make money." - this is what PlaynGo tells me with their Fortune rewind slot. Likewise, the idea of travelling in time has been a popular manifestation of Hubris, which means Ego. As PlaynGO guys would say on their site: "We know what operators and players want. And that's the key to creating content that stands the test of time." Really?
PlaynGo is arguably the strongest studio when it comes to telling stories, something that, for example, Big Time Gaming actually lacks. Likewise, the storyboard of Fortune rewind looks quite well-developed: I can almost see like each 'vignette' or sketch lay on the artist's table. Here's Dr. Tempis, a young scientific genius, whose father is lost in time, so she has invented a machinery called Time Modulator to travel back and forth in time to help him out. Stop ... or is it her who is lost in time and left the side of her father? Anyway, while Dr. Tempis is in the centre of the story of the lost child, it is you and me who make bets.
Apparently, PlayNGO has already made their bet, and they bet on entertainment. Judging by the way they see entertainment, it is a losing bet in the industry of RMG in my opinion... The problem with slots is that all slots make some kind of money. So people mistake money-making for success and become overconfident. But the truth is that data is more important than opinion, and that money-making is just the beginning, not the end, of creating a great slot. You want to make sure your slot has high retention to work long-term. How do you create retention? Listen to data across the market. Put aside ego. Listen to data.
Fortune rewind Gameplay
Now, let's look at some data through my eyes. The game is dead as heaven on a Saturday night. In the first 50 spins I hardly got 5 wins and lost 88 euro altogether. The game simply doesn't play. It is boring and apparently lacks a kind of thrill a good mathematics can bring. The 5x3 grid with 20 fixed playlines simply looks empty. The horizontal 'signal' reel where, for example, BTG will put additional symbols, etc looks void. Look what they out there, in the most visible spot on the screen: a year where the action takes place. I bet they think that's the most important info I must see in the first place.
The slot's backdrop imagery would include a cabinet in a scientists mansion where the time travel begins as well as 6 settings, corresponding to 6 different ages, so that a player can travel along in time during the base game or a free spins rounds: from prehistoric times to Ancient Egypt and further to the times of the Wild West, at least that's where I got. Since the lady scientist is a centrepiece of the 'Fortune rewind' game's perspective, she will make the times change. Interestingly, while there are different sound tracks for each age (a great job by the studio), the symbols stay the same. Yet, the dinosaur skull looks weird beside the time machine or sheriff's star. It's like an assortment of different artefacts, times and settings. That being said, PlaynGo should be thinking of using their corporate time wisely lest the competitors are not too far ahead in time....
Features
Fortune rewind lacks features too, it makes this slot game very basic and flat. I would rather have them spend at least a half of the time out into story and design on maths. What a player is left to do is wait for a Free Spins round. But when you hit the Bonus Game it does not bring much joy either... Landing 3 Time Modulator symbol triggers 15 free spins with a multiplier of x15 (retriggerable). Free spins game has only High Paying symbols, which is fun by the way. And there's also a Wanted symbol that is a rare treat. The Fortune rewind RTP is RTP is 96.27% (with options of 94.27% / 91.28% / 87.28% / 84.26%). Hit rate feels quite low. Volatility is declared as high. Max win is 8,500x the bet.
Reviews and Critics welcome
Reviews by bigwinboard.com and online-slot.co.uk were suprisingy positive by saying nothing in particular. Hey, bigwinboard.com have you been paid by PlaynGo for reviewing their slots and have signed an agreement not to talk bad?!
aboutslots.com goes all the way to praise it even to say that ... The max win of 8500X the bet is pretty solid for this highly volatile game... Well, it's hard to think what you'd say of Max Megaways in this case.
---
Listen to our podcact 'Take off your coat, Gambler'
'Take off your coat, Gambler' is a podcats by Bohdan Lytvyn on all the things gambing. Funny, lately it is mostly about humor as well: you will learn on the latest gambling gossips and also get a weekly (or daily, if you are lucky) portion of humor in our Gambling Stand-up Comedy series.
You are one step away from submitting your review
Subscribe to get our freshest daily news
By subscribing you are certifying that you have reviewed and accepted our updated Privacy, Cookie Policy and you are 18+




© 2019 - 2023 MyCasinoIndex
Smugglers Cove Slot Review
Wary of the authorities who were hell-bent on capturing them, freebooters could not risk coming ashore to sell stolen valuables. That is where smugglers came in, offering supplies in exchange for their loot, which they would later sneak in ashore after storing it away in a cove for some time.
Back to the slots universe, Pragmatic Play has discovered a long-abandoned cove where a smuggler used to store away stolen goods. There is a treasure chest inside, and all players can claim their share of the goodies inside by playing the Smugglers Cove slot. The goodies are worth up to ten thousand times the bet, making this a worthwhile cause.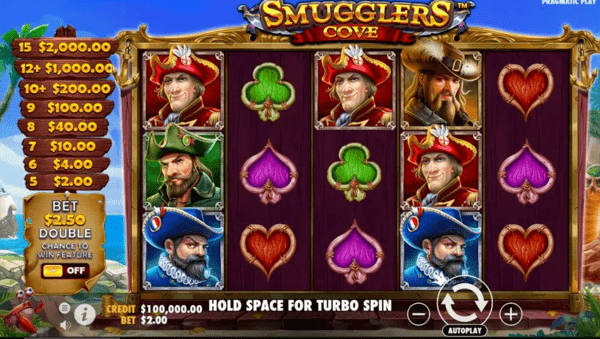 Pirate Theme Elaborated by Pragmatic Play to Enjoy
Launching the Smugglers Cove slot brings up a preloader displaying slides of what the game has to offer. You can skip it by clicking the hovering spin button to reveal the main playing area. There's also an option to avoid seeing the preloader next time you launch the game by checking the box alongside the "don't show next time" text.
The execution of the freebooter/smuggler theme is flawless, as you would expect from such a prestigious developer. So much so that launching the Smugglers Cove slot might conjure up scenes from Johnny Depp's Pirates of the Caribbean. It is, however, best to shrug them off and focus on the task at hand.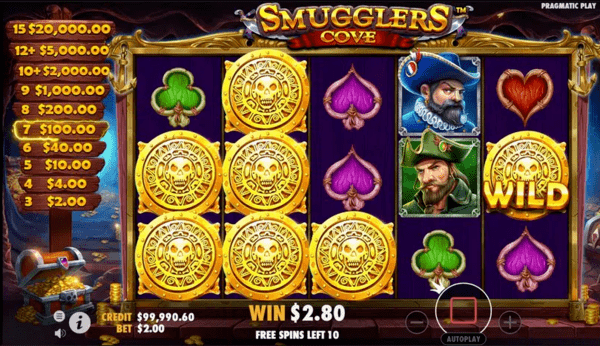 How to Play Smugglers Cove by Pragmatic Play: The Simplest Guide
Just like all other Pragmatic Play releases, the Smugglers Cove slot is available to play for real money in all certified markets. Operators here also make a demo mode version or free play available for players who want to get a feel of the game risk-free before going for the real thing. Follow the steps below to play the Smugglers Cove slot by Pragmatic Play:
Look up the slot
Use the available filters to bring up the Smugglers Cove slot. Click "play now" to launch the game.
Select your bet
With the 5x3 playing area on-screen as the suspenseful music plays on in the background, it's time to set your bet per round using the + and - buttons enclosing the spin button. It can be anything from 0.20 to 100 units of the primary currency, with the ante bet switch allowing you to place up to 125 units for increased chances of landing coins, which we will come to later. There is no option to alter the number of paylines, meaning they will remain twenty for the entire spinning session.
Crack the code to open the treasure chest!
After selecting your bet, get your hands on the Smugglers Cove slot treasures by hitting the spin button. There is also an autoplay button below the spin button, which you can push to avoid taking one spin at a time by presetting up to 1000 automatic spins. The developer takes the whole concept of autoplay to another level by including turbo and quick speed options. Furthermore, you can choose to skip congratulatory screens to speed up the gameplay even more.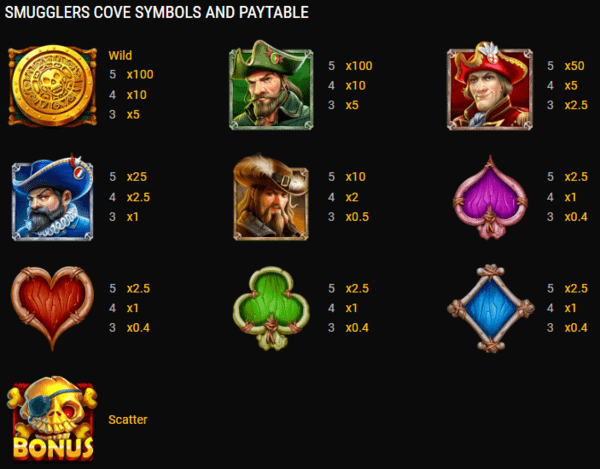 The base game in slots is usually dull and repetitive. But that is hardly the case with the Smugglers Cove slot, where you find a fully immersing experience as you look forward to unlocking the bonus features.
You win every time you land at least three identical symbols on any of the 20 pay lines traversing the grid. It gets even easier with the appearance of the golden wild, which completes winning combinations by substituting for regular symbols and coin symbols.
Smugglers Cove Bonus Features: How Many Free Spins Can I Get?
The Smugglers Cove slot didn't drop points when our probe came to the bonus features on offer. We discovered a solo bonus game dubbed treasure bonus, a name it lives up to when you consider what is at stake. And activating it was easy, only requiring at least five-coin appearances on the grid, with five to fifteen coin appearances unlocking rewards of 1-1000x.
Keep an eye out on the fifth reel because the super wild coin and super coin can show up to make the rewards even better with multipliers of up to 10x. The first-mentioned also helps cobble wins together by substituting for all the symbols except the bonus symbol. That brings us to the free spins bonus.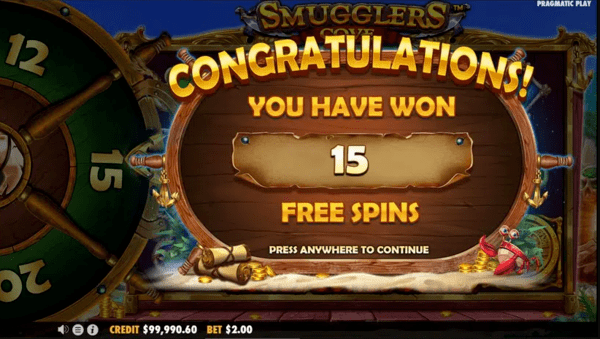 Free Spins Bonus
The free spins bonus is where Pragmatic play decides to wrap things up in the Smugglers Cove slot with a high-octane affair that could see you walk away with a whopping 10000x! Gaining entry is not complicated either, requiring you to land a skull-and-crossbones scatter on the second, third, and fourth reel. A random number of free spins from eight to twenty is unlocked, and the free spins bonus begins automatically.
As to how it plays, it is similar to the base game, only that the treasure bonus rewards are higher, with three to fifteen coin appearances unlocking up to ten thousand times the bet. The super wild and wild coins do not appear here, but it was consoling to discover that retriggers were possible, with three jolly roger scatters awarding an additional eight free spins.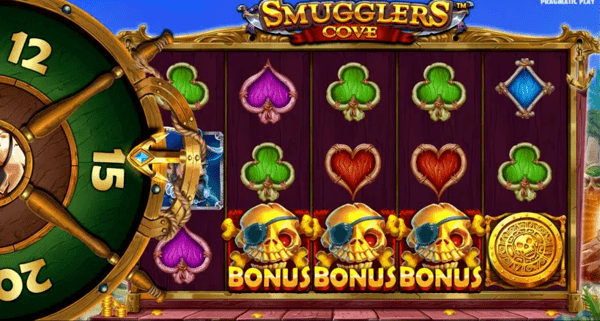 A Paytable with Decent Rewards
The Smugglers Cove slot features a paytable with eight symbols. They are divided equally into high-payers and low-payers, with the aforementioned stealing the show with decent rewards of up to 100x.
Algorithm Stats
After what you have seen with the Smugglers Cove slot so far, you would expect the algorithm stats to be sturdy. Luckily, that's the case, with an RTP that sits slightly above the above-average mark at 96.5%. The five volatility bars Pragmatic Play uses to indicate the volatility of their releases are nearly full, indicating that this is a high volatility slot.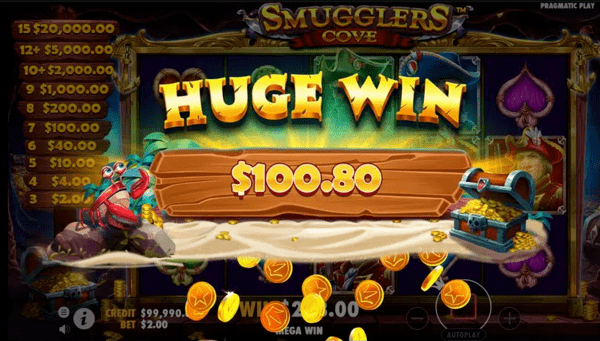 Our Final Verdict Concerning Smugglers Cove
There has been nothing negative to say throughout this review. The Smugglers Cove slot is one of those releases that manage to meet and exceed the expectations of the reviewer right from the execution of the theme and features to the stats and potential. What can we say? It's yet another gem from the slot geniuses at Pragmatic Play and a must-play for every slot fan out there.

", "sameAs": "https://mycasinoindex.com/game/smugglers-cove", "datePublished" : "2022-04-27 10:12:43", "dateModified": "2022-04-27 10:12:43", "operatingSystem": "Multi-platform", "gamePlatform":["Microsoft Windows", "OSX","Android"], "offers" : { "@type" : "Offer", "url" : "https://mycasinoindex.com/game/smugglers-cove", "price" : "10", "priceCurrency" : "USD, EUR, GBP" }, "publisher" : { "@type":"Organization", "name": "Pragmatic Play", "url": "https://mycasinoindex.com/game/software/pragmatic-play" }, "review":{ "@type":"Review", "author":{ "@type":"Organization", "name":"Mycasinoindex", "url":"http://mycasinoindex.com/" } } } }