The game's most remarkable features like Vertical Wilds, Horitzontal Wilds and Wild Bombs as well as 5 Free Spin Bonus modifiers disguise a certain luck of personality. After all, slot games are not a feature or two. I would not stick to it during my late night 'slot time': it is simply a gathering re-packed ideas of Big Time Gaming BTG, one point on the line of the studio's trajectory. Max Megaways™ charts the coordinates of where BTG is now. And it becomes clear that they are a way ahead of competitors. Despite the fact that Max Megaways™ like a sense of strong characters and the story as for example Fortune Rewind from PlaynGo.
The game display is an island with a lighthouse, which turns into a bunker when we get the Bonus game too. I, as a usual gambler and not a burned through fan of BTG, could now figure out why the game is even called Max, what's the silhouette of the man with a gun about and what the whole setting is about. Probably, it's telling of the way the studio works with the story. But, nevertheless, the game symbols and overall display decoration looks quite organic and handy. There's 5x6 grid that has an extra horizontal reel of 4 symbols.
This extra' (top) horizontal reel will catch your attention too, as there will appear, for example, Horizontal Wild -- all the symbols in the reel are turned to wilds (a something to watch definitely!). The 'marks' of gameplay with Max Megaways™ is the explosion of the symbols that do not win and cascades of falling ones that will take their places, this is called 'reaction' with BTG releases.
Within the base game there may occur the following types of bonuses as reaction to your spinning action reveal:
• Maximum Megaways - The spin is played with 7 symbols per reel.
• Vertical Wild - All symbols on one reel are replaced by Wilds.
• Horizontal Wild - All symbols in the Extra Reel are replaced by Wilds.
• Wild Bomb - A Wild Bomb is added to the Extra reel. After any wins are paid, all symbols (except Scatter and the Wild Bomb) are replaced by new symbols.
Slot features
Max win is 139,200 times of your bet. The RTP is 96.37%. The game's volatility is high with 117,649 ways to win (MegaWays). Wilds idea has been treated differently here by BTG too: Max Megaways™ offers Vertical Wilds, Horitzontal Wilds or Wild Bombs. The hit friquency is really pleasant here: 38.07%. Also quite expectedly, the game has Bonus Buy™ and Win Exchange™ features that we know from the Golden Catch slot, etc.
Free Spins round
The game has enhanced Free spins round with an options to open 2 or 3 doors with extra features. 5 different Free Spin Bonuses means 5 doors to open: you will be open to unlock 2 or 3 depending on the type of bonus game you get, but remember, you can buy either option through Bonus Buy™ feature. Normally, 3 usual scatters will give you a Free Spins game with 2 extra features, but if you get a MegaScatter, than you'll have an Enhanced (3 door) Free Spins round.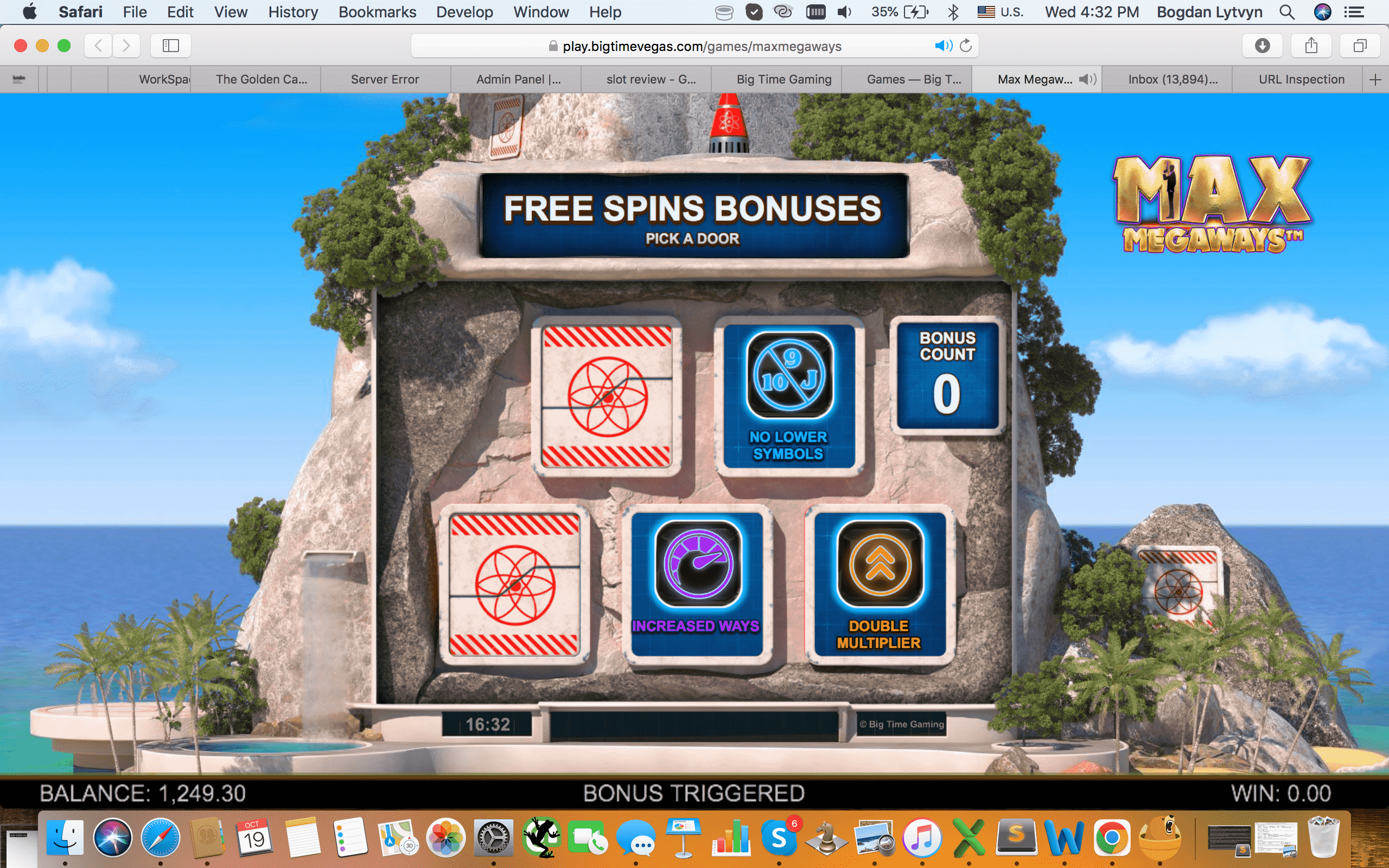 Now, 5 different Free Spin Bonuses are:
• Double Multiplier - The Free Spin Win Multiplier goes up by 2 after each reaction.
• Duplicating Wilds - Every Wild will turn each symbol in the reel below it into a Wild.
• 2 Scatter Retrigger - Two or more Scatters award extra Free Spins.
• Increased Ways - At least 5 symbols will occur on every reel.
• No Lower Symbols - Free Spins are played with the Jack, Ten and Nine removed.
To my taste, the best features to have are: No Lower Symbols (clear why), Increased Ways and a Double Multiplier.
Max Megaways™ reviews in the gambling press
The game has been released on September 21 2022 and, expectedly, got a quite warm welcome right away. I used to attribute the love to certain studios to 2 types of things: 1) journalists like to play them personally (very rare), and 2) studio pay or used to pay for reviews from this publication (very common). Now I see a third reason why: 3) slot game providers would require publications to sign agreements like "you may not say bad things about our company". If you are a gambler, don't buy into it, that's not your game. This being said, we see that bigwinboard.com would give this slot 9 of 10 score with the following motto:
"Max Megaways is the first instalment in what is planned to be a trilogy of slots and explodes off the blocks. Does it reinvent the wheel? No, but that doesn't stop it from brimming with exciting features, combinations of features, and choice stats."
online-slot.co.uk uphelds my idea that ..
"The Max Megaways slot comprises of many elements we've seen before in other Megaways titles. However, the way Big Time Gaming has brought them together is unique."
but they would also point out one thing that i have missed:
"Whilst there are over 200 Megaways slots to play (to date), Max Megaways offers the highest max win payouts. A whopping 139,200 x bet per free spin. To put that into perspective, the iconic Bonanza Megaways comes with 26,000 x bet max wins."