Want to explore a game with a magical experience? Magicious Slot is your best call. This new game from Thunderkick is about magic and magical illusions where every player can gain many ways for reward. In the last couple of years, this new game developer from Sweden has taken the online casino world by storm with its unique games and special additional features.
While playing, you will find two entertaining extras, such as expanding wilds with both directions to win. Another thing the game offers is fantastic animation and good value for the additional features the game has. All in all, the slot is exceptional among the rest. Register on any casino and check out the offered functions, as well as the beauty, and suspense of Magiciuos slot.
Main Gameplay Rules for Beginners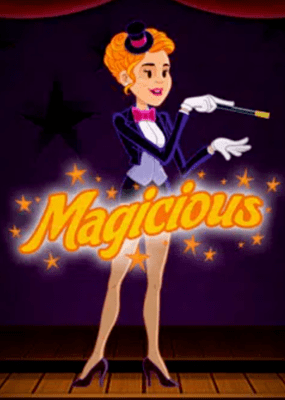 The beauty of the Magicious slot is that it is designed with five reels and three rows. In total, there are ten pay lines in the game. These can not be seen easily on the slot as they are not numbered; however, these pay lines in the Magicious slot pay off in both directions. This means that there are 20 pay lines in the game in practice. You can win as long as you get three in a row on one of the pay lines.
Although players have no control over how many of the lines to play on, they also have no control over the "coin value" in the game. Once you have opened a stake, you can not adjust the bet. This must be done before starting the game, and then you can choose how much you want to bet in total per spin. These bets are 10-euro cents, 50-euro cents, and 200 euros.
As a beginner, you can familiarize yourself with the slot's gameplay via the demo mode. The demo mode applies all the slot rules; most importantly, it offers virtual money to stake with. Losses and profits are made in demo mode, similar to real-life stakes. Although, in this case, your funds are not affected.
Theme and Graphics: Exciting Magic Show
Magiciuos slot is a fairly minimalist casino game. The graphics are wonderful to look at, and the only thing you see in the game window is the three times five symbols and the magicians when you open the game for the first time. Like many other Thunderkick games, there is also an introductory animation in it that is quite nice. When you win in the game, one of the magicians swings the stick and shows which of the symbols you have won.
The animation is a unique 3D character design, a fascinating feature that improves the user's experience. The 3D character took an interesting turnaround towards making punters enjoy quality time on the slot. Not only does the slot serve as a casino game to place your bet and win, but also a thrilling source of entertainment.
The various symbols in the game are things from the arsenal of the magicians. This can be anything from boxes in different colors to shining stars and something resembling a round ball. In total, in the game, you will find only seven other symbols - something that is both thrilling also very positive for the player, considering the possibility of winning.
The music is something you can imagine would have been at a magic show, and there are some well-produced sound effects on prizes, etc. The light charming music background is non-disturbing and very pleasant. It is not quite optimal, but it is also not very often for video slot machines.
Video Slot Rewarding Features: Several Ways to Win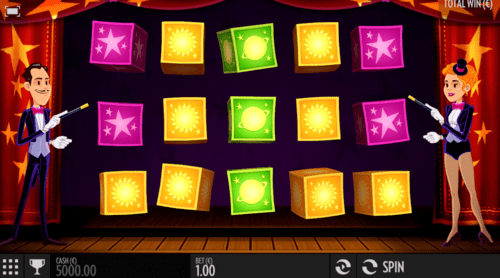 Apart from the pay lines payout in both directions, Magicious slot has only one bonus feature. This bonus feature is a type of "expanding wild" that activates re-spins. It works this way;
Wild Features
One can get wild symbols on reel number 2, 3, or reel number 4, which is a pink ball. When it ends up on one of the wheels, it expands up and down until it has taken over the entire wheel. After all, the winnings have been added together, the reel with wild symbols stays where it was, and the other reels continue to spin. It is quite possible to get these wild symbols to cover entire reels number 2, 3, and 4 simultaneously, and that is when the outstanding prizes come. When a round has passed after you have locked the wheel with wild symbols, they disappear again. Wild symbols act as jokers in the game. They replace all other symbols while playing and drastically increase the chance of good wins.
Payment Options and Winnings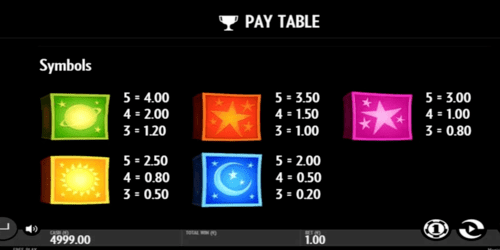 One fascinating point of interest about the game is its Return to player profit which is about 96.5%. This RTP makes it a safe slot to earn massive profits off casino games. Considerably, Magicious slot has high volatility, a vital point to consider placing bets on the slot.
After completing your registration on any online casino of choice, you can deposit funds into your account to place bets and win. Profits made of Magicious slots are automatically transferred to your private casino account with no extra deductions. On the other hand, losses made are deducted from the account also.
The withdrawal and deposit method depends solely on the terms and conditions of the casino. Every casino has different payment methods that fit into its system.
Magicious Slot (by Thunderkick): Conclusion
Thunderkick has again created a unique game with an excellent introductory animation and fun theme. The Magiciuos slot is a delightful game to explore in every casino. With few symbols and pay lines that payout in all directions, it is easy to get prizes in the game. Several high rollers will like the game with bets as high as 200 euros. You can also play with low stakes, which means that those who do not play for several thousand a month will also like it. Safe to say that Thunderkick games are a breath of fresh air in online casinos every day. It's definitely a great entertaining solution for high rollers.