Expected to be released on October 24 2022, the Big Bass Bonanza Keeping it Reel slot is made for its already existent audience of players. The primary focus of this release is to amend the mistakes or remove the drawbacks that were revealed in the original Big Bass Bonanza game, but also increase retention of the current audience of players of Pragmatic Play games. We don't predict the 'Big Bass Bonanza Keeping it Reel' title is going to take online casino lobbies' by storm anyway.
The gameplay experience is still dull with a low hit rate and high rate of exhaustion of players' money. The game gives no thrill and still has problems with design of symbols and overall perception of the gameplay. Yet, the screen's composition has changed and, arguably, the maths has been tweaked too at least in the free spins game, which now allows for the Pragmatic Play's PR team to claim 10'000x max win, similar to their latest release Muertos Multiplier Megaways™.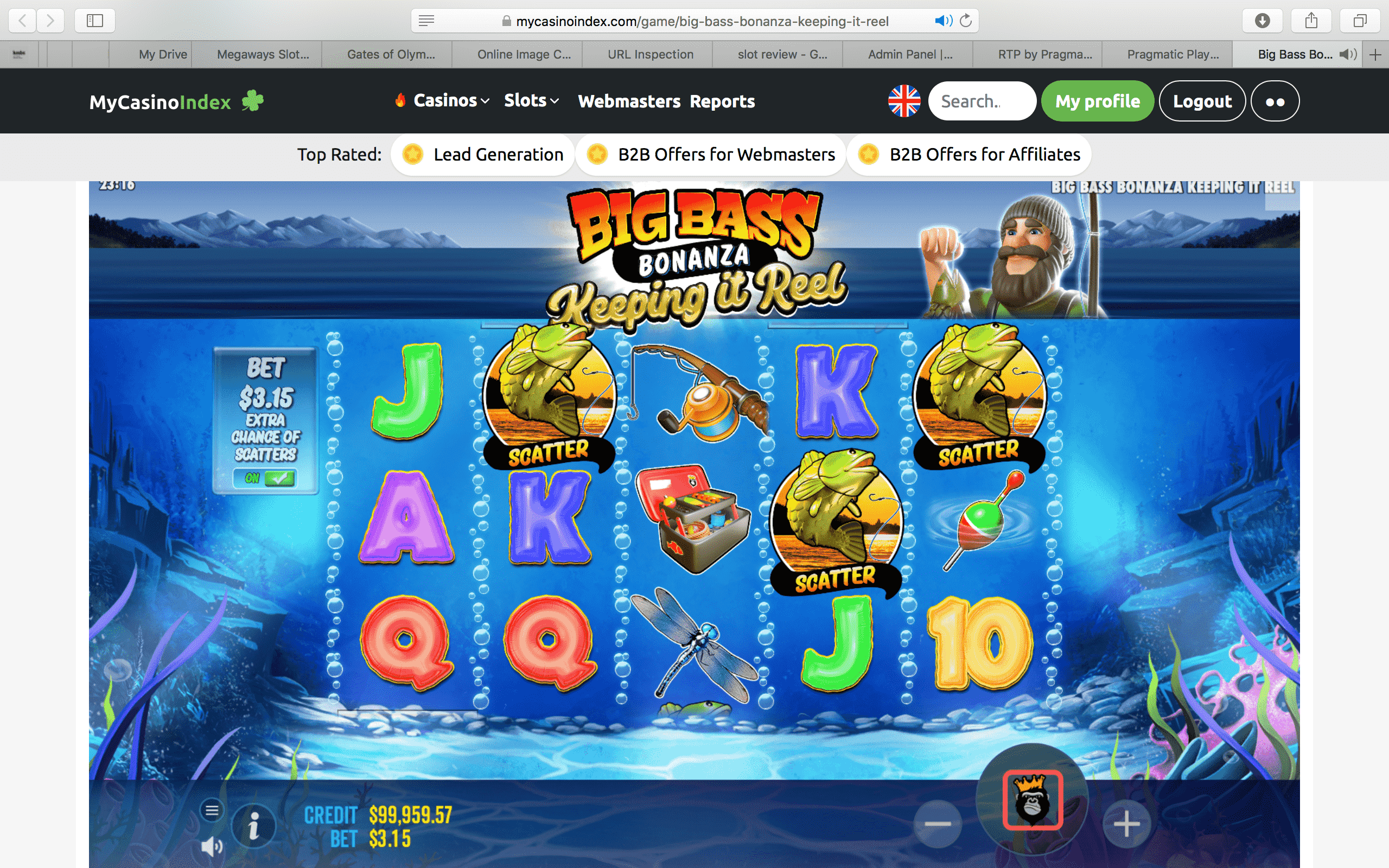 A sequel of the Big Bass Bonanza game by Pragmatic Play inherits its graphics and style of Big Bass Bonanza. The latter has its own audience and this release clearly appeals to the old fans of this slot foremost. It's partly because slot players are super conservative most of the time, which means they know what they like both in terms of titles and themes. So they would repeat they pattern of hitting slots from the same theme, style and even the same title. The idea of making another release of the same old series game is to get a better retention of the audience.
The 'Big Bass Bonanza Keeping it Reel' inherits 5x3 layout with 10 paylines. The graphics represent the underwater world, fishing and nature. The original game was criticised by a certain misfit between a fishing theme and the way lower symbols are done: these are numbers and letters. It seems that it would not allow to get deeper experience with the game as a player gets frustrated that a symbol is borrowed from somewhere else. Also, there was a problem of overall soundness of the picture: is it underwater fishing? If so, why there's a angler too, which seems to be on surface judging from the symbol. In all, the Big Bass Bonanza slot was not actually successful in representing a world of fishing. It simply was not accurate, which was obvious from the 50th spin on the game and onward.
Apparently, the problem persists in 'Big Bass Bonanza Keeping it Reel': the symbols were not updated in any way, but the game layout changed a bit: the screen is now divided horizontally in 2 parts: above water and under-water. The above water world gives a perspective to the game through the figure of a fisherman that adds up some interactivity too: he will react as if you would win up to something. Overall, the game is still cute but also it seems the music becomes even better.
Our prediction
This game will collect 10-12 reviews from iGaming publications in the first 2 months of time. According to our analytics, the average MetaScore of slot game releases by Pragmatic Play is about 67.9. Yet, I expect that 'Big Bass Bonanza Keeping it Reel' will hit the ceiling of 75 of 100 MetaScore. As previously discussed, due to the pressure of past 'favourable' reviews from Sweet Bonanza times as well as industry acclaim signs (rewards), journalists tend to set too high scores to Pragmatic Play releases.
Supposedly, the highest scores might come from slotsjudge.com and casinohawks.com. These websites tend to give generous scores to Pragmatic Play titles.
Big Bass Bonanza Keeping it Reel Features
'Big Bass Bonanza Keeping it Reel' is a high volatility game with a RPT of 96.71%, which is slightly higher than the average RTP of slots by Pragmatic Play that's 96.31%.
We would like to see the hit rate increased to at least 35%. Yet, from the demo version of 'Big Bass Bonanza Keeping it Reel' we feel the hit rate is also low and the game feels dull just the same.
The feature that has been added in this game from the original one is Ante Bet, whereby by 1.5x times your initial bet (was €2, became €3.5 for example), you'd get an extra chance of hitting scatters. This is a commercially sound idea, which, however, is counter-intuitive to the user experience within the actual game. Enabling this feature simply does not change anything. A Free spin game would give from 10 to 20 free spins.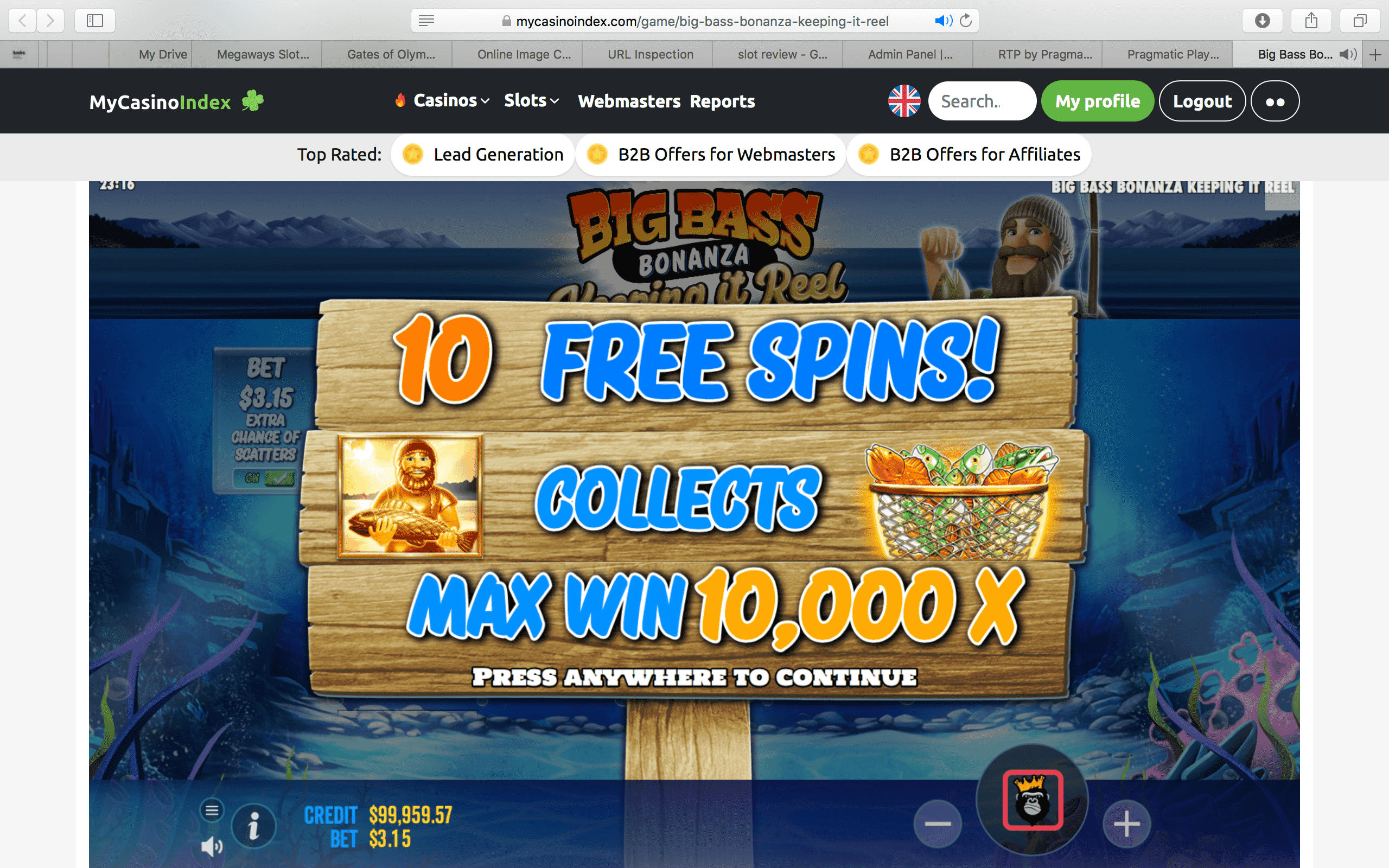 Max win is 10'000x and is warranted through adding up Wilds and Money Symbols in the bonus (free spin) game that can work independently and together. In the latter case, you will collect fish in fisherman's nests and depending on the number you'd get 10 free spins and a 2x, 3x, and 10x multipliers. There are also Random functions connected to how Wild Symbol and Money Symbol workL Dynamit, Hook and Boat, which generally help you to get the necessary missing pair to the symbol you have, etc.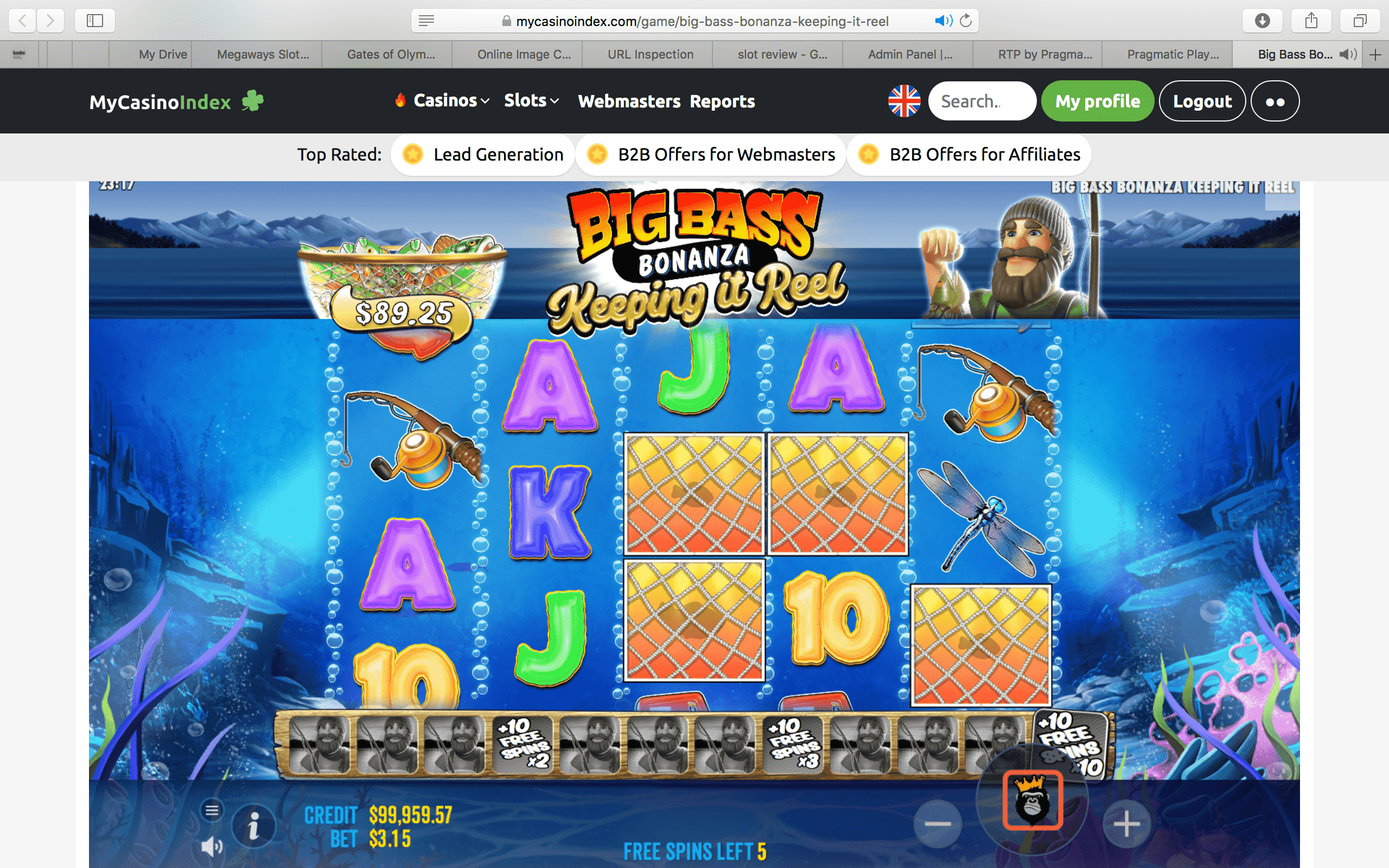 Anticipated Big Bass Bonanza Keeping it Reel reviews
We anticipate that casinohawks, casinowhizz as well as aboutslots will give the most praisful reviews to 'Big Bass Bonanza Keeping it Reel' slot release. We think that slotsjudge.com, casinohawks and casinowhizz review scores will be in the range of 8.0 - 8.5. The lowest review is predicted to come from bigwinboard.com - around 6.7-6.9.