Therefore, you'd see so many pass-by and weak releases on these dates, that makes you want to get back to your Top-3 most loved slots and wait it out, at least till Christmas themed ones are going in.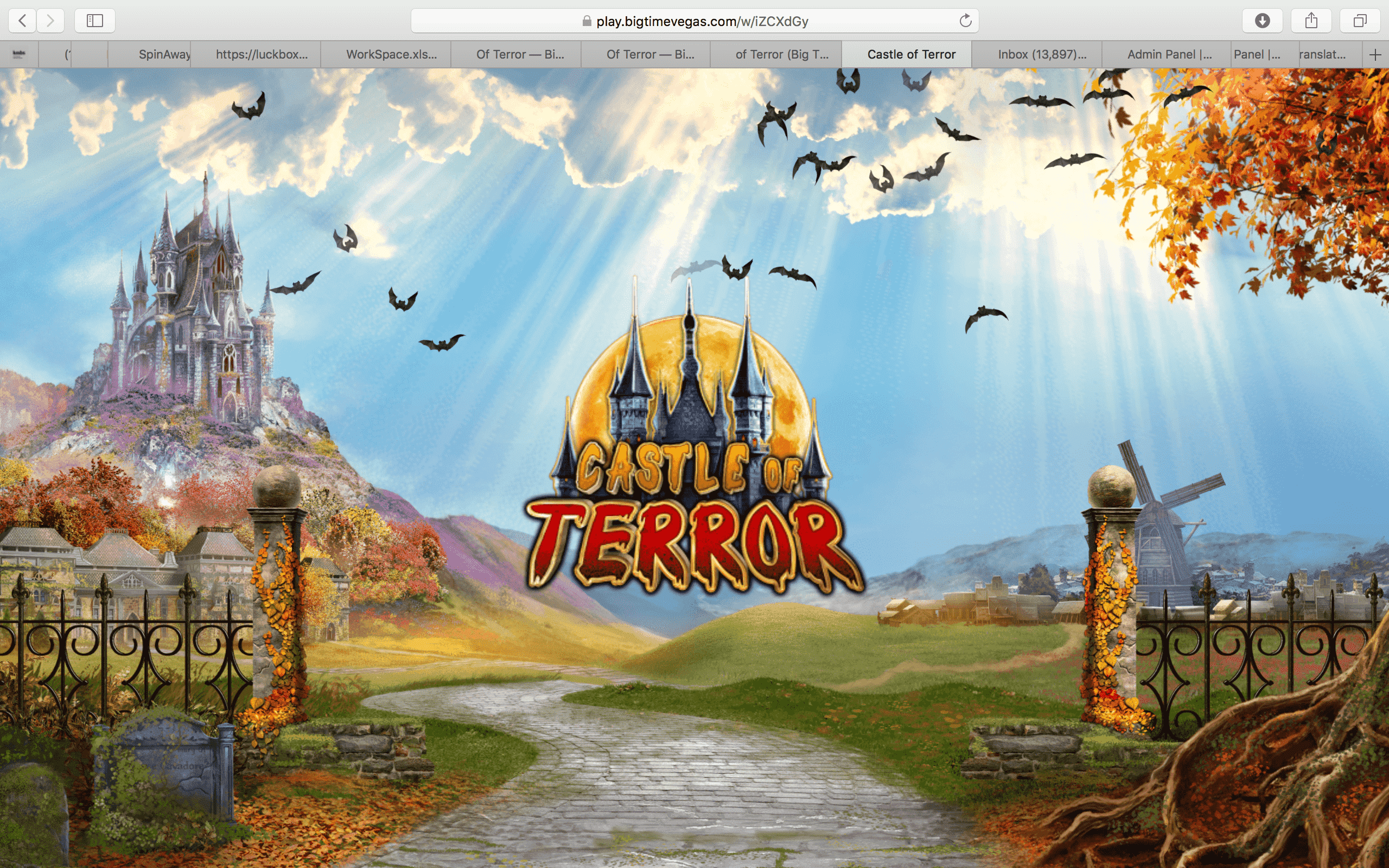 After playing Castle of Terror I have changed my mind: the game alone can atone for all the bad releases in the past Halloweens. The graphics of Castle of Terror is classy. The slot game feels like the drawing of the style of French pastelle. The castle in the backdrop is finished with a special exquisite horror (not really horror, simply exquisite).. When you hit the castle symbol or two bats would start out and fly from inside the grid onward to the background castle, which makes the whole scene live and breathing.
The Castle of Terror characters look a bit like a group of friendly peasants, not like something associated with a terror. Definitely, not like the Edgar Poe style of characters that I expected to see though.. One thing in particular that I liked about this game is that your winning combo is not really shown on the grid (not in a way it burns or explodes), just info in the string: it does not distract. And it looks oldish too.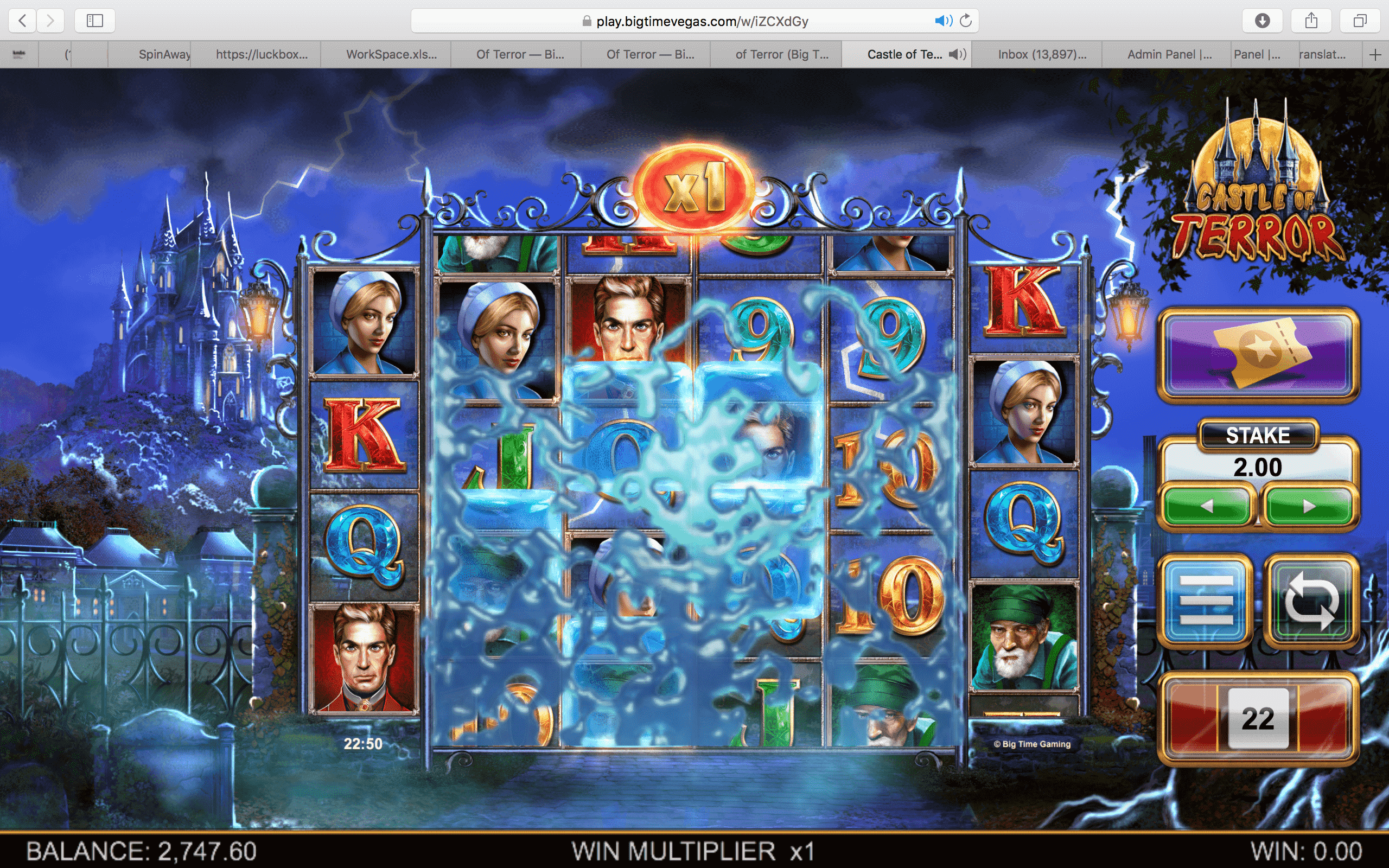 Obviously, the slot games scene is autumn. There are two times of day through: early afternoon and a moonlight night. The grid's frame is done like the fence of the old French cemetery.
Slot Features
It is a 6 reel and 4 rows game with up to 4,096 ways to win. The Castle of Terror RTP is 96.72%. The hit frequency is 31,7%. The volatility feels high judging from the number of dead (void) spins. Max Win potential is up to 61,720x your bet.
The Castle of Terror release utilizes already familiar BTG's Bonus Buy™ menu; this time it has two entries:
- 12 Free Spins for 70 times stake or
- 12 Enhanced Free Spins for 200 times stake.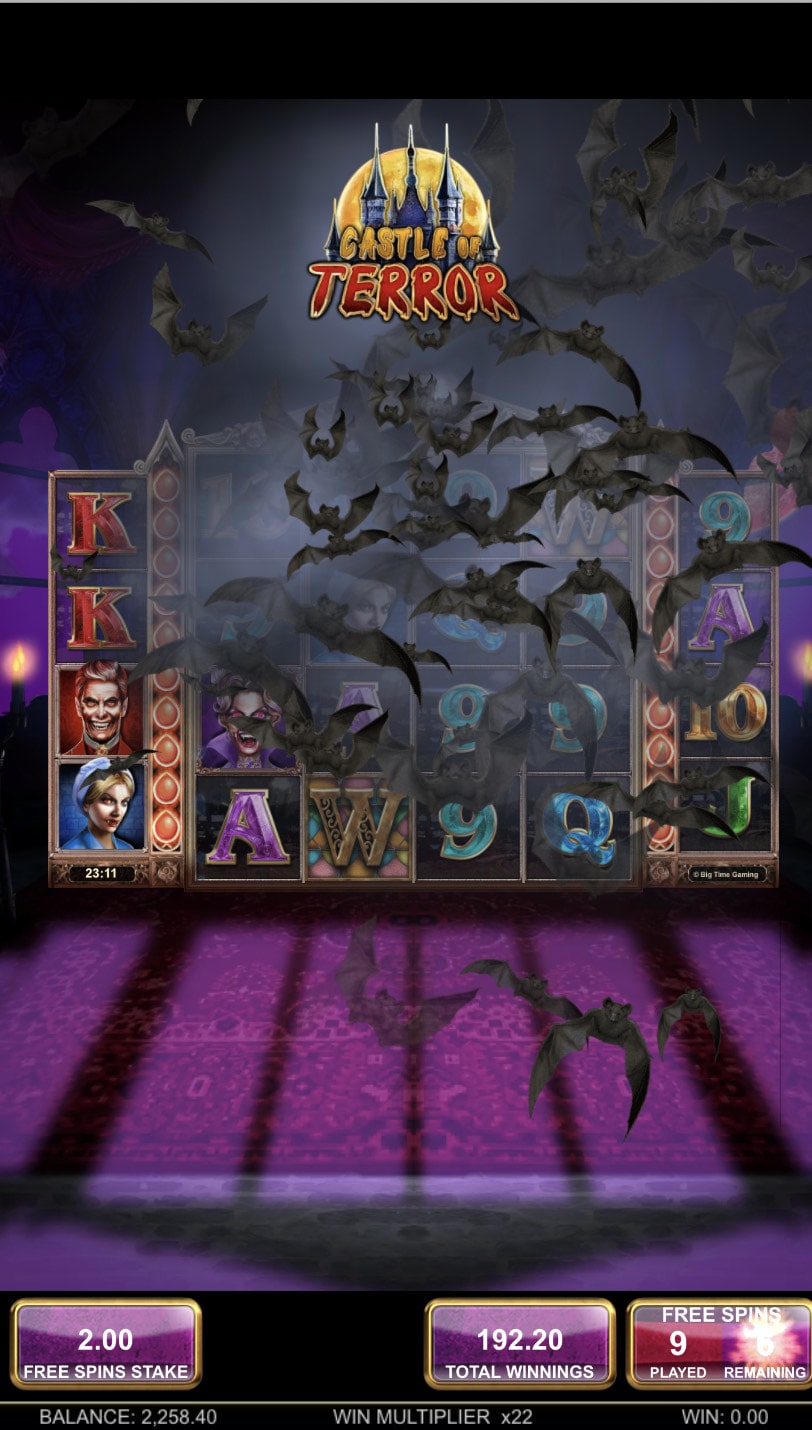 Also, the Win Exchange™ feature is here, just like in Max Megaways™, etc, and it works to give you extra chances to trigger the Free Spins. So, if you win between 25 and 100 times your bet you will see a wheel divided sectors: that's how you may figure out your chances to win the Bonus Game. I personally have got 20% chances (1 of 5 sectors).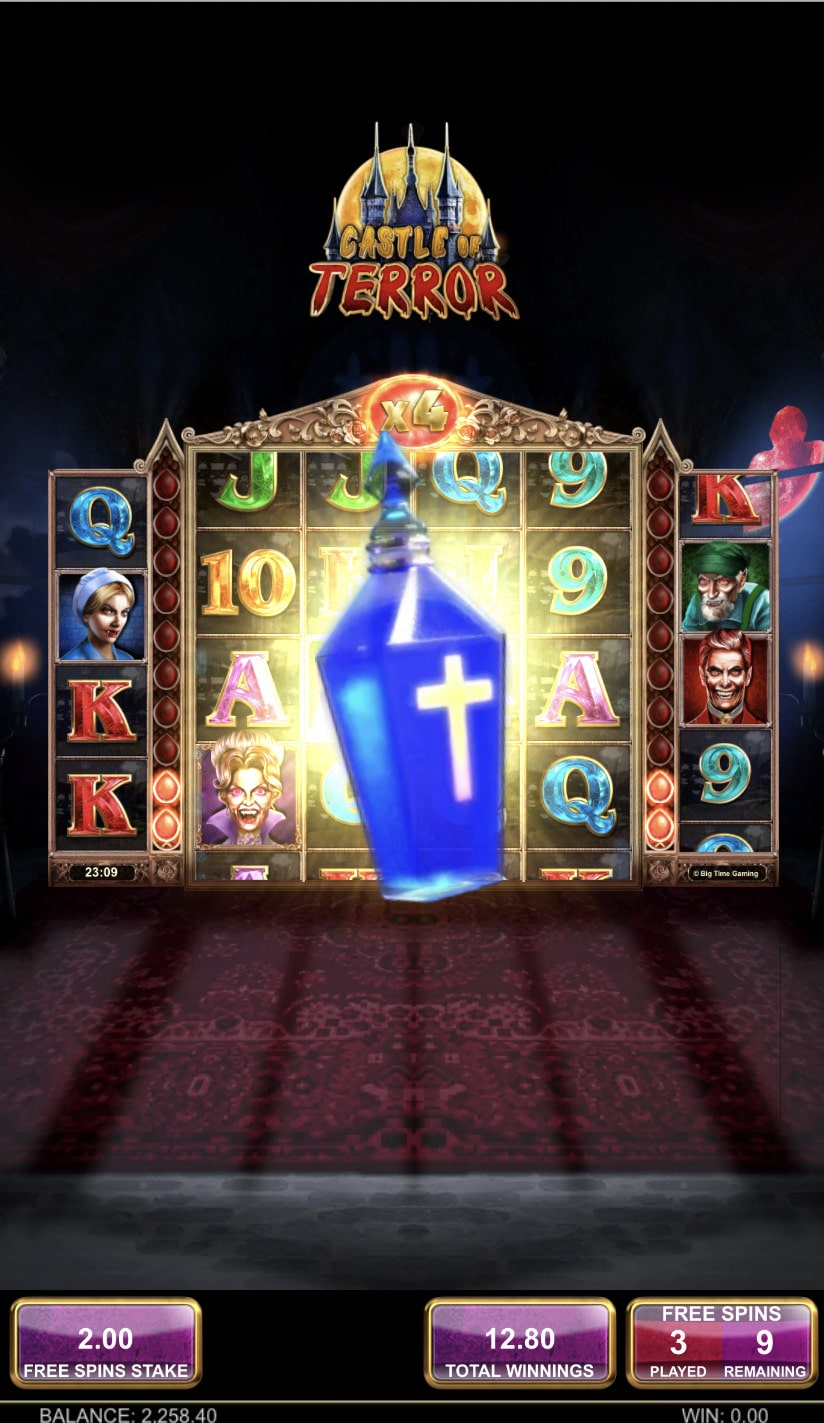 One new thing by Castle of Terror is a Holy Water symbol. During the base game, it may appear in two or more positions on the centre four reels and will turn any Lady, Gentleman, Maid or Gardener symbol into Wild and increments a win multiplier for that spin by 1. In the Free Spins round Holy Water occurs on every Free Spin. Well, at least one novelty here...
Free Spin game
As we witnessed in Max Megaways™ there are two types of scatters in the game. This time these are: Silver Castle Scatter and the Gold Castle Megascatter. Three of the former kind will trigger 12 Free Spins, with an option to get additional 2 spins for each extra Scatter beyond 3. If you get at least one Megascatter (the latter kind), you'd get the Enhanced Free Spins round.
As being said, Holy Water occurs on every Free Spin, at least, in the Enhanced Free Spins Bonus game. The win multiplier starts at one and increases by one every time a symbol is turned into Wild by the Holy Water. I personally got up to a 32x multiplier. The Enhanced FS game is bought as always with BTG: I have spent €200 for it playing at my usual €2 bet per spin, and I could win only €383. Good thing about the Bonus game is that it looks different from the base game: quote characteristic of BTG style. Also, there's a repsin of Free Spins in the Bonus round, likewise, I got 6 additional spins (made a total of 18 altogether).
On the artistic side, the Bonus game is even more attractive than the base one: there's a red vintage carpet on the room's floor as well as dramatic music and moonlight pouring down through the big glass doors... Possible downsides of graphics is that Wild symbol is insufficiently telling, it's just W letter. BTG should have worked on it more. One thing to change in music is that the moment when the big win 'coins' fountain appears is too joyfull and does not fit with the theme...
Slot game reviews and industry press analysis
One of the first Castle of Horror reviews came from bigwinboards.com that said:
"It's not one of the studio's top-tier, triple-A, gold star releases, and Holy Water can drag when you know the wild conversions aren't going to link with anything, but Castle of Terror has the right components to provide a dab of horror or be a highbrow Halloween alternative to the usual run of pumpkins, cobwebs, and candy."
Also, they would point to the certain similarity in the art side of this game and Immortal Romance:
"... Castle of Terror presents a more serious-minded approach to vampirism, leaning closer to something like Immortal Romance than, say, Baron Bloodmore in terms of atmosphere."
Another review publication online-slot.co.uk would disagree with my assessment of the game's art:
"The Castle of Terror slot isn't the best designed game I've come across. The graphics are a little old-skool for my liking. In terms of the gameplay, I'm glad it's not another Megaways game."
and noted the trend toward BTG's trend toward releasing game with significantly higher win potential than ever before:
"... What I do like about Castle of Terror is the very high RTP rate of 96.72%. Furthermore, the max win of 61,720 x bet is significantly higher than that of other 4,096 ways to win Big Time Gaming slots (Lil' Devil offers 36,403 x bet and Danger High Voltage 15,746 x bet)."
aboutslots.com pointed several things that slipped from my attention too:
"The castle is very reminiscent of the Neuschwanstein castle located in Germany and it was also this castle that inspired Disney in the creation of their logo."
so they also noted that the game's RTP of 96.72% is being quite impressive as well as that the base game winning potential is up to 29690x while the gigantic win of 61720x the bet belongs to both base and bonus games. Interestingly, they seemed to graps the essense of the game quite successfully with by saying, for example:
"The game has a more light-hearted approach regarding the complexity of the features, and as a player you grasp the game's layout very quickly, making this a perfect choice of slot for those looking for something Halloween themed."