RANT casino reviews researched using IBM Watson Natural Language Understanding tool showed that 9 editorial reviews found in Google using a search query in English language and their resulting score DO NOT satisfy the creteria of fairness.
This conclusion rests on the analysis of 1) Score given by reviewers to RANT casino and 2) Sentiment and Emotions revealed in the text of review articles using IBM Watsons NLU.
Likewise, the positive sentiment to RANT casino has a LOW correlation to the final score given by editors, which show that the reviews score has been influenced by something else (money?) other than sentiment towards a RANT casino features. The Pearson correlation between the two variables is 0.57, the correlation coeficcient of this size is not sufficient to predict a strong relation between this two factors, there may be a greater contribution from complicating factors. Additionally, the Pearson correlation between Score and Joy associated with RANT casino (emotion classified using the software) is even less significant, only 0.22.
Also, the meadian sentiment of the corpus of the full docs of reviews is even higher (69) than a sentiment towards a specific entity, i.e. RANT casino (67). It shows that the editorial press has been super-positive towards 'all the things gambling' laid forth in their articles, nothing more to say about RANT...
Furthermore, 3 of 9 reviews would give specifically high scores to Rant casino for it's customer service, but neither of these reviews contained evidence that journalist tried to use Rant casinos customer service.
Finally, almost all RANT casino reviews have noted the power casino's platform, but when we analyzed the Scores they gave to just another casino product built on the very same platform, we found that a Pearson Correlation between scores of RANT casino and CRAZE PLAY casino (another Gammix brand) is only 0.22 (insignificant). We possess evidenses from the oficial representatives of both casino brands that they would even use the same support (provided by the white-label). So, it is hard to even understand why there must be such low correlation between scores of virtually identical products, except if one thinks of misusing reviews and manipulating the players through reviews.
Discussion
RANT casino has gained a MetaScore of 82.3 (high) by 9 publications, which is allowed to say that Rant casino reviewers were positive about its ability to satisfy players. Later on I will explore relations between Score, Sentiment and emotion of Joy expressed in the reviews texts using Text Classification tools by IBM Watsons NLU.
Rant Casino Reviews Sentiment Analysis
All 9 reviews of Rant casino were super positive (64.2 on average) as regards the full documents text. This usually includes an attitude towards all entities and keywords concerning the document's texts. Such keywords from reviews include as shown below (image of IBM Watsons NLU screen from goodluckmate.com review).

casino's player complaints
reputation rating
fairness of terms
customer support quality
enjoyable experience
from casino.guru
OR
Rant Casino's terms
platform's games
daily casino promotions
from aboutslots.com
'Rant casino' entity itself also got a positive sentiment from editorial staff with a mean of 65.8. Likewise, there is a positive correlation between a Rant casino's Score and a Sentiment to Rant casino: 0.57. This level of correlation might be considered as relatively low.
Correlation between a positive sentiment towards a Rant casino and a Joy expressed when describing it is even less significant: 0.22. Obviously, editorial reviews contained other emotions too: for example, Anger is also quite significant: 0.18.
Screen of Pearsons Correlation analysis made using a function in Google Sheets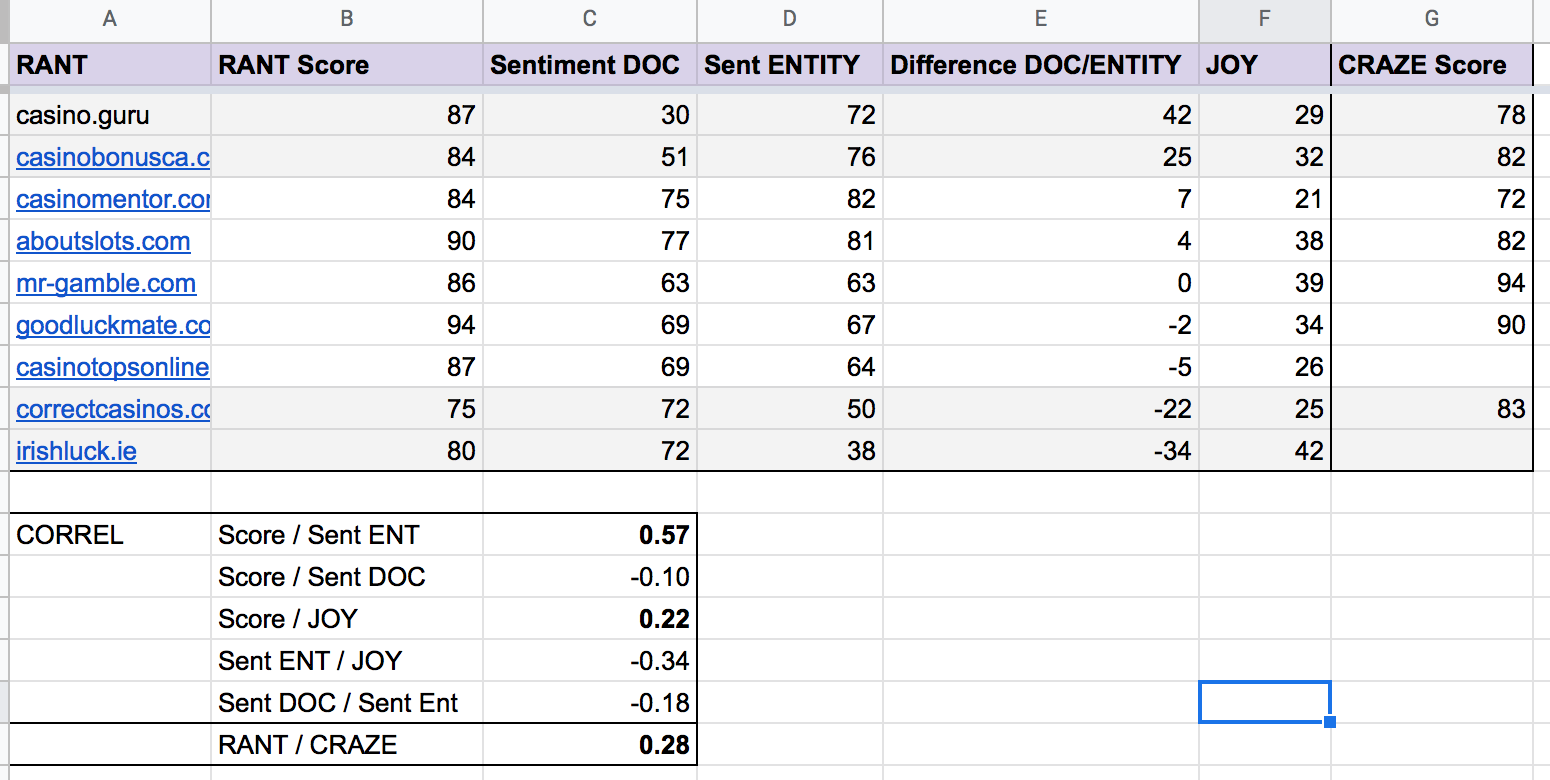 Things about Rant Casino most reviewer noted
Most common examples of things that reviewers liked were:
- casino revenue flow, absence of negative issues, including complaints, i.e. coverall compliance with internal reviewer regulations and the 'definition of good'.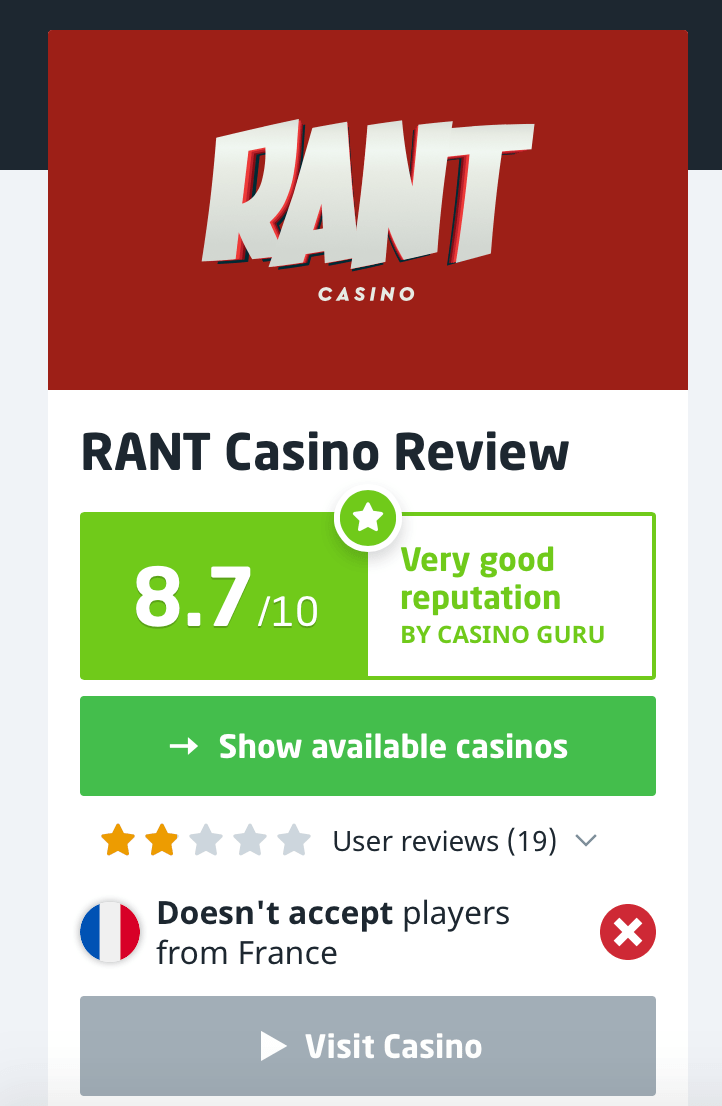 ... casino's player complaints, estimated revenues, license, games genuineness, customer support quality, fairness of terms and conditions, withdrawal and win limits, and other factors ... RANT Casino is a big online casino with a large revenue and number of players. The revenue of a casino is an important factor, as bigger casinos shouldn't have any issues paying out big wins
casino.guru
- [choice of] games, licenses, web-site's look and feel.

... Solid game repertoire complemented by several titles: Rant Casino's range of games is truly unique. Here, users will find a solid repertoire of more than 2000 titles. ... Rant Casino has a special system to provide incentive for its players. Also known as RANTers Quest, this unique space accommodates daily challenges that, once completed, will pay out an interesting prize.
casinobonusca.com
- games, banking, customer service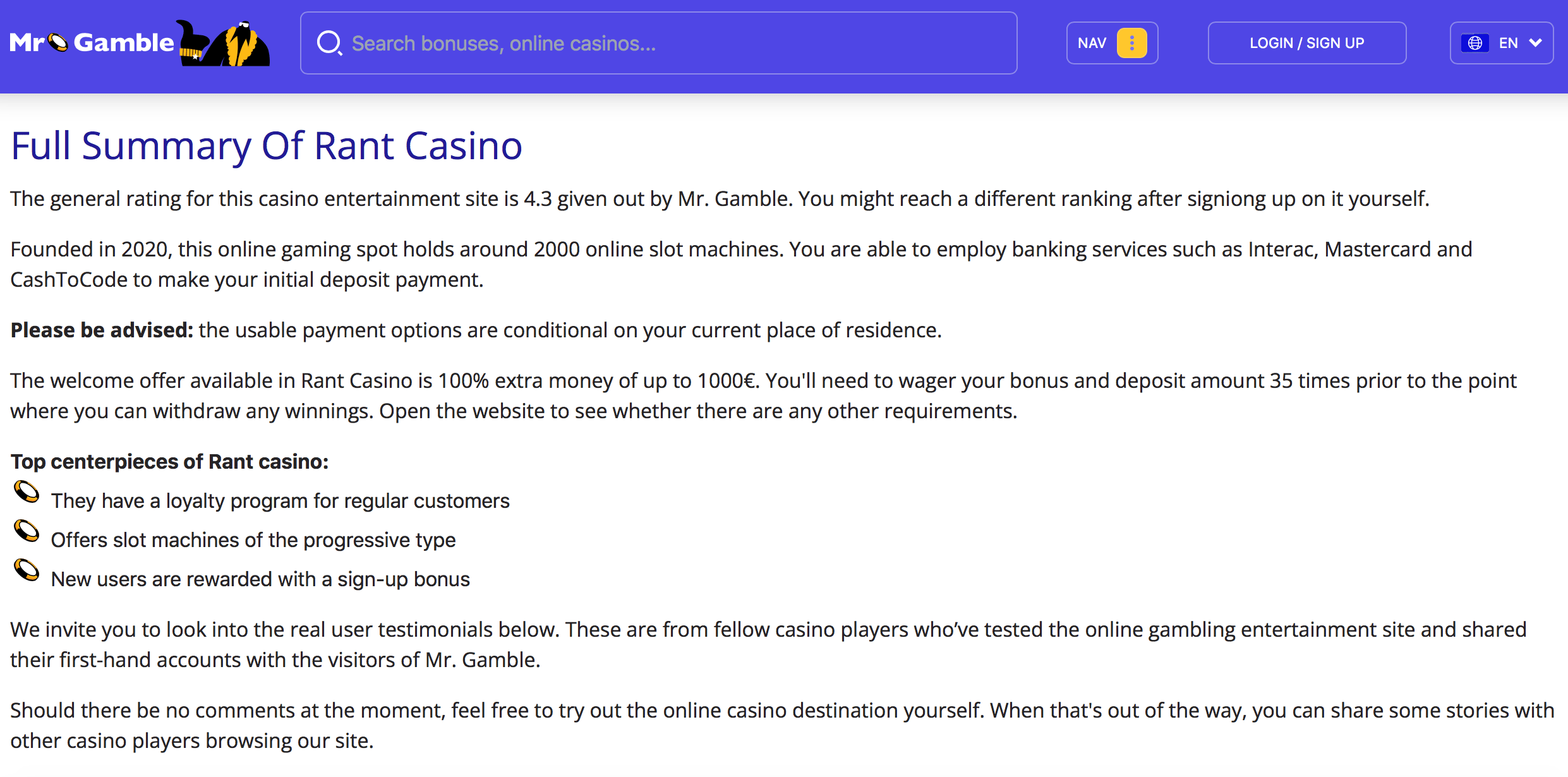 ... Top centerpieces of Rant casino:
They have a loyalty program for regular customers
Offers slot machines of the progressive type
New users are rewarded with a sign-up bonus
mr-gamble.com
- customer support, trust & fairness, bonuses and games


... There are quite a few reasons why Rant Casino has such a large following, even though it's a relatively new casino online, most of which can be attributed to its smooth and seamless payments and withdrawal process.
casinotopsonline.com
- customer support, promotions and trust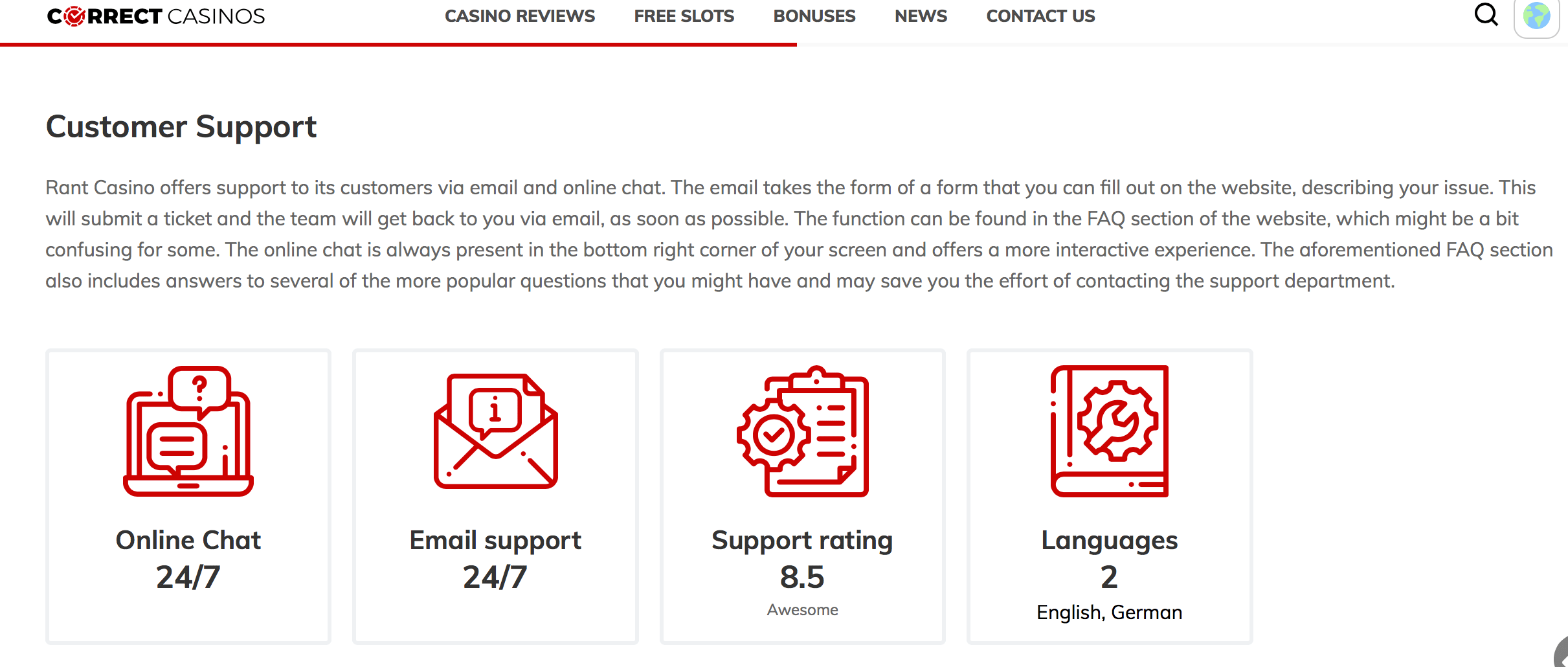 ... Rant Casino is a solid casino choice with loads of games and attractive promotions. The fact that the game library is supplied by such a diverse and extensive roster of well-known providers means that the games you will find here are all quality products. The trusted and reputable regulator also means that you should not encounter any shady behaviour or misleading terms in the casino.
correctcasinos.com
NB!
- solid platform worth, big prize pools, perfect catalog


... The game catalog is clear evidence of this, with over 1,900 titles touching on slots, live dealer titles, and table games. To help you kick off your campaign is a generous welcome offer and the goodies extend to the ongoing promotions.
goodluckmate.com
NB! goodluckmate.com noted the lack of phone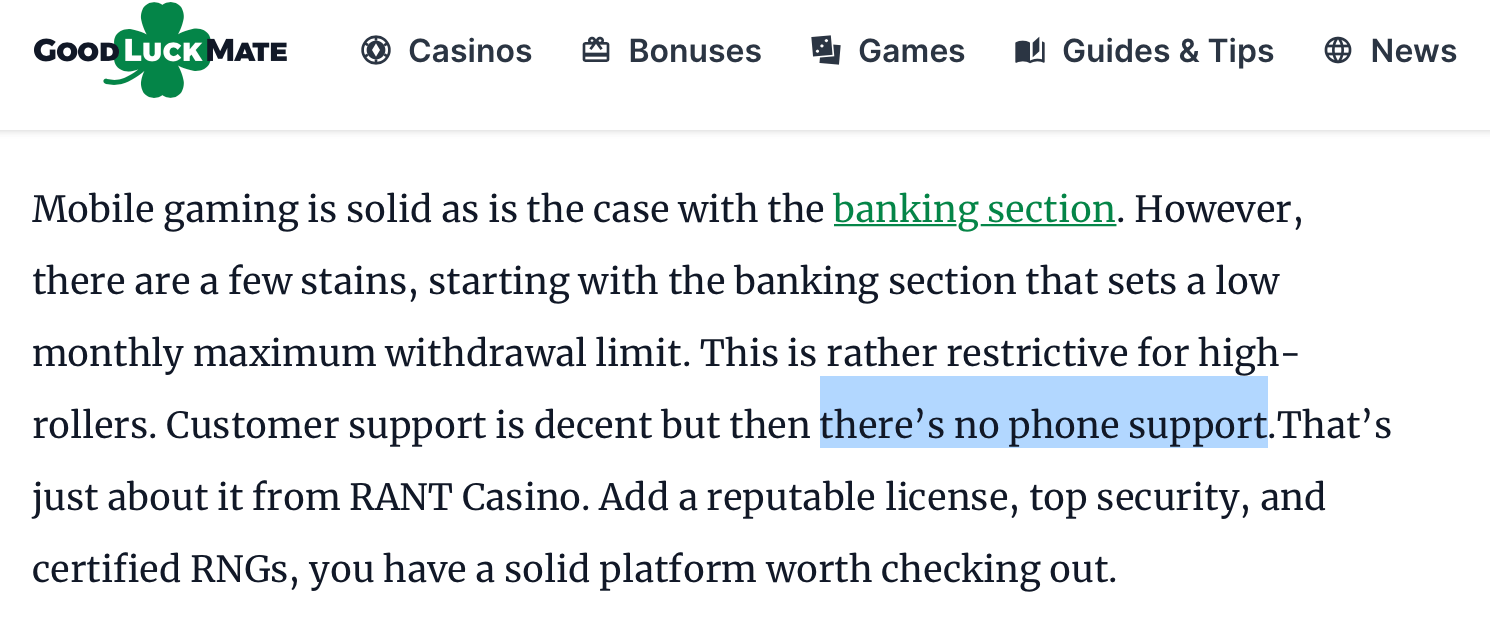 ... Customer support is decent but then there's no phone support. goodluckmate.com
Also, notably, goodluckmate.com has given Rant casino the highest score of all other reviewers: 94.
- VIP club and fast withdrawal options as well as the extensive array of games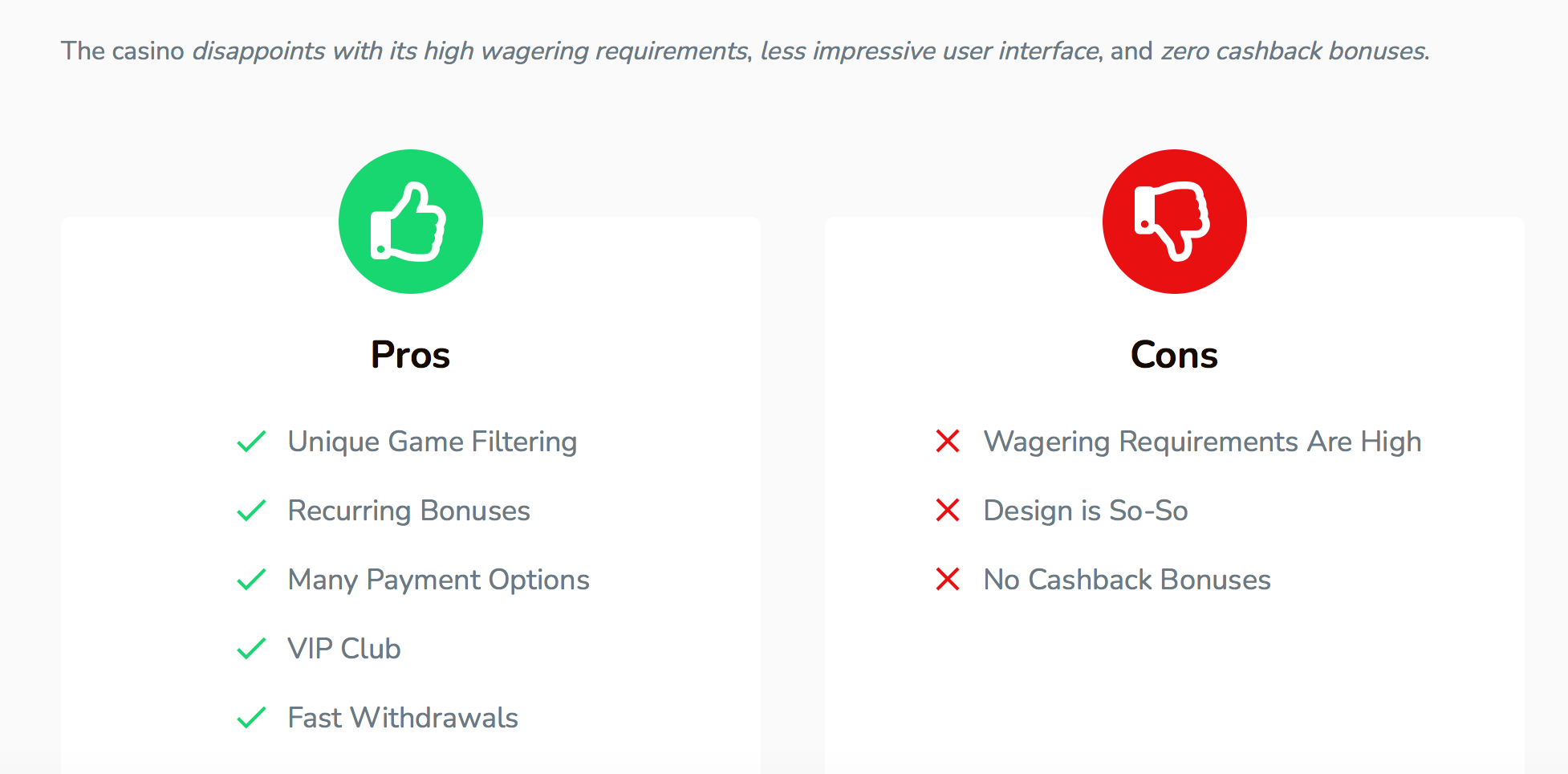 ... Pros:
Unique Game Filtering
Recurring Bonuses
Many Payment Options
VIP Club
Fast Withdrawals
Cons:
Wagering Requirements Are High
Design is So-So
No Cashback Bonuses
https://www.irishluck.ie/rant-casino
NB!
... welcome bonus's wagering requirements at Rant is 35 times the bonus plus deposit funds
- promotions and security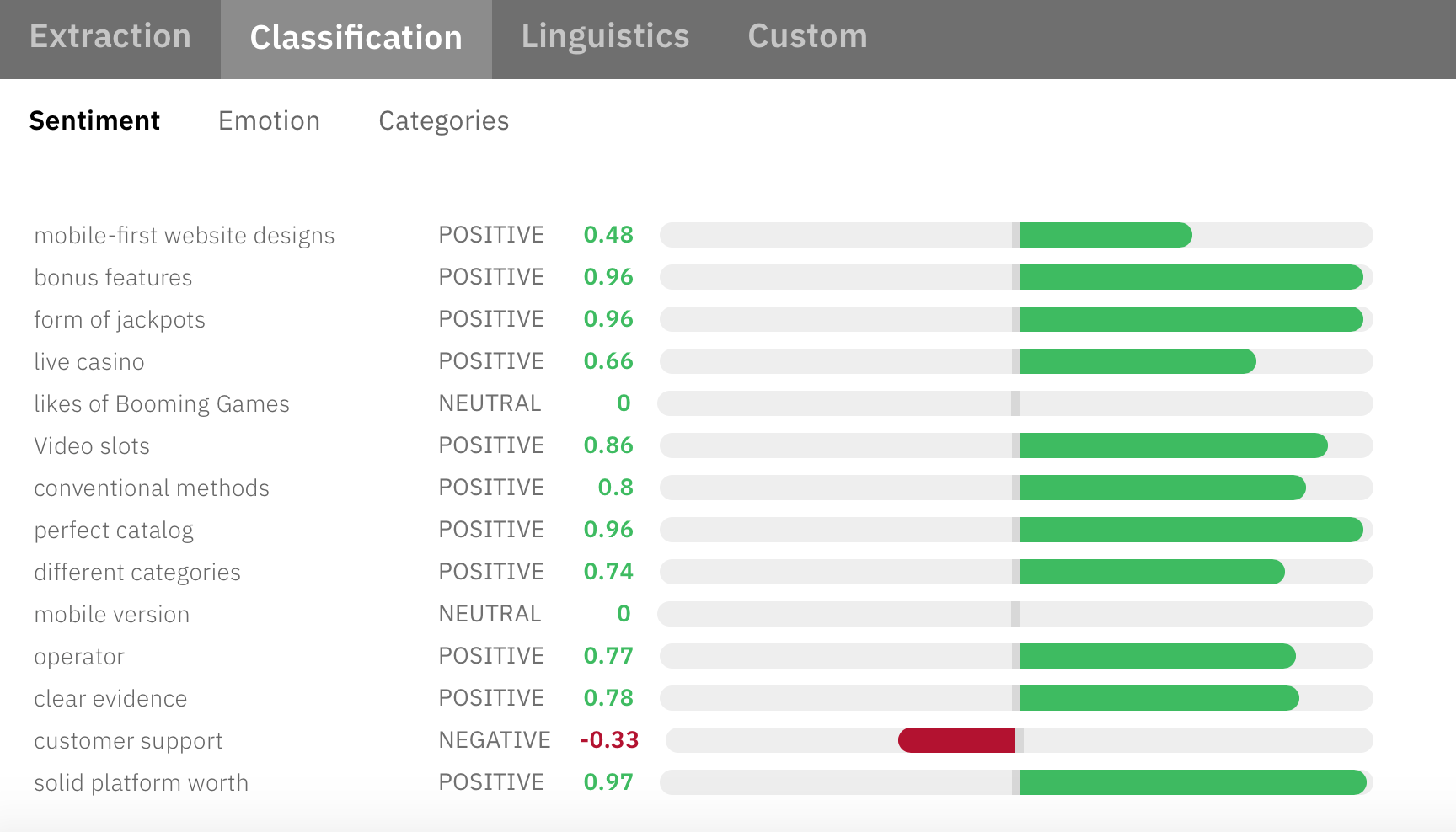 ... When it comes to the promotions, rewards, tournaments and VIP perks, the site leaves little to be desired.
https://www.aboutslots.com/reviews/rant-casino

NB!
Gammix casino platform: same platform, different results
Gammix casino owner or Gammix platform was noted by almost all casino reviews. As seen here, Gammix casino brands are 20 casino operators under several affiliate programs, the biggest of which are Rant Affiliates and Craze Affiliates. We took Rant casino reviews scores by the group of 8 publications specified and compared them to those of Craze casino (review with score found in 7 of 9 of them). Yet, interestingly, the correlation between Rant casino and Craze casino score is rather low (0.28) despite the fact that these two brands share the same platform and use the same customer support too.