The other part of the truth is that Sci-Fi slots are often bad news for their developers. Look at the Fortune Rewind from PlayNGo. Actually, I have got the saying 'Sci-Fi world' right from the website of BTG, because I could not find a word to describe the game's theme... Future? I doubt so. It looks closer to the disco in fact. More precisely, it looks like a granny in a disco.
The central idea of the game is built around the Wild Portal that works a multiplier in case there's a winning combo and can create more than one matching symbols pair (will pick whatever she likes to create a multiplier).
Wild portal is a novelty by BTG that has been overlooked by some critics saying the slots lack unique features. It is not easy to tell from the start how exactly the Wild Portal differs from the increasing Multipliers utilised by BTG before.. So, let's take a 'high dimension' lens and discuss it in detail here.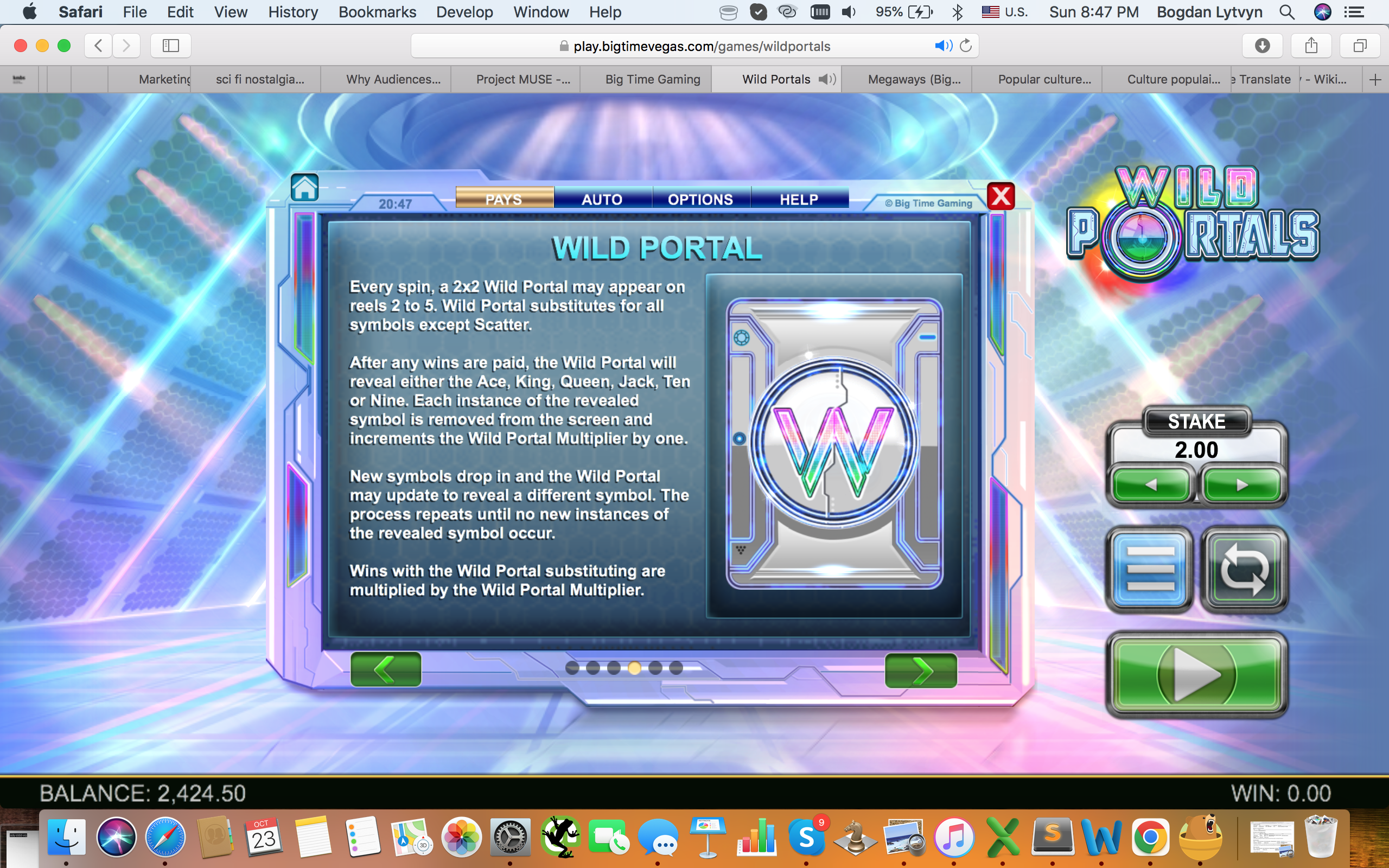 A portal wild appears randomly during a Base Game, but it is guaranteed to appear on every spin during a 8/12 Free Spins Bonus game. A Wild Portal may appear when you hit no winning combination: in this case, it will just collect the multiplier and never apply it. If you hit winning combo and then get a Wild Portal, you'll have the following logics: after all win combinations on the spin have been paid the door opens and reveals the A, K, Q, J, 10 or 9 symbol that has 2x2 dimensions (4 times bigger than the regular symbol). Once the revealed symbols are found on the reels, they will be collected to the portal and new symbols will appear in their place - it's called a reaction (used to be called 'avalanche symbols'). Now, with each symbol you'll have +1 multiplier that's applied to the amount that you won in the first place (if any).
Well, the logic of this feature is that it actually is a kind of a 'game in the game': the reaction is focused down to collecting symbols designated as wilds, no other reactions, i.e. winning combos are created. But the interesting thing is that the Wild Portal can change the revealed symbol: for example, it will designate K as wilds and collect 3 of them, but after collecting it all it will designate - all in one action - A as wild and collect +3 to the multiplier, which will bring you a total of 6. Finally, there are no symbols to match the revealed ones, the process stops and final winnings paid.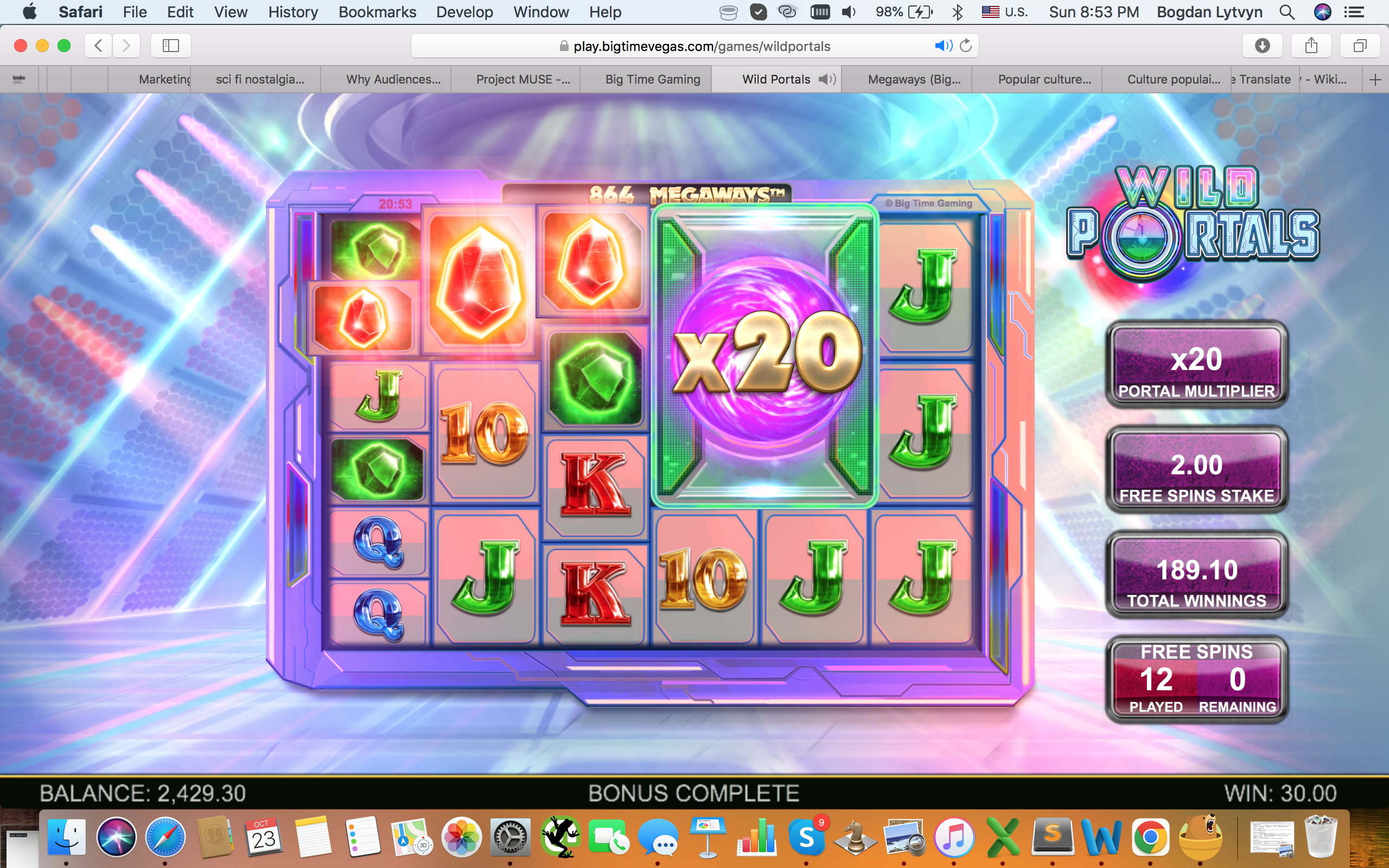 To tell the truth, this kind of Multiplier is a good way to bring extra action to the game. True, the slot plays much longer for the same amount of money invested. And the fun is actually increased.
Gameplay
Wild Portals Megaways™ has 6 reels and 7 (to 2) rows. Paylines: Up to 117,649 (Megaways™). Wild Portals RTP is 96.58%. Max wins is set 116,030x overall, with 26,900x payout in the base game. Games volatility is high.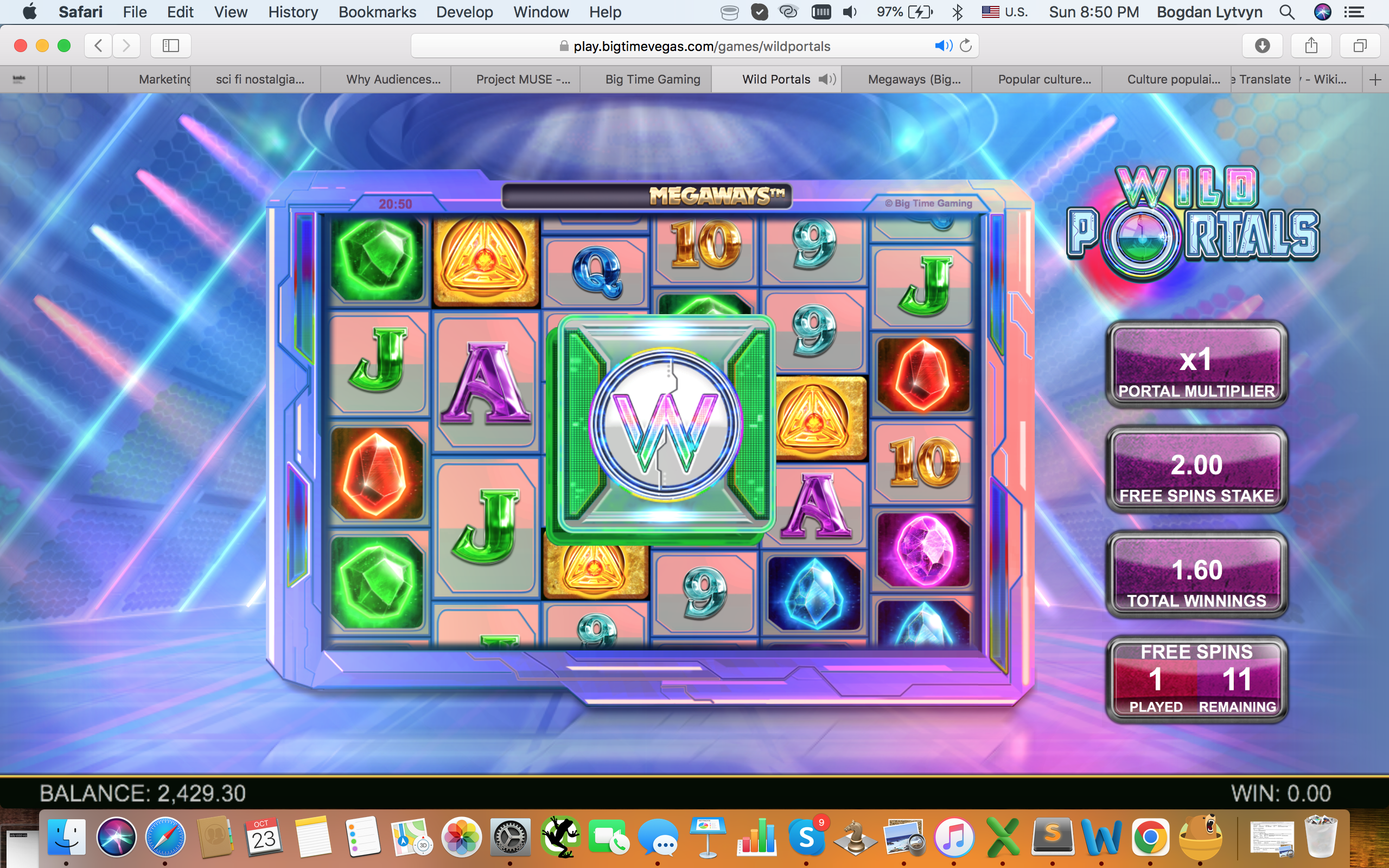 Developers said that it is the world's first game that combines Megaways™ with Win Exchange™ mechanics. Well, great. We want to see the chances of hitting a win big enough to be able to try to Exchange for an 8/12 Free Spins game.
They would also say that the Wild Portals Megaways™ has a sophisticated style that will appeal to all demographics. Apparently, the demographics are not about men and women here. It relates to different age categories. In plain words it means that BTG has made an effort to reach the older demographic strata too, i.e. 50+ years players. Does it mean those who were the original fans of the 1st episode of Star Wars issued in 1977?
So, we have 3 big things here:
1) Wild Portals Megaways™ was not made to be profitable, it was made to test some hypothesis about the future
2) Sci Fi (sf) appeals to the kind of nostalgia that's most money-yielding but most elusive from studios: nostalgia for the present.
Let's probably start from the 1st notion...
Big Time Gaming's business goal is to sell its Megaways™, Megapays™ and Megaclusters™ licences to other game studios. It's a huge chunk of their profit and it requires certain testing too. Now, it occurred to me that Megaways™ selling potential is declining. So, coming from the business logic foremost, the developer will not keep Megaways™ and Mega Clusters™ in the same roles: Megaclusters™ must supplement Megaways™, etc. But before that it's 'shelf life' can POTENTIALLY extended through coupling with other licensable features like Win Exchange™.
Alternatively, it's Megaclusters™ that are determined to benefit from bundling with Win Exchange™ mechanics. And the developer is testing the very idea of such bundling: after all, you need the data to show something to buyers. In the same fashion GOLDEN CATCH brings together Megaways™ with BTG's Reveal & Collect™ system, etc.
Also, don't forget, Wild Portals Megaways™ uses card royals from 9 to A. It shows that the game visuals are quite experimental and were NOT made to last. Also, card royals are more about the older audience of players.
The second observation is about the Wild Portals Megaways™ audience: Bigtime gaming is constantly high talking about them addressing "players of all demographics". Or shall we read, want to appeal? To find the proof thereof look at the latest post of Nik Robinson, CEO at BigTimeGaming.com dedicated to GOLDEN CATCH MEGAWAYS™ exclusive launch. Apparently, BigTimeGaming is still in short trousers as a game developer.
In particular, it means that their audience is younger than people of min 40s. I would bet that it is much younger. It means that finding a way to appeal to the older, more money-making audience, is one of the BTG's main challenges, if they want to be financially sound. To give you a bit of the slot audience idea: younger audience means less retention and far less lifetime value of the player. Verily it is said, the more retention you have and the older audience you own, the better game studio you are, at least financially. So, forget about all those awards... Well, so the target demographics of Wild Portals Megaways™ slot and the BTG overall must be players closer to 50-55 years old. People who pay homage to the 80s. People to whom Star Wars and Marvel take up so much nostalgic real estate in their minds.
In a way, nostalgia is "less about the past than about the present". As Svetlana Boym puts in The Future of Nostalgia (2001) "fantasies of the past determined by needs of the present have a direct impact on realities of the future. Consideration of the future makes us take responsibility for our nostalgic tales' '. There's also a thesis that SF and nostalgia are concerned with the unrealized, the unpredictable, and the unarticulated in the past or future. So, coming from this premise to the Wild Portals Megaways™ game, what is actually unrealized in the past of the now 50-something players who BTG would presumably target with Wild Portals Megaways™?
I'd bet it's the sense of a bright and easy game where you can win big by collecting something 'post-factum' like through the 'time portal'. Easy is an important word here. Probably, it is a dream word in the whole business of online slots. Look, this game imposes a standalone Multiplier chasing game over their pretty recognisable Megaways™ mechanics. Importantly, the slot is real easy on the face of it: it's practically all about how the game works. The Free Spins game is quite 'readable' and clear if you grasp the Wild Portals idea. The Win Exchange™ is a breath: if you got from x25 times your bet through the help of Wild Portal multiplier, gamble it to win a bonus game where this multiplier feature is guaranteed. Well now, what is left is hope that the Wild Portal idea will be easy for the audience to graps. After all, if the feature works out well, after some tweaks too the feature can help produce easy and fun games appealing to all demographics, as the BTG would say.