True, the music is charming. The music is a whole standalone experience: it's a western-style music with mystery sounds. Reminds me of the tracks from latest albums by Nora Jones, for example, Jesus, etc (album the Fall).
The multi-RTP approach is stated right away: the developer set two different RTPs for Germany (90%) and the RoW (94%). The downward RTP trend witnessed from ELK studios latest release Dropz is continued here. 94% is a big difference from 96% obviously. The game plays well, but it lucks a good payout now and then. I at first attributed this fact to its payback being skewed towards more volatile and high rewarding bonus games, but after several bonus games I just must say: it does not actually pay enough. Or does not live up to the expectations of a payout as we have been accustomed to these days.
Now, a win potential of 100,000x the bet also reveals the other side of the Money Train 3 game's volatility: the base game may work only as an entourage to the bonus game, where the whole potential is revealed. So, simply saying, there is not even 94% RTP that you can actually feel (it's probably closer to 90% by a feeling).
But does Money Train 3 and slots by ELK mark a new stage in casino slots: downward RTP movement and something that turns a casino slot to a more entertainment thing?
Well, the game offer a lot of entertainment: the graphics is gorgeous and deserves highest appraisal. The 5x4 grid looks very solid and you may feel you are in the movie. The film is about to start and you just anticipate it, trying to guess what development the characters and storylines will get.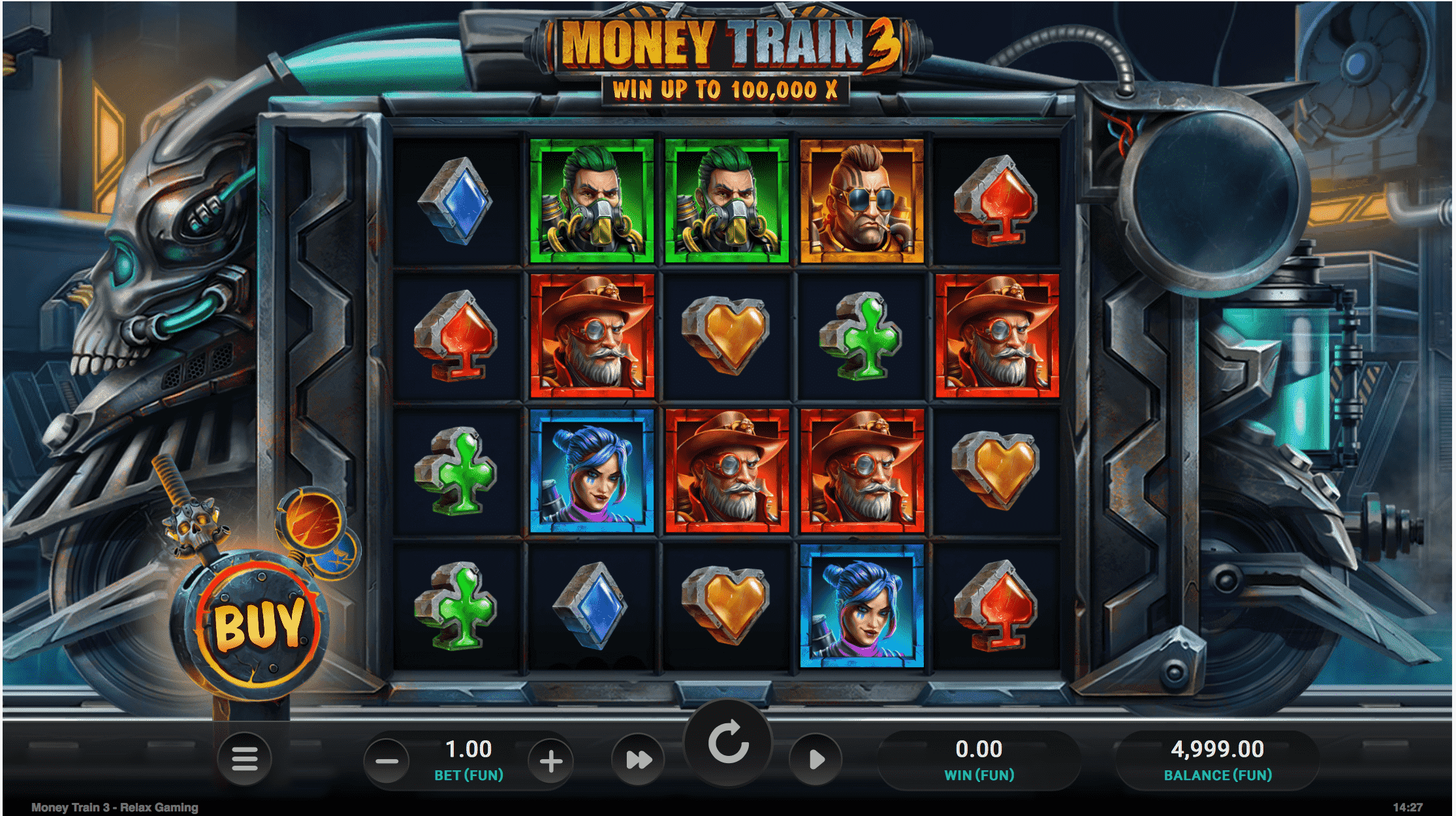 The symbols are done properly. These are faces for men and a woman with, obviously, some stories behind them - I am not a huge fan of these Money Train series and, like many players, is doing this slot machine for the first time. Clearly, she invites a player to learn more and spend some time with her. Graphics has gone a long way from a western theme, now it's a futuristic punk. According to slotstemple.com review:
"Rather than being set in a ghost town, Money Train 3 appears to take place in the same kind of future as West World"
But the question is rhetorical: are we willing to pay for a game of chance like this or it's more like a subscription to the well-appraised Money Train 3 series (4 to follow sure enough), we we simply must leave out our hard earned €50 to witness the next phase of developers' creativity. I don't subscribe to that...

Money Train 3 Features
The game has 40 paylines and a maximum win of 100,000x your bet. There's a random respin feature, which however is rarely caught. It works like this: one of the symbols on a reel is frozen and the rest of the reels spins, so get paid when you hit at least another one of that kind. A player can also has x1,x2 or x3 multiplier using random respin feature of Money Train 3.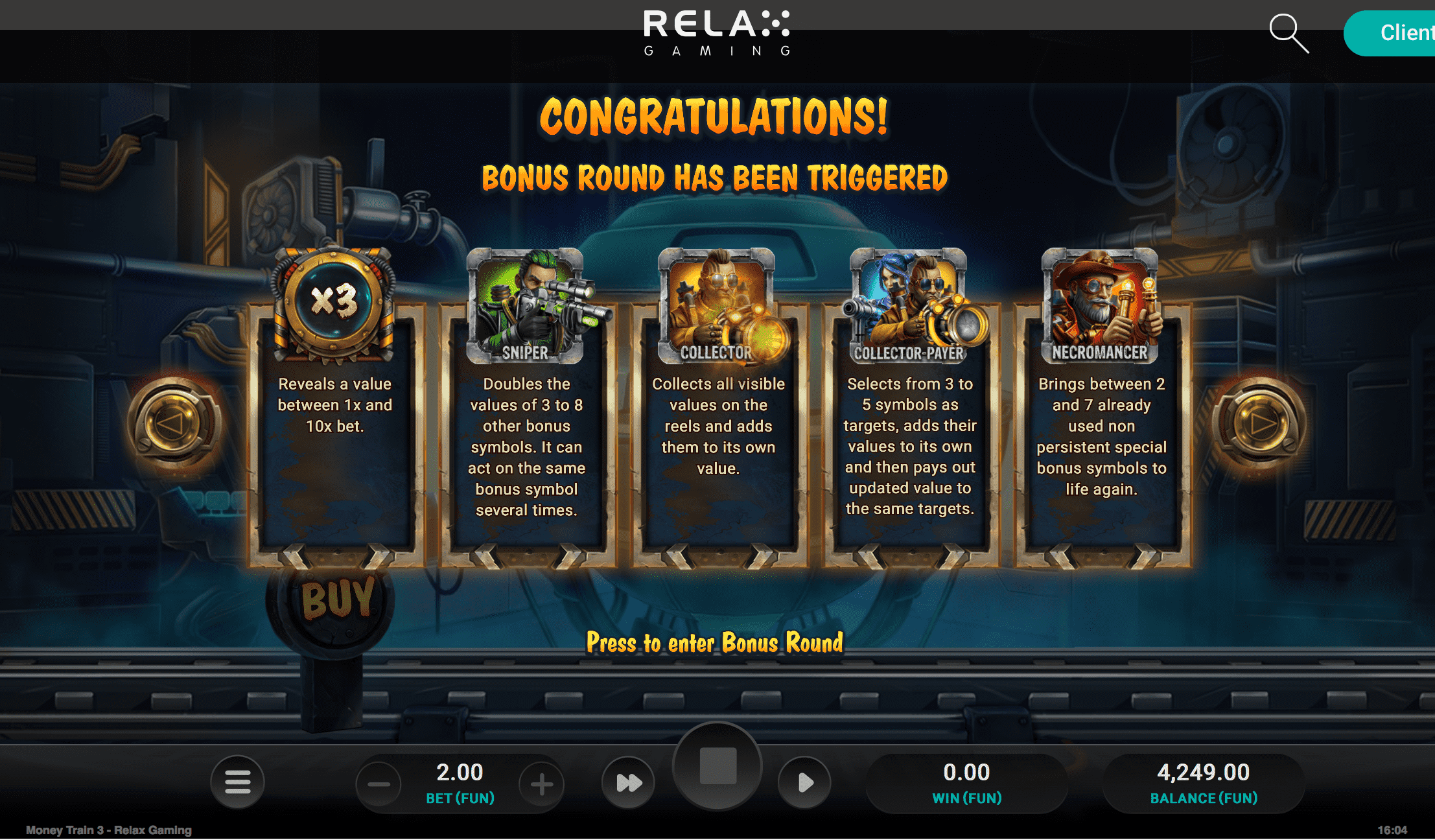 The signature feature of Money Train 3 is the Bonus game, called Money Cart bonus. Obviously, this type of bonus travelled through from previous versions of Money Train as well as, as reported by slotstemple.com Money Train 3 review, -- from other top Relax Gaming slots like Chip Spin.
The bonus round is a whole another game in terms of the display decoration, the structure of the grid as well as the music. Apart from multipliers from x1 to x10, there are human characters that work like modifiers:
Collector: The values of all symbols are collected and added to his total
Sniper: Doubles the value of up to 8 symbols
Collector-Payer: Adds the value of between 3 and 5 symbols to itself and then adds that total to all other symbols
Necromancer: Any non-persistent symbols can be revived and used again
Absorber: Any regular bonus symbols are removed.
Tommy Gun Sniper: Selects one symbol and doubles its value up to 6 times
Tommy Gun Payer: Displays a value of 5x to 100x, and adds it to a symbol up to 10 symbols.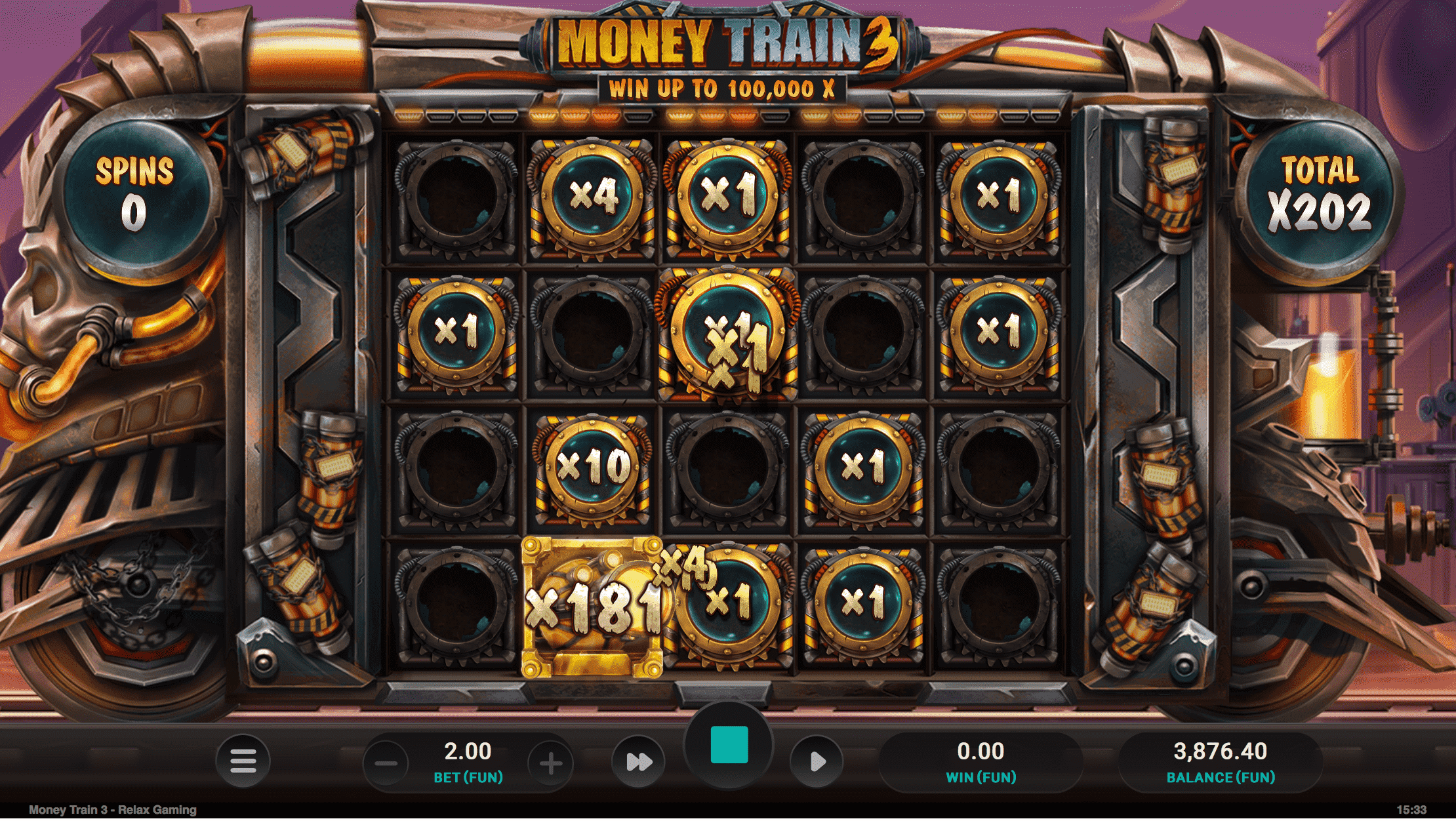 Overall, the way bonus spins round works is not quite clear to an average player like me. Apparently, the round starts with 3 spins (as the monitor shows), but then the number is re-triggered, seemingly, when a new symbol lands.
Bonus buy feature has it's own menu: 100x, 2 Spin Bonus, 1 Spin Bonus, and a 500x Persistent Bonus. Bonus buy feature is NO CHEAP and has never paid off even close even though I have tried it 3 times already.

Critics opinions. Money Train 3 Reviews
Is it fair to judge a slot release by the way it progressed from its predecessor? Does it even matter to a player who saw it for the first time and may want to try? I don't think so.. That's why I disagree with the stance of bigwinboard.com that gave all the laurels they have found in the yard to Money Train 3, but why exactly? Since it outperformed what was already good (in their opinion)? Well, a dubious argument.
While Money Train 2 has a rock solid track record of spitting out some of the most insane win clips ever seen, Money Train 3 is next level. Take all of the drama, emotion, disappointment, hope, and sheer white-knuckle, hair-raising excitement of what came before, tune the daylights out of it, double the potential, send it roaring into the future, and you've got Money Train 3, a slot with everything necessary to completely disrupt the online gambling landscape".
Seriously?
slotstemple.com seems to buy in to the logic of paying for the subscription to Relax Gaming novelties when they say:
"Money Train 3 gives us hope that slot sequels can continue to be fun and exciting, rather than boring games that repeat the same gameplay over and over. We're super excited for future Money Train releases, and can see this series going on for quite some time".

aboutslots.com is so in love with this release when they say:

"Money Train 3 is a slot where phenomenal new thinking collides incredibly well with the previously lovable features that this series contains"
that they would add that:

"The RTP is within a very good level, but it is important to point out that the game has a high volatility, and the balance can shift greatly during the spins",
which is simply not true, at least when they say the RTP is very good...